COBIS and ACRO Criminal Records Office announce collaboration to enhance international child protection
Posted on 15th May 2019 in COBIS, International Education, International Schools, Safeguarding Tweet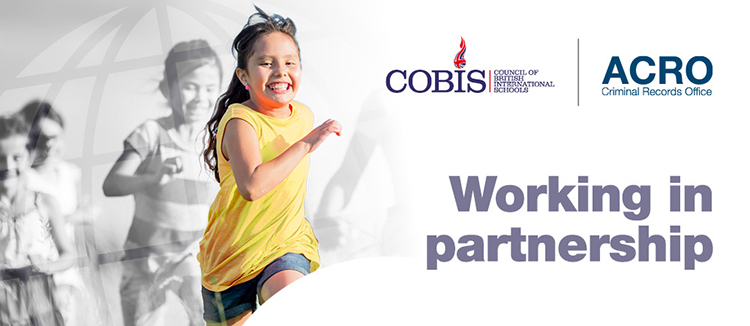 COBIS and its member schools are committed to safeguarding and promoting the welfare of children, young people and adults.

You can't tell just by looking if one of your employees or volunteers has a sexual interest in children. Yet this could be the case in any one of the 5,000+ international British schools overseas, which together employ more than 200,000 teachers worldwide.
At its 38th Annual Conference this weekend, the Council of British International Schools (COBIS) announced a three-year partnership with ACRO Criminal Records Office to enhance international child protection.
Together, ACRO and COBIS will work to promote the International Child Protection Certificate (ICPC) as a rigorous safeguarding tool to reduce risk in British international schools worldwide.
COBIS will act as ICPC Global Ambassador, co-ordinating marketing opportunities with ACRO to raise the profile of the ICPC to their extensive global network of British international schools. It is hoped that the ICPC scheme will become a fundamental aspect of the recruitment process for individuals wanting to work with children overseas.
The ICPC is a criminal records check for anyone who lives, or who has lived, in the UK and who is looking to work with children overseas. It confirms whether or not the applicant has a criminal history and provides details, including relevant conviction and non-conviction data.
The ICPC is already used by hundreds of schools and organisations around the world to make informed decisions on a person's suitability for employment or continued employment in positions that provide regular access to children.
Colin Bell, COBIS CEO, said:
"COBIS is committed to safeguarding and promoting the welfare of children, young people and adults, and we are pleased to be able to work with ACRO to encourage all international schools to follow best practice in safer recruitment.
"The ICPC is an invaluable resource for schools looking to safeguarding the children and young people in their care."
Rob Price, ACRO Chief Executive, said:
"I am thrilled that ACRO is entering into a collaboration with the Council of British International Schools (COBIS). It is a fantastic opportunity for both organisations to help safeguard children worldwide.
"We hope that it will play a pivotal role in improving international child protection in British international schools across the world and prevent people who pose a risk to children from working overseas in order to gain access to them."
ACRO began providing ICPCs in 2012 and to date have supplied over 60,000 certificates to organisations across the world, playing a pivotal role in safeguarding local communities from those individuals who could pose a risk to children.
They are used by more than 1,600 registered organisations, including schools, in 89 countries around the world.
In highlighting the role COBIS plays in safeguarding children, Colin continued: "Our long-standing priority is to support our member schools and the wider international schools sector with safeguarding measures, including pre-employment checks and training.
"We expect our member schools to be able to demonstrate how they meet rigorous safeguarding standards to aid safer recruitment and child protection."
Looking towards the future of child protection in the education sector, ACRO CEO Rob Price, said: "The ultimate aim is to ensure children and young adults in British international schools are protected from the threat of sexual offenders. We want the ICPC to become an integral part of the future of safer recruitment and the safeguarding of children within British international schools.
"As we continue to make strides in protecting local and worldwide communities, we are looking forward to the future and working in partnership with COBIS."