Education in Motion (EiM)
EiM aspires to be the global leader in pioneering education for a sustainable future and is on a mission to have a positive impact on society and planet through education.
The EiM family is made up of a diverse range of world-leading educational groups including Dulwich College International schools, Dulwich International High Schools, Dehong® schools, Green School International and Hochalpines Institut Ftan AG (Find individual schools below). With a learning community of more than 11,000 students across 7 countries, EiM scales learnings, opportunities and resources across its family, enabling each group to be at the cutting edge of education research and innovation.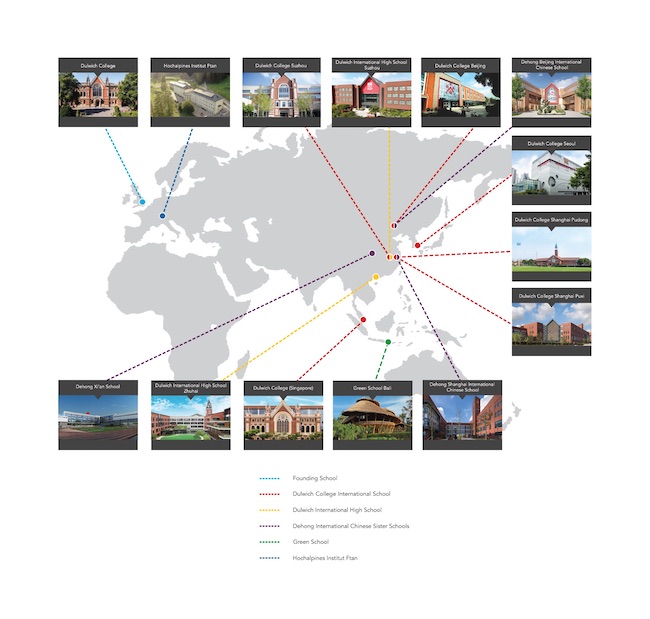 Pioneering Education and Championing Sustainability
Across the EiM family, we share common commitments to sustainability, global citizenship, innovative learning and community experiences. Our communities are empowered with the knowledge, skills and motivation to make a difference for society and the planet. We deliver education offerings that are wellbeing-focused, academically rigorous, social and emotional enriching, holistic and world-class to raise passionate scientists, artists, entrepreneurs and leaders who can champion their causes in their respective areas of expertise.
EiM also continuously innovates educational offerings to make learning directly relevant to students in their contexts, while also investing in the future through transformative and collaborative experience platforms. Collaboration between school groups taps into a wide range of perspectives and expertise while working with a strong network of researchers and partners brings in a wealth of knowledge to enhance our educational practices. From using technology to remove the confines of brick and mortar, to award-winning professional learning programmes that equip our staff to continuously grow and lead, EiM is creating resources that unleash the collective potential of the entire purpose-driven community.
Excellence in University & Careers Counselling
Across the EiM family, University & Careers Counsellors are student advocates, helping them define what success means to them and developing the tools necessary to achieve that success. Our Counsellors recognize and nurture talent within each student by understanding their unique qualities, backgrounds and passions, pushing them to aspire, framing their learning experiences and ensuring they are the true owners of their futures. This approach has resulted in our students achieving incredible things across many fields – surpassing global grade averages and forging novel pathways.
Our School Groups
Dulwich College International Schools
Dulwich College International Schools are Nursery to Year 13 schools that offer the IGCSE curriculum followed by the International Baccalaureate Diploma Programme. Prioritising a holistic education that recognizes the importance of the physical, emotional and psychological wellbeing of students alongside a balanced and rigorous academic curriculum, DCI schools encourage student voice, choice and ownership of their own learning.
Dulwich College International Shanghai Pudong
Dulwich College International Shanghai Puxi
Dulwich College International Beijing
Dulwich College International Suzhou
Dulwich College International Seoul
Dulwich College International (Singapore)
Dulwich College International High Schools
Dulwich College International High Schools are for students aged 14-18, offering the IGCSE and followed by International Advanced Level (A-level) examinations. The language of instruction is English and all our students benefit from a structured cultural programme preparing them for life at universities abroad. The two-year compulsory Drama programme at Dulwich International High Schools is designed to develop students' English fluency and confidence, creativity and collaboration skills.
Dulwich College International High School Suzhou
Dulwich College International High School Zhuhai
Green Schools
The Green School is a Kindergarten to Grade 12 schools that educates for sustainability through experiential and interdisciplinary learning experiences, with a focus on entrepreneurship and the natural sciences. Students follow a WASC-accredited high school program culminating in a capstone project where students present a world-shaping idea in a TED-style talk.
Hochalpines Institut Ftan (HIF)
HIF is a co-ed secondary school situated in the Swiss alps for students aged 12-18, offering the Swiss Matura, IGCSE and IB Diploma program. HIF takes a subject-mastery approach in Languages, Mathematics, the Natural Sciences, the Humanities and the Arts with a strong focus on sport. HIF's team of expert coaches and high-profile training facilities provide students with unique opportunities to advance in their sport, with several alumni now Olympic medallists.
Dehong International Chinese Schools
Dehong International Chinese Schools admit local Chinese students and offer a combined programme comprising the Chinese compulsory curriculum enhanced with an international, holistic educational philosophy and pedagogy. Currently, there are three Dehong International Chinese Schools in Shanghai, Beijing and Xi'an. Each are in various stages of rolling out their year groups but all will eventually offer the IB Diploma Program in Years 12 and 13. Dehong nurtures bilingual, biliterate, bicultural students who can make a positive difference for China and the world.