Why your child should study the International Baccalaureate
Posted on 6th Dec 2018 in School News, International Baccalaureate, International Education Tweet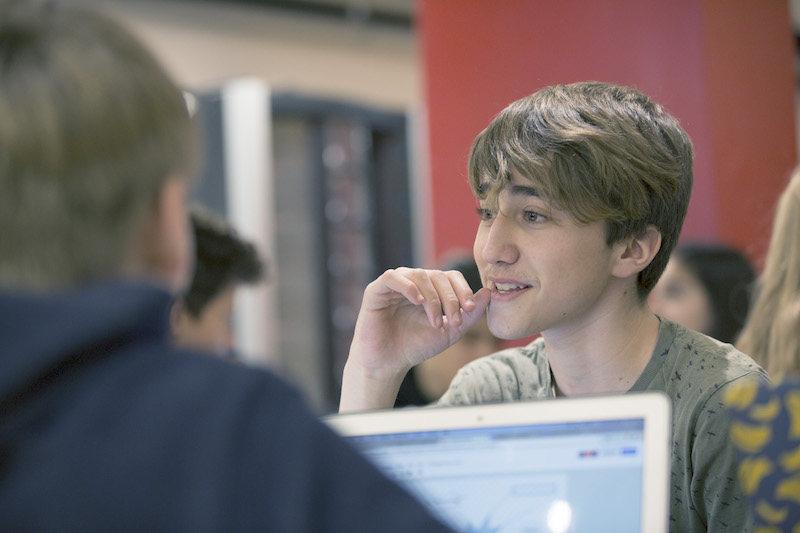 A viewpoint from Southbank International School in London, UK...
Now in its 50th year, the International Baccalaureate (IB) programme is taught by over 4,000 schools to over one million students across the world. The programme encourages students to become active, compassionate and lifelong learners from the age of three to 19.
The IB aims to develop inquiring, knowledgeable and caring young people who will help to create a better and more peaceful world through intercultural understanding and respect. It helps children grow in self-confidence and become more open-minded.
What makes the IB especially distinctive is the way that the programme encourages students to be more globally aware, to learn through real-world experiences, to be active within their local communities and to develop a love of learning that goes beyond academic study.
Four programmes for students aged 3 to 19 years old
Although widely viewed by parents as an excellent way to prepare for life at university and the 'world of work', the IB programme is actually available for students aged three to 19 years old. The global nature of IB means it is becoming increasingly more appealing to many parents seeking an alternative to a national curriculum route.
In the UK, most leading IB schools follow 3 programmes for students:
The Primary Years Programme for students aged 3-12
The Middle Years Programme for students aged 11-16
The Diploma Programme for students aged 16-19
The Primary Years Programme covers six transdisciplinary themes that help children gain a better understanding about who they are, how they express themselves, how the world works and how to share the finite resources of the planet. However, the focus is equally on grounding a student in the universal skills that they will use throughout their life – developing independence, thinking for themselves, and gaining an understanding of the world around them.
The Middle Years Programme covers eight subject areas (language acquisition, language & literature, individuals & societies, sciences, mathematics, arts, physical & health education, and design). The Programme develops a student's skills of analysis. It challenges them to think about, and make connections between, what they learn in the classroom and the world around them. Throughout the Middle Years Programme teachers will nurture each student's individual strengths, encouraging them to help themselves and one another to understand the curriculum.
The Diploma Programme is the pathway programme designed to help students prepare for higher education and the world of work. The Programme includes some unique elements including the preparation of an extended 4,000-word essay on a subject of the student's choosing. Students are also introduced to the unique Theory of Knowledge course which encourages them to reflect on the nature of knowledge and the factors that have an impact on how people learn. This element of the course – which is assessed through an independently researched, 1,600-word essay and presentation – is felt by many to be an excellent preparation for the academic rigours of university life, giving students insight into how to study most effectively. Alongside their academic studies students are also expected to carry out some form of creativity, activity, service (CAS) project to demonstrate perseverance and initiative, as well as help them to develop further skills such as collaboration, problem solving and decision making.
Why opt for the IB?
Many families now see the IB as the perfect passport to the world's leading universities and most desirable jobs. The independent research skills that are taught and the inter-disciplinary subjects that are offered on the IB Diploma Programme allow students to progress particularly well on undergraduate degree courses that require good writing abilities, numeracy and analytical skills. Such is their level of preparedness for university life that students who have studied the IB at school have the lowest dropout rate.
A recent study showed that Diploma Programme graduates are also better prepared than non-IB graduates in 21st century skills, such as critical thinking, problem-solving, global mindedness, cultural sensitivity and leadership. The transferable skills learnt during an IB education are especially attractive to leading employers who are keen to recruit graduates who can demonstrate the ability to make connections between what they have learnt and the real-world business challenges that their organisation is facing. Companies also appreciate the global nature of the IB as it enables more easily a direct comparison between the results of a candidate from London with, for example, another candidate from Singapore.
Why study at Southbank International School?
Southbank International School is a co-educational IB school for children age 3 to 19 with over 60 nationalities on its roll. The school is London's leading IB World school, academically successful and rated 'Outstanding' in all areas by Ofsted. Many of its students go on to study at the world's top universities including Oxford, Cambridge, Yale, and Harvard. The school currently has threes campuses in Hampstead, Kensington, and Westminster and has expanded the facilities of its Westminster campus with a new building (opened in September 2018) to cope with the growing demand for places.