'The IB nourishes the way you look at things and it changes your perspectives'
Posted on 12th Oct 2022 in School News, Spain, International Schools, International Education, International Baccalaureate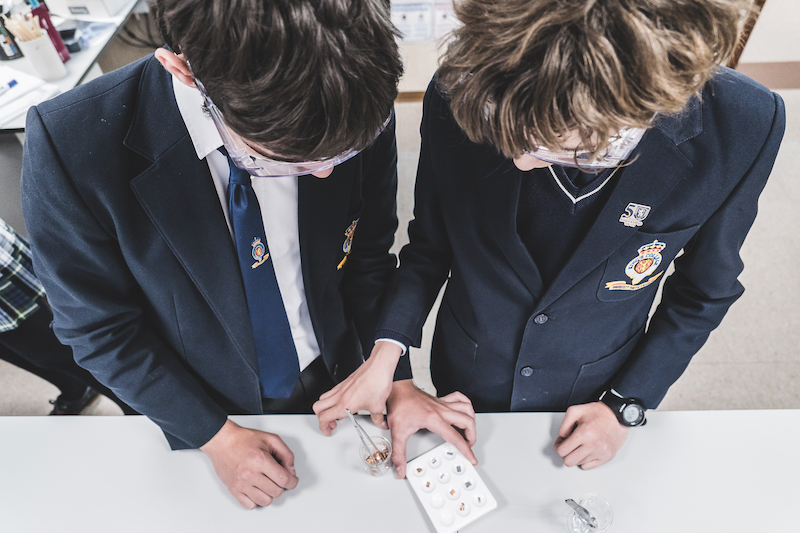 The first cohort of IB students from King's College Madrid share their experience studying the Diploma Programme.
In September 2020, true to its vision of being "at the forefront of British education at an international level", King's College extended its educational offer to introduce the International Baccalaureate Diploma Programme (IBDP) for students from 16 years old.
In combination with the British Curriculum, the world-renowned IBDP would offer students a unique learning pathway aimed to encourage international mindedness as well as intellectual rigour and academic flexibility.
We have spoken to the first cohort of IB students of the school, to learn about their experience.
"The IB really tries to push students forward to solving issues and complex problems and give them real case scenarios in which what we are learning applies," explains Gabriel, one of the first IB students at King's College Madrid. He decided to study the IB because, although his passion is Biology, he was looking for a programme that would allow him to study a wide range of subjects. "I wanted the opportunity to learn more things, to develop more knowledge, and I think the IB was really useful in that sense. In IB DP, they give you all the resources you need in order for you to really understand and get a feeling of what we are actually learning," he notes.
Marcos, who has been studying at King's College Madrid since he was 4 years old, felt that the IB Diploma Programme "nourishes the way you look at things and it changes your perspectives." He is preparing to study Medicine next year and is hoping to access a university in the UK. "I feel the IB has really helped me prepare for what university life will be like, because it has taught me how to be more organised and resourceful on my own, without needing that much help from my teachers," he explains.
Something similar happened to Sofia, who is a boarding student from Bulgaria: "I feel the IB really teaches you how to be independent and how to study in your own time as much as it gives you the resources and helps you throughout that journey that you're going through."
She decided to combine Film Studies and Biology for her IB DP, because she wanted to get deeper into both subjects before deciding which one to choose as a professional career. One of the things she especially liked about the IB was the "self-reflections". "I think that it's very important for you to take your time to write a reflection in everything you've done, because that allows you to understand better what you have learned, how you have learned it and what made you struggle the most," she adds.
Nadia, another IB student from King's College Madrid, decided to study the Diploma Programme because she felt that the IB would offer her a global perspective of "how the world works" and would help her progress her knowledge and learn "in a different way". "I would say the IB is as much challenging as it is fun. You need to be really organised and keep up with your studies, but you also get a chance to do a lot of debates in class, do interesting projects and open your mind to other perspectives," she comments.
For Valeria, who has been a student at King's College Madrid her whole life, the IB has given her a unique opportunity to develop her skills as a learner. "I think the IB forces you to develop skills that robots, for example, can't replace. The jobs of the future, that don't even exist now, will require skills like innovation, resilience, teamwork, those that IB helps us develop." Valeria wants to study Medicine, which is her passion, and she is preparing to access a university in the UK or The Netherlands.
"The IB is really helping me grow as a person because I feel way more challenged to manage my own time and be organized, but also to accept failure. Sometimes I've noticed myself struggle because of the workload. But to be able to accept that and be able to reflect on what have been my mistakes and how I can improve is a skill, self-awareness, that I value so much. And I feel like it's going to be useful for later years in my life," she explains.
The headmaster, Matthew Taylor, commented that "The IB at King's College is a great success. Students have thrived on the Diploma Programme and made great educational progress, achieving wonderful results, but also growing as intellectually curious, articulate, principled young people. The balance of academic work, alongside community action and service provides pupils with an all-round education. The IB at King's College prepares pupils for the future, in this digitally connected world where pupils are expected to work in jobs not yet invented. An extremely popular programme the IB Diploma continues to go from strength to strength at King's College."
To find out more information about studying the IB at King's College Madrid, please view the website here: https://www.madrid-soto.kingscollegeschools.org/en/ib-diploma-programme.
This article first appeared in the 2022/23 edition of John Catt's Guide to International Schools, which you can read here: