International schools – what's the difference?
Posted on 1st Oct 2019 in International Schools, International Education, France Tweet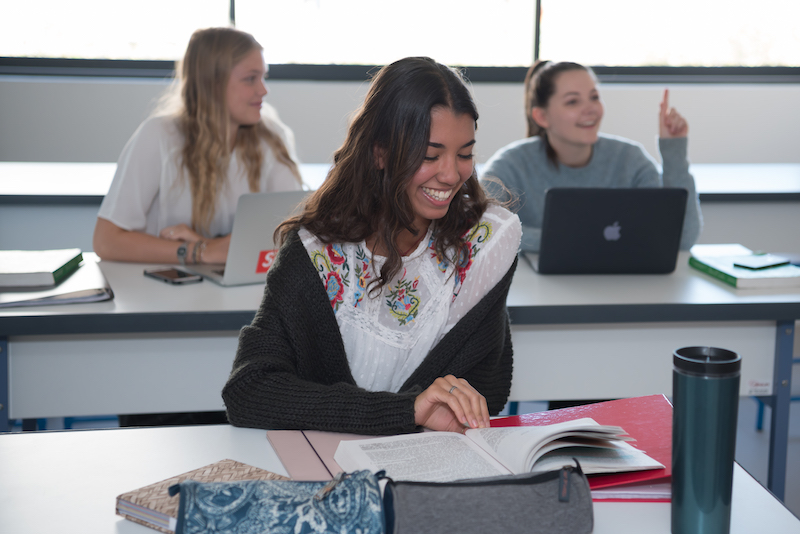 Stephanie Winterford, History teacher and Special Education Coordinator at Bordeaux International School in France, asks a question of definition...
In south-western France, several options exist for families wishing to enroll their child(ren) in an international educational setting. Many schools offer an 'international' or 'European' section, whereby additional lessons are taught in English (or another European language, often Spanish or German); notably, however, the defining characteristic intended to represent this element of 'internationalism' is often limited to foreign language learning. In Bordeaux, a further option exists: Bordeaux International School celebrated its 30th year in 2018; I've been a teacher here since 2013. CIS accredited, BIS welcomes students – French and international – from ages 3-18, with a bilingual Primary and Middle section and a Secondary section that offers the Cambridge IGCSE/ A-Level exams.
The similarities between the schools mentioned above – the state schools offering International Sections and then BIS, a recognised international school – serve to highlight the ambiguity surrounding the criteria needed to justifiably declare a school 'international'. As migration increases, even the smallest local public schools are becoming multilingual: parents and students speak two or more languages, and local public-school events demonstrate a vibrant feeling of a successful – indeed embraced – capacity for cross-cultural exchange. So, what makes an international school 'international'?
In 2009, the IASL (International Association of School Librarianship) offered the following (now widely referenced) international school criteria checklist:
Transferability of students' education across international schools
A moving population (higher than in national public schools)
Multinational and multilingual student body
An international curriculum (i.e. IB – DP, MYP etc.)
International accreditation (e.g. CIS, IBO etc.)
A transient, multinational teacher population
Non-selective student enrollment
Usually English (or bi-lingual) as language of instruction
Still – with the increasing number of public schools offering (for example) the IB programme, many of these characteristics could apply to any number of local schools. But international schools are different, and, after nearly two decades of teaching in six countries, two items from the list stand out for me: numbers two and six. Certainly, for our small school in Bordeaux, it is these variables that distinguish us from other schools. Indeed, they present the greatest challenges – as well as the greatest opportunities.
BIS is a small school. With an average of 150 students from preschool up to A-Level, the constantly shifting student population often emphasises our size. When students arrive from very large establishments in Asia or North America, the small size of BIS usually represents one of their first big adjustments. Certainly, from an educator's standpoint, teaching a group of four at IGCSE- or A-Level has substantial benefits; from a social standpoint, however, this can be tough on the kids who are used to a much larger peer group from which they develop their friendships. On top of this, we often have students joining us for only a year or two, meaning that even once social connections have been made, face-to-face, daily connections can be fleeting. This constantly changing student population is typical of so many international schools, whose entire social atmospheres can change – frequently – based on the learners arriving and leaving.
But the challenges are not without their advantages. At BIS, extremely small class sizes foster a learning environment where individualised, differentiated teaching is easier to ensure; a benefit of this, in turn, is that students tend to stay in touch after they've left the school. Our size – specifically, the flexibility this allows – means teachers can invite students who aren't taking their class to sit in on a lesson, for example, simply because the student demonstrates interest in the topic.
I consulted with some students on this and was happy to learn their thoughts. One student suggests that the impermanence itself serves to create ties: Kyle (A-Level; Singapore) expresses that a "sense of community exists precisely due to the shared impermanence of one's time in the school as well as a common understanding of our peers' situations, having come to France for a short time".
Of course, the transient population isn't limited to students: our teachers come from approximately 10 different countries (depending on the year). While this mightn't compete with educator diversity in large international schools, it is not to be underestimated! Indeed, this demographic marks a stark contrast to even the largest local schools – especially in France – where strict citizenship requirements must be met before a teacher may even register to sit the exams needed to become a public-school teacher. Cultural diversity among teachers means that qualifications, experience and teaching philosophies are different – this is a good thing. Especially considering the fluid student population, staff must work to maintain a level of uniformity, ensuring simultaneously that the promotion of a global mindset is included in lessons and interactions with students. This can be tough – but also very rewarding.
Staff diversity presents excellent learning opportunities. Virtually all international educational travel and student exchanges at BIS are made possible as a result of teachers' experiences and connections with schools in different countries. BIS runs a bi-annual educational trip to Canada, for example, as well as trips to Spain and Wales. We have a partner school in Senegal with which projects are organised – all of these are direct results of teachers taking advantage of contacts in their countries of origin. There is intrinsic value in the personal element brought to these connections and activities; cultural diversity among educators is, arguably, among the most predominant defining elements of a bona fide international school.
As multiculturalism becomes ubiquitous, it will become more difficult to pinpoint the unique differences offered by international schools. While many classrooms seek to integrate foreign students in hopes of assimilating them into local society, perhaps the stand-out trait of international schools, then, will be the opportunity they present to students to bring their different cultures into the school while developing students' views and experiences to extend outwards.
This article first appeared in the 2019/20 edition of John Catt's Guide to International Schools. You can read the digital version of the guidebook here: