Innovative, immersive, international: The world's first online IB Diploma
Posted on 7th Oct 2022 in International Schools, International Education, International Baccalaureate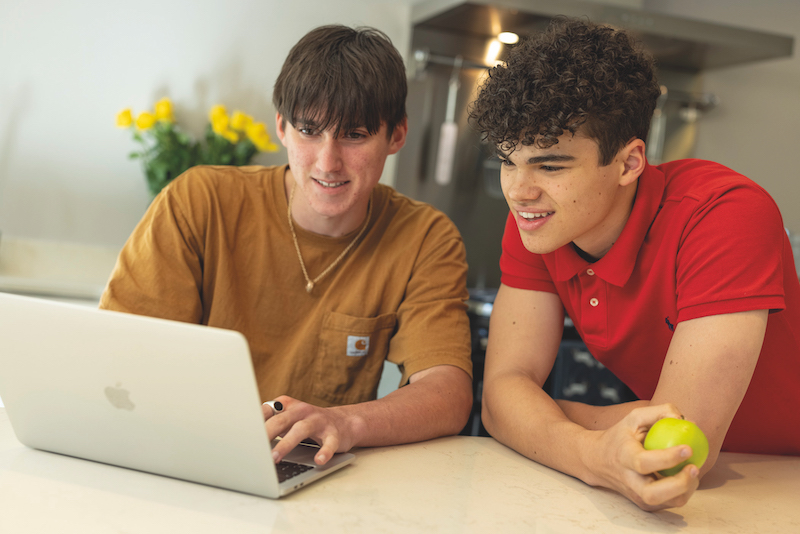 King's InterHigh is working with the IB Organisation to explore the advantages of online learning and collaborating with virtual communities.
King's InterHigh is proud to be the world's first and only school to offer the IB Diploma Programme entirely online – an innovative, immersive, and international option for students around the world.
The online Diploma Programme begins at King's InterHigh this September 2022, giving students a flexible path to an outstanding education. Bringing our experience and leadership in virtual education to a new partnership with the International Baccalaureate Organization (IBO), we are enriching the IB curriculum for the modern age.
Pioneering teaching, virtual reality classes, and a true global community: With all this and more, our young people are prepared for thriving futures in an ever-changing society.
Innovating the IB Diploma Programme
At its core, the IB Diploma Programme has always been ground-breaking. In the words of Haif Bannayan, the IBO's Global Director of Business Development, "IB programmes are designed to be innovative from the ground up and ready to match the educational needs of today."
The world of today is increasingly online. With 5 billion internet users across the globe, leading organisations such as the United Nations say that digital intelligence is now a crucial skill for children to learn. There's also no doubt that the world of education has shifted following the pandemic, embracing the positive aspects that an online education can gift to our children ahead of a hybrid future.
To meet these advancing educational needs, King's InterHigh and the IBO are now innovating the International Baccalaureate® with a fully online Diploma Programme pilot.
As an Inspired school, our new IBDP pathway is backed by 40 years of experience delivering excellence in the IB across Inspired Education Group (with the highest-scoring Inspired school recording a 39-point average score in 2021). Combining this expertise with proven online teaching practices and the very best in educational technology, we bring a powerful edge to the IB curriculum.
Each school day, our students learn in live online classes with highly qualified and experienced teachers. Interactive tools and collaboration are part of every lesson, and students get round-the-clock access to all the learning materials they need, including recordings of past classes.
Our digital classrooms bring students a learning experience beyond what is possible in a traditional classroom setting. Virtual breakout rooms, for example, empower students to investigate topics independently with unlimited resources at their fingertips, while our learning platform's progress tracker ensures teachers can support or challenge students at the best possible level.
As leaders in online education, we make the most of modern technology to create a school environment where confidence, curiosity, and skill-building all come naturally.
Virtual reality for immersive learning
Uniquely immersive virtual reality (VR) is just one way we're bringing students an enhanced IB experience for the modern age. Using VR headsets, learners can interact with any simulated environment in first-person. This experiential way of learning plunges students into the content they're studying, with unmatched educational benefits that speak to the core of the IB's investigative, inquiry-driven learning model.
At King's InterHigh, we've conducted extensive research into VR learning with studies pioneered by our very own Learning Development Programme Champions, Anthony Peters and Nathan O'Grady. Results show that curriculum-aligned virtual reality has profound educational benefits that bolster traditional teaching, including stronger knowledge acquisition and understanding.
As part of our fully online IB Diploma at King's InterHigh, students will get to immerse themselves in these expert-designed VR experiences. Take, for example, our VR History lesson, where students toured Anne Frank's annex from their desks at home. Placing themselves in Frank's shoes, our learners were able to truly explore the thoughts and feelings of the time. In turn, this strong sensory experience gave our students a far deeper understanding of their key learning objective: contextualising historical events through written evidence.
While our students won't use VR headsets in every lesson, they'll have plenty of opportunity to experiment in Biology or Chemistry, evaluate the greatest artistic works up close in Visual Arts, and more – no matter where they are in the world.
Truly international education
King's InterHigh is also uniquely placed to give students the true international education the IB is named for.
Developing global mindedness is a core aim of all International Baccalaureate® programmes, which is why all IBDP students study a second language. Many IB subjects also use real international topics to contextualise learning, referring to sickle cell anaemia in Africa, for example, when studying genetics in IB Biology.
Furthermore, international thinking is an increasingly important skill for students with high-flying aspirations. Emily Tomlinson (Director of Admissions at Christ's College, Cambridge) notes that the global perspective students "acquire while studying for the IB prepares them really well" for university.
As a global school community of students and teachers, King's InterHigh adds an even greater international dynamic to IB learning.
One of the IBO's aims for the fully online Diploma Programme is to bring an IB education to more diverse cohorts of students, regardless of where they live. With a computer and internet access, students can learn with us from anywhere in the world, from the United Kingdom to South Africa to the UAE.
Learning with classmates from every continent, our students are exposed to a variety of backgrounds and cultures. As they interact and collaborate, learners get to share their unique perspectives, histories, and beliefs. In turn, our cohorts gain rich insights into how their knowledge applies across different countries worldwide.
Given that independent inquiry is a driving aspect of the IB Diploma Programme, we are delighted to bring students a rare opportunity to learn about the world fromeach other–not just from their teachers.
Leading the future of schooling
Through it all, King's InterHigh is also serving a greater educational mission. Together with us, the International Baccalaureate Organization seeks to explore all the advantages of online learning and collaborative virtual communities. For the first time, our partnership also brings the IB to students who cannot attend traditional schools, whether due to health, migration, or commitments to passions and careers.
As noted by the IBO, the online Diploma Programme will "work alongside and inform the IB strategy", showing how we can further empower students to succeed in a rapidly advancing global world.
This article first appeared in the 2022/23 edition of John Catt's Guide to International Schools, which you can read here: