Hoi An International School joins the IB community
Posted on 26th Mar 2019 in School News, Vietnam, International Baccalaureate Tweet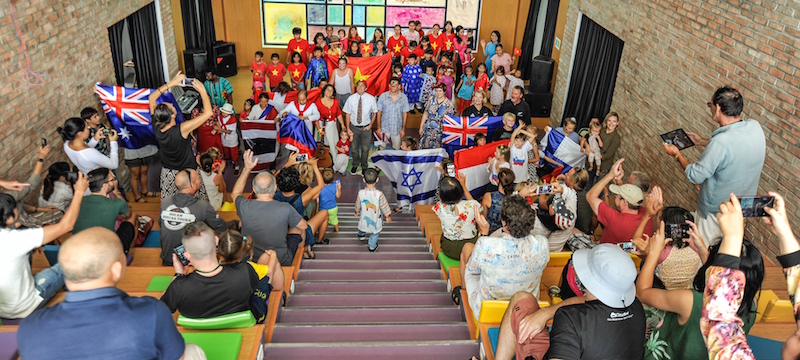 Hoi An International School (HAIS) has become the first school in central Vietnam to be granted candidacy with the International Baccalaureate (IB), which is one of the most prestigious and well recognised education accreditation programs in the world.
HAIS's International Primary Programme has become a candidacy school for the International Baccalaureate Primary Years Programme (PYP) as of March 1st 2019. The announcement comes just 6 months after the school first opened its doors in 2018. This is almost unheard of, and proof that HAIS is striving for excellence.
The PYP offers a concept-based framework which encourages students to have a voice in their own education and provides many opportunities to exercise choice and agency. This inquiry based learning approach doesn't simply give children knowledge; it builds conceptual understanding and provides the skills for students to be successful in our ever changing world.
HAIS will have to go through a very rigorous candidacy process, where the school will be monitored, visited, mentored and guided to possibly becoming a fully accredited International Baccalaureate school. To prepare for this, besides organizing training workshops for teachers, administrators and staff, HAIS also continues to further complete the campus so students have countless opportunities learn both inside and outside of the classroom. Currently, beside a library, laboratory, indoor and outdoor sporting facilities, music and art studios, dance studio, an auditorium, and a 500 sqm permaculture garden, the school is building a pool that is planned to open this summer.
Once fully accredited, HAIS will be the only school of its kind in central Vietnam, and one of only seven IB World schools in the whole country that offer the Primary Years Programme. IB accredited schools are provided with the most up-to-date tools and knowledge to help them stay on the cutting edge of education, and are regularly reevaluated to ensure that they are adhering to the IB's exacting standards.
Rachel Poff, Principal of HAIS, said: "We are absolutely thrilled to have started our journey towards becoming a fully-accredited IB school. We try to provide our students with as many opportunities as we possibly can so they find something that they are passionate about, and once they find that passion, we then provide them with tools and skills to realize their dreams. Anybody can learn anything from a textbook, but we need to create people who can think critically, problem solve and communicate effectively. Having had experience in my own career working with educators and schools around the world to introduce the IB framework, standards and practices, inquiry etc., I've seen first hand the incredible benefits this approach to teaching and learning offers students. This accreditation will mean that students will be able to approach employers and universities virtually anywhere, confident that their education is backed by one of the most highly regarded programmes in the world."
Trần Hạnh An, the founder of HAIS (and parent of five students at the school), said: "When I established this school, my primary goal was clear: I wanted to build a place where I knew my own children would get the best education possible, with the most wonderful parts of an international curriculum, while maintaining the values of Vietnamese culture and traditions. The core values of HAIS come from the balance between knowledge and practical skills, as well as the balance of International education and Vietnamese traditions. Our teachers and staff have already put so much heart and soul into building the school into what it is today, and now that we've taken the first steps toward possible IB accreditation, we have a way of quantifying this hard work and demonstrating to prospective parents the high quality of education they can expect from us."
Hoi An International School is a candidate school* for the International Baccalaureate (IB) Primary Years Programme and pursuing authorization as an IB World School. IB World Schools share a common philosophy—a commitment to improve the teaching and learning of a diverse and inclusive community of students by delivering challenging, high quality programmes of international education that share a powerful vision.
*Only schools authorized by the International Baccalaureate can offer any of its four academic programmes: the Primary Years Programme (PYP), the Middle Years Programme (MYP), the Diploma Programme or the IB Career-related Certificate (IBCC). Candidate status gives no guarantee that authorization will be granted. For further information about the IB and its programmes, visit www.ibo.org