A positive education for the future
Posted on 5th Sep 2019 in School News, International Schools, International Education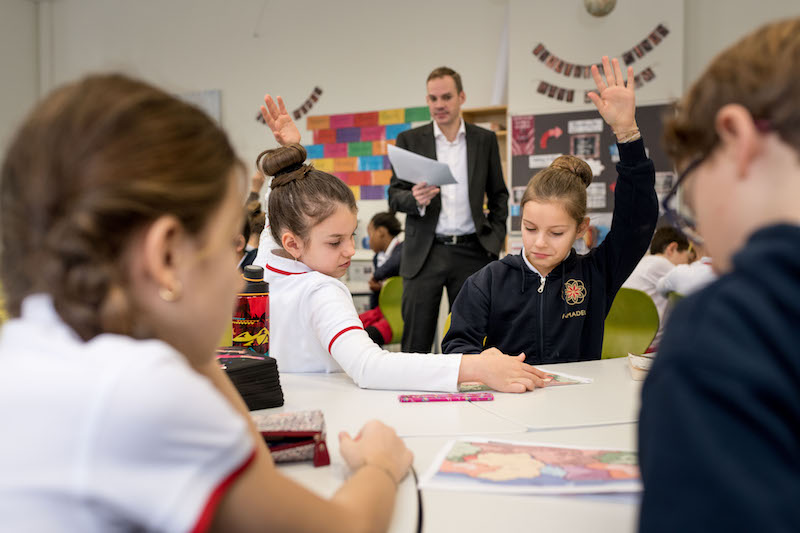 Jeremy House, Head of School at AMADEUS International School Vienna, Austria, looks at the international sector's role in shaping education...

What is clear about the present, is that the rate of change is exponential. What that tells us about the future, is that to succeed, our students will require continual learning and adaptability. At AMADEUS International School, Vienna, we believe it is fair, and necessary, that what will be demanded of our young people can be expected of us. We must be innovators, action researchers, and ambassadors for bettering the practices and potential of a modern education. The international education sector has a great responsibility to lead the way in this respect.
Of special importance to us given our small family oriented community, our Arts and Music Academy (AAMA), and our rich diversity (of more than 50 nationalities), are three developmental pillars which focus our efforts and create tremendous value to our students, teachers, families and wider community. These are 1) a positive education, 2) a creative education, and 3) an international education.
Our Positive Education focuses the agenda on identifying, customising and embedding programs and practices which help young people learn to live a full, happy, meaningful and healthy life; our Creative Education sets the agenda of leveraging the benefits of a Music and Arts inspired pedagogy and integrated curriculum for maximum growth; and, our International Education sets the agenda of truly capturing the value of cultural diversity for learning, for international mindedness, for personal growth, for global understanding and for communication and collaboration.
Each pillar of an AMADEUS Education is enacted within our beautiful campus throughout the entire school. They permeate our thinking, our planning, our teaching and learning and our being. In what follows we introduce you to the first pillar, a Positive Education.
'Institutions – governments, churches, industries, and the like – have properly no other function than to contribute to human freedom; and in so far as they fail, on the whole, to perform this function, they are wrong and in need of reconstruction.' (C. H COOLEY, 1902)
There is much to be gained from the deeper consideration of historical perspectives in new contexts. The quote above implies a higher moral purpose for institutions, above and beyond more individualised conceptualisations of what a school may offer. This is also congruent with the International Baccalaureate mission. The International Baccalaureate is universally respected for its rigour, international focus and clear purpose 'to create a better more peaceful world through education'. Indeed the prolific growth of the International Baccalaureate to more than 4000 schools worldwide, might be considered to constitute a 'reconstruction' of the educational landscape in the direction Cooley had imagined.
Deeper still however, the true realisation of such a vision rests firmly upon the capacity of institutions to enable young people to flourish. To flourish is a term translated from the Aristotelian concept of eudaimonia. To get quickly to the heart of what it means to flourish, one can indulge in a short philosophical thought activity. Consider a butterfly for a moment. How can we discern a good butterfly from a bad butterfly? Perhaps, a good butterfly is one that flies gracefully, that contributes to its ecosystem, that brings beauty into the world, and that will reproduce. In short, a good butterfly is one which expresses its fullest 'butterfly-ness'. This butterfly could be said to be flourishing. Reasoning from here, a flourishing human is one who expresses one's fullest 'humanness'. That is, to reach ones highest possible (morally justifiable) physical, social, emotional and intellectual potential in this world.
Building in no small part from this perspective, the Positive Psychology movement was born at the beginning of the 21st century. Leading this, Dr. Martin Seligman famously provoked that, 'psychology has been concerned with misery for far too long' and compelled his colleagues to reorient psychology toward understanding what makes humans flourish. In the (almost) two decades since this time, numerous academics and scholars have taken up and continued the task of deepening our understandings of the what-and-how of human flourishing. We now have a significant body of knowledge (led by academics including Carol Dweck on Growth Mindset; Angela Duckworth on Grit; Mihlay Csikszentmihalyi on Flow; Edward Diener on Subjective Wellbeing; Richard Ryan and Edward Deci on Self Determination; Christopher Peterson on Character Strengths, to name but a few) about teaching young people to thrive, and the ways in which institutions can enable wellbeing and support high-performance. Yet, most schools fail to overcome the inertia of their deeply entrenched systems and practices and hence cannot offer these lessons and experiences to their learners in a coordinated way.
A positive education is simply, the application of positive psychology in schools. Simple, not easy. The goal of achieving one's greatest potential is common for all people and something particularly meaningful for educators. 'Each person has to achieve it (flourishing) on the basis of his/her own individual efforts and creativity' (Csikszentmihalyi 1990), however, there is much schools can do to promote and support its realisation. The most successful programs give careful consideration of the evidence for the positive psychology interventions they employ, to best practice teaching and pedagogical principles for learning, to school culture, to institutional openness and alignment with a philosophy of positive education, to the broader objectives of the organisation and other contextual factors. This is the approach at AMADEUS International School, Vienna, as we pursue this pillar of our education for the future with your child in mind.
Above all, having your child in an environment with a deep commitment to positive education gives you confidence that in addition to (or indeed in support of) an outstanding academic preparation:
Your child will have a strong theoretical and practical understanding of what it means to flourish, and strategies for promotion of one's wellbeing.
Your child will have a deep self-awareness and knowledge of one's character strengths, with the ability to leverage these for flow and deep work.
Your child will foster many of the dispositions of kindness (gratitude, altruism, mindfulness, compassion and empathy) throughout their education.
Your child will foster many of the dispositions of high-performance (hard work, resilience, determination, organisation and resourcefulness) throughout their education.
Your child will always be treated with respect, dignity and worth; as somebody full of potential in this world.
Your child will be empowered, and learn to accept the responsibilities which come with this; capable of positive influence, leadership and agency in diverse contexts.
Your child will explore their meaning, purpose, and passions, and be encouraged to pursue them with zest, positive emotion, engagement, and in the company of positive relationships.
Irrespective of where the future takes us, there is little doubt that these skills, learnings and habits will be instrumental in any measure of the success and/or quality of the life we are free to lead.
For further reading:
Seligman, M. (2011). Flourish: A visionary new understanding of Happiness and Well-being. New York: Atria Paperback.
Csikszentmihalyi, M. (1990). Flow: The psychology of optimal experience. New York: Harper & Row.
Dweck, C. (2008). Mindset: The new psychology of success. New York : Ballantine Books,
Duckworth, A. (2016). Grit: The power of passion and perseverance. New York, NY, US: Scribner/Simon & Schuster.
Diener, E. (2009). The science of well-being: The collected works of Ed Diener. New York, NY, US: Springer Science
Deci, E., & Ryan, R. (2002). Handbook of self-determination research. Rochester, NY, US: University of Rochester Press.
Peterson, C., & Seligman, M. (2004). Character strengths and virtues: A handbook and classification. New York: Oxford University Press.
This article first appeared in the 2019/20 edition of John Catt's Guide to International Schools. You can read the digital version of the guidebook here: