What's on the other side of the pandemic for international schools?
Posted on 10th Aug 2021 in School News, International Schools, International Education, United States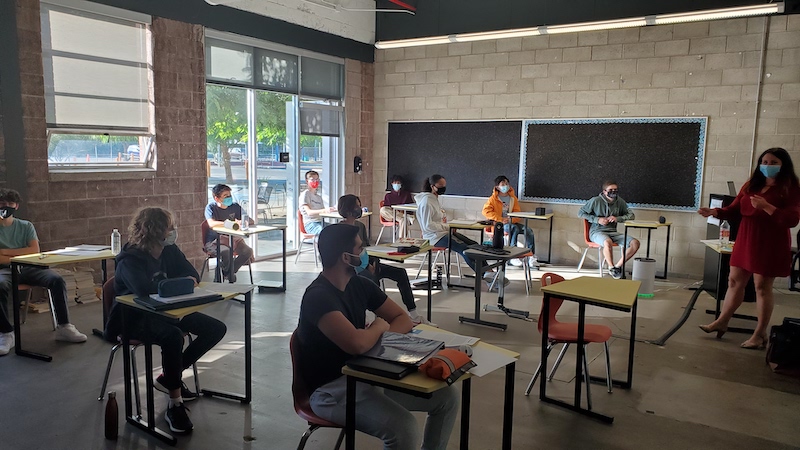 Michael Maniska, Head of School at the International School of Los Angeles, shares an outlook on the road ahead
On March 13, 2020, as the City of Los Angeles entered a safer-at-home period, the International School of Los Angeles closed its campuses and pivoted to online learning. Our preschool and pre-Kindergarten students were able to resume in-person learning some five months later; however, our elementary students stayed online for almost 12 months, and our middle and high school students remained online for just over one year.
The Covid-19 road has been a long and arduous one for all of us globally. The volatility and uncertainty that have characterized the pandemic from an educational standpoint have been spectacular. Our teams have been stretched to new and hitherto unimagined limits. Now, as we emerge from the pandemic, somewhat shell-shocked, a new set of considerations and questions is ours to ponder.
What are some key take-homes from the e-Learning period?
While some pundits and futurists were quick to suggest that in-person schooling would never be the same again, for us, the remote e-Learning season affirmed several key things about the importance of in-person learning in terms of our mission.
An immersion bilingual program is just not the same online, no matter how innovative and flexible our faculty are and certainly were. Considering the realities of teaching through a screen, it was not surprising that, across ages and subjects, teachers observed greater linguistic loss in the areas of production (speaking and writing) than in the areas of reception (listening and reading).
True and successful bilingual immersion is as much about the informal experiences and exchanges students have with one another and their teachers on campus as it is about the formal curriculum. Virtual learning simply cannot offer these casual interactions which support both language acquisition and social-emotional development. Somewhat predictably, students who live in homes where the target language (in our case, French) is not spoken experienced more significant linguistic loss than those who hear the language spoken by parents and siblings. The scarcity of these day-to-day exchanges was increasingly felt in only-child families, where the social-emotional component was likewise impacted. It is not unexpected, then, that many expressed a direct positive correlation between online learning success and students' socio-affective maturity and autonomy as learners.
Faculty and students, however, were not alone in e-Learning. Parents, many of whom found themselves in a new role as teacher aide, gained a unique (and direct) window into their children's classrooms. The feedback and opinions were plentiful; the support and engagement were unmatched. Our parents – perhaps especially those of elementary-aged students – rose to the challenge. They juggled competing demands of professional and family life, while, in some cases, coping with extreme financial and psychological duress.
Through the eyes of our community members, the significance of in-person schooling, particularly in delivering a bilingual and international education, has become indisputable.
What does this mean for us in the short- and long-term?
With students and faculty back on campus, and life getting slowly back to "normal" in Los Angeles, a certain palpable euphoria permeates our school. With this said, a set of challenges unfolds.
Conceivably the most immediate of these is the need to support (exhausted) faculty in finding a sense of professional equilibrium as they make earnest efforts to catch up students whose learning loss is real. Some of this balance may be found in rethinking quality pedagogy that optimally blends online and in-person learning, meeting students' and teachers' needs.
While we imagine how classes may change, we think beyond the classroom walls too. As we know, international school communities are heavily reliant upon our members' being able to travel to visit loved ones around the world. However, we now find ourselves in a global context in which international movement remains significantly hampered for the foreseeable future. As people weigh the pros and cons of expatriation in the current context, how will this influence families' enrollment decisions? How will it compromise the recruitment of quality global faculty?
Critically, our extensive international travel program for students is hanging in the balance, at least for now. Our signature overseas trips, offered annually in the main, are entering their third year of cancellation. Throughout e-Learning, all manner of virtual visits was made available to our students; the quality of some of these is truly remarkable. Nevertheless, "virtualizing" this aspect of our mission does not compare to the real thing. The logistics of making up these trips are complex, but these experiences are vital to the expression of our mission. So, we set our sights on the reshaping of student travel in the post-COVID world.
The university application process has also seen itself restructured. In a "testing-optional" college admissions era, one in which major examinations such as those of the IB Diploma Programme and the French baccalauréat have been cancelled, wisely counseling 12th grade students has been no easy task. The uncertainty and stress have been very real for our high school seniors who have had to contemplate their post-school destinations even more carefully as they prepare for a pandemic-influenced college experience.
Essential to finding a new (hopefully better) normal, is striving to do justice to significant issues of Diversity, Equity, and Inclusion in the United States. In schools like ours, this critical work must also be situated in an international context. Only then can our students truly become open-minded and caring citizens of the world.
What gives us hope?
The pandemic has been trying for our school communities; still, there is encouragement to be found. Perhaps most heartening is the acute sense that our school mission has not only been affirmed but also strengthened and galvanized. This has translated to our core values, around which parents, faculty, staff, students, and leadership are more united than ever before. This shared sense of purpose has played out in countless and irrefutable instances of community and altruism, further cementing the critical place of soft skills and social-emotional learning in education today.
Ultimately, we have gained a deeper understanding of our core work with young people who, having lived through pandemics, insurrections, local and global upheaval, and extended periods of complexity and ambiguity, are poised to be future leaders of substance.
This article first appeared in the 2021/22 edition of John Catt's Guide to International Schools, which you can read here: