Three-quarters of Impington International College Oxbridge applicants receive offers
Posted on 11th Feb 2023 in School News, United Kingdom, University Study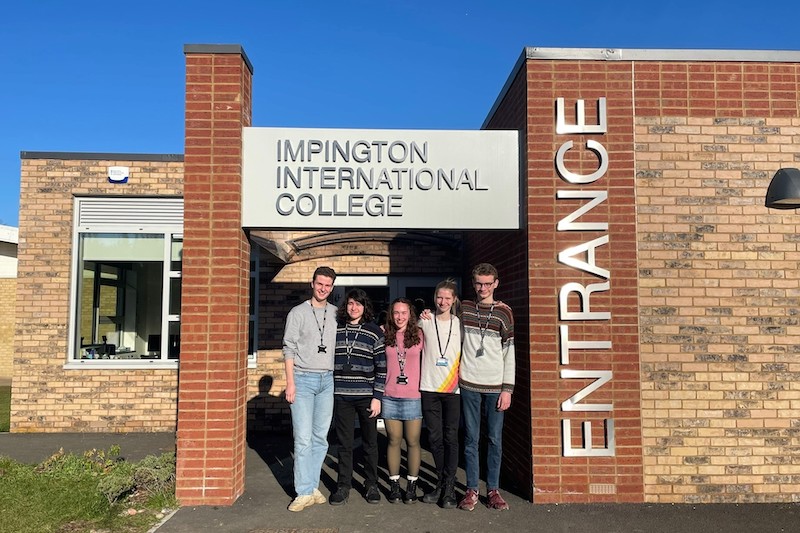 Impington International College, in Cambridge, is celebrating a second year of record-breaking Oxbridge offers; 75 percent of its International Baccalaureate (IB) Diploma Programme (DP) students who applied to the University of Cambridge and Oxford University have received offers for September 2023.
In a first for the College, students, Amadeu R., and Patrick C., received conditional offers to read Philosophy, Politics and Economics (PPE) at Oxford University. Kate B., and Leon K., also received offers from Oxford University to study Psychology and English and History respectively.
Toby L., secured an offer to read English Literature at the University of Cambridge and Rory L., was also successful in his application to the University of Cambridge, where he hopes to study Geography. Reflecting on their achievements, Rory said: "I am extremely grateful for this opportunity; the College's Head of Progression encouraged me throughout the entire process and I was aided by my teachers every step of the way."
Praising the College's Oxbridge applicant support, Patrick C., said: "The College set-up a mock interview for me, which reduced the pressure for the real interview and demystified the process."
Amadeu R., agreed: "I was able to access support relating to my application, admissions tests, and interviews, allowing me to prepare properly."
Bronwyn Wilson, Assistant Principal: Head of Sixth Form, Impington International College, said: "I am delighted for our students who have received Oxbridge offers for September. Their offers are a testament to their hard work, dedication, and commitment during their time at the College. Following the introduction of our DP Global Politics course last year, I am particularly proud that two students have chosen to continue their political education at globally renowned institutions. Their passion for initiating change is a testament to the IB's mission of developing caring young people who help to create a better world. I cannot wait to see what all of our students go on to achieve."
Impington International College has been offering the IB for more than 30 years. Through the DP, students must study six subjects. At the College, students can choose from more than 35 subjects to form their DP. This is in addition to the DP core, which comprises theory of knowledge (TOK), creativity, activity, service (CAS) and the extended essay, which is designed to enable students to develop skills preferred by universities, such as independence and inquiry.
Leanne Gibbons, Assistant Principal: Head of Sixth Form, Impington International College, said: "The record-breaking number of Oxbridge offers secured by our students for a second year running is indicative of the quality of their applications. As a state college, I believe we are truly levelling the playing field, because our class sizes are so small, which ensures high contact time with teachers and means that our students flourish academically and socially so they can progress confidently into their next stages of learning and life."
The students' success follows the news that Impington International College is ranked the top non-selective International Baccalaureate (IB) World School in East Anglia in this year's The Sunday Times Parent Power List.
The College is taking applications for students joining in September 2023. For more information on how you can apply, please visit: https://www.impingtoninternational.org.uk/admissions/