The value of boarding as an IBDP student
Posted on 16th Sep 2021 in School News, South Korea, International Baccalaureate, Boarding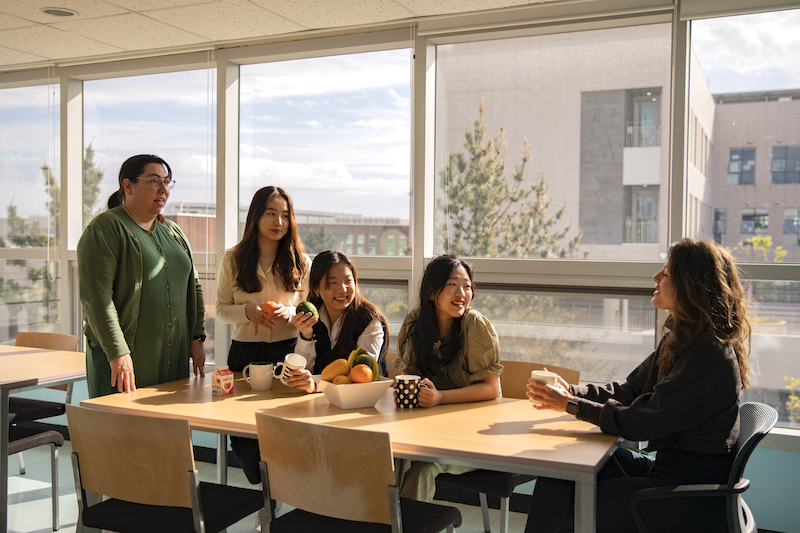 Jane Forster, of North London Collegiate School Jeju, explains how students are offered structure and support that leads to exam success
North London Collegiate School Jeju is a South Korean international school offering an exceptional British education to Korean and international students aged 4 – 18. We offer a British curriculum up to IGCSE and then in our Sixth Form we are proud to offer the IBDP.
NLCS Jeju is part of the prestigious NLCS group of schools which was founded in North London in the UK in 1850 by educational pioneer, Frances Mary Buss. The school was set up to offer equal educational opportunities to girls and the family and those that they inspired have made an impact on tens of thousands of girls' lives over 170 years. There are now four schools in our family – in London, Jeju, Dubai and Singapore.
South Korea is a country which values education and academic success and it regularly tops international polls. Koreans are really starting to see the value of the IBDP – but we are still one of only a limited number of schools offering this in Korea – and the school now has a waiting list for its 1500 places. The school is selective and our students are bright and ambitious and ready to think for themselves and really embrace inquiry based learning.
Our Class of 2020 truly excelled even by our own standards and we are considered a global Top 25 IB School – ranked 22 with an average score of 39 points. This is impressive but even more so when you consider that our students are almost all non native English speakers.
We believe that there are many reasons behind this success and the fact that the majority of our students enter elite universities in the US, UK and around the world. They are diligent, creative and they soak up learning. We also try to create the best learning environment both in the classroom and in the Boarding Homes. Many of our students choose to switch from day to boarding in Years 12 and 13, or they commit to extending their boarding careers in our specially designed Halla Boarding Homes – named for the fabled highest mountain in Korea which is located on Jeju.
There are many reasons why students choose to board while studying for the IBDP. Parents want to be reassured that their children are safe and well in a home-from-home environment during term time. In the Boarding Homes our DP students have their own rooms so they have their own bedroom with ample study space. Here they can be quiet and concentrate – rooms have excellent lighting and a student can decorate their bedroom with their own choice of art – or study notes!
Some students prefer to study in the communal study room with its whiteboards, desks and different types of seating. Here students can study alone, together with friends or with the Boarding Master and Mistress and their teams. We also have an academic support rota with teachers coming into the Homes in the evenings to support specific subjects, share knowledge and tips, advise on English language and much more. There is always someone to talk to and bounce ideas off. It's very different having company rather than being at home alone. Many students find it works very well for them.
Year 12, Yoon Jae (Alex) Chung sums it up:
"One of the extensive benefits of joining a boarding school is the simple fact of brotherhood. Not only can we share our worries, but we can also ask questions and teach each other when there are weaknesses in academics. As we all are aware of how difficult the IBDP programme is, we try to help each other by evaluating each others' answers. The contrasting perspectives help us to extend our knowledge further and create the best outcome possible. As every student has their strengths and weaknesses, we find discussions crucial and valuable. This doesn't necessarily mean that independent studying isn't achievable as we work independently before we examine each others' work. I find that the additional support and feedback from my friends are exceptionally advantageous, and it helps me to receive higher grades."
His honesty is refreshing. The IBDP is challenging and it's wonderful to be surrounded all day and all evening by others who understand the issues associated with achieving such high scores.
Na Young Son is a Year 13 student whose excellence at her DP studies has gained her a place at Stanford next year. She echoes these points:
"As a sixth-former, studying independently with my friends in the boarding house was very helpful in managing the IB workload. Since IB is more like a marathon than a short run, mental support from BMs, friends, and tutors in boarding homes supported me in really strengthening my resilience.
I enjoyed all the spaces that were provided for studying (Brew rooms, common rooms, etc.). These places became a regular study area, especially during the exam weeks. I will always remember when all the Year 13s gathered in the Brew room to support each other to survive through the official IB exams.
Also, the printers and whiteboards near the study area inside the boarding homes were very useful throughout the two years. The study spaces inside the boarding homes were more than enough to maintain my focus and workflow."
The students all acknowledge the camaraderie of boarding really gives them an edge. Alex and Na Young are typical of the views and these are echoed by the Boarding Master and Mistress – both of whom are ably supported by a large team of Assistant BMs, Graduates and Gap Assistants.
Mr Scott Davies goes further in his endorsement as he describes some of the extra support given to these DP students:
"Boarding in Halla provides a number of opportunities for students to reach their full potential in the IB. We are available for assistance with the Extended Essay, can provide CAS opportunities in house and during the university application process, are able to lend support and guidance with UCAS personal statements and US application essays. We provide a sounding board for personal statements and essays. The personal benefits gained from boarding and the support networks in place for those students to develop the key skills of leadership and independence are integral to developing students and future leaders who are attractive to university admissions teams."
The extensive, comprehensive pastoral support afforded to our boarders – ensuring good habits are followed and learned and developed help ensure independence when the students leave school.
It's a privilege for our students to be studying for the IBDP here in Jeju, South Korea. We believe the structure and support we give to their lives and their study patterns is a major factor in helping to nurture a group of amazing, successful young people. We believe that they really do Start here. Go anywhere.
This article first appeared in the 2021/22 edition of John Catt's Guide to International Schools, which you can read here: