Supporting your 'Third Culture Kid'
Posted on 1st Jul 2020 in School News, International Schools, International Students, Vietnam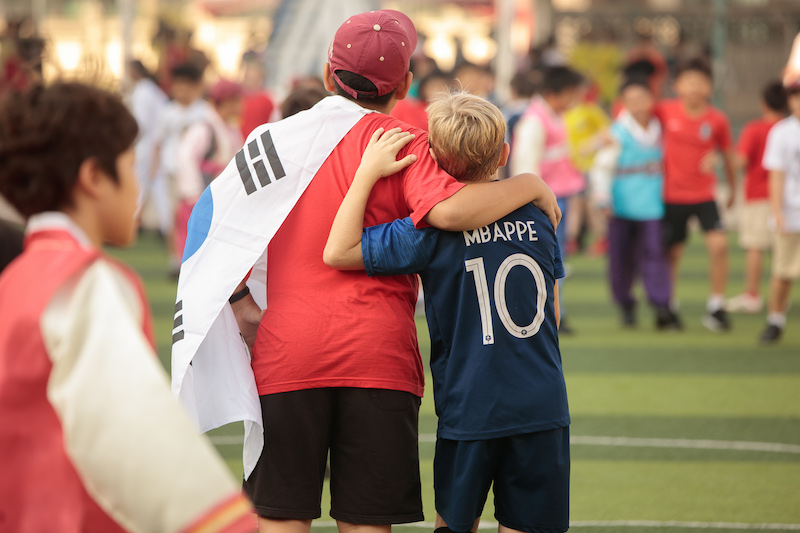 An honest perspective from Charlotte; a self-defined Third Culture Kid from the British International School Ho Chi Minh City.

"I was 3 months old when I left my home country Belgium to live a life abroad in Kathmandu and ever since I have relocated 4 times in over 3 borders. People often ask me what I consider as 'home' and that's when I realise that my understanding of the concept is not your usual single-word answer." – Charlotte
Like so many international school students around the world, Charlotte is known as a Third Culture Kid, a term first coined by Useem in 1963 and later defined by Pollock as 'a person who has spent a significant part of his or her developmental years outside the parents' culture.'
As the number of parents embarking on international careers increases, so too are the number of Third Culture Kids. For us, at the British International School Ho Chi Minh City (BIS HCMC), our student population has grown to include over 50 nationalities, with many - like Charlotte - who have spent very little time surrounded by their parents' home culture. It's therefore essential that expat parents and international schools alike are equipped to understand the complex challenges associated with being a Third Culture Kid whilst equally celebrating the benefits of growing up among worlds.
Identity Struggle
Charlotte explains that although each individual is different, the typical dialogue of the Third Culture Kid stereotype goes something like this:
"I don't have an identity, thinking about where I'm from gives me a sweat and when filling out a form asking me where I'm from I literally have an identity crisis."
This type of identity struggle is commonplace amongst children who've undergone several cross-cultural relocations. An expat child is repeatedly required to find a new sense of belonging in each place they live. Of course the extent to which your child will struggle with their identity and understanding of the word "home" will differ based on length of time in each new country and age at which they make the transition. Younger children are, by nature, more adaptable when faced with a new environment. For older primary or secondary aged children this can be a more difficult task with added social pressures of assimilating into new peer groups.
Integration is key
Research shows that the healthiest approach to acculturation is integration, whereby your child maintains a high connection to their heritage culture whilst simultaneously immersing themselves and building a strong connection with their host culture. Charlotte explains more;
"For me, my sense of belonging is made up of all the different parts of my relocating history. I've been able to build upon each new culture as I enter a new environment. It's best to allow these cultures to co-exist and form together your overall sense of belonging as a citizen of this world."
So how do you, as a parent, help your child to experience this integration of cultures? It's important to make time to talk about your home culture with your child, cook traditional dishes, look at photographs and ensure you keep the lines of communication open with friends and family you may have left behind. Balance this with immersing yourself in your new environment: try the local food, enjoy holidays in different parts of the country or experience new activities. At school; organise playdates, encourage your child to get involved in co-curricular activities and try out new hobbies to help them find and nurture their passions. Developing new interests in this way can form a sense of identity detached from geographical location. Ultimately, the vital component of effective integration for the whole family is to be open-minded and optimistic. Charlotte continues, "This mind-set opens the doors to the opportunities that make you feel like you belong somewhere."
It's important that parents and international schools have a united approach to this process of integration. At BIS, through 'International Week' festivities of our diversity we learn and acknowledge our differences by bringing our entire community together to celebrate our own cultural identity and embracing that of others in a spirit of mutual respect. We also ensure that our students are immersed in celebrations of our host country through Moon Festival and Tet celebrations where students learn about Vietnamese customs and traditions. We find this balance is key to a healthy integration and establishing your child's sense of belonging.
This concept of building a sense of 'belonging' should begin from Day 1 of your life in your new host country. For us at BIS, we've invested heavily in our orientation and transition programme which is adapted for all age groups and supported by our specialist Welfare and Guidance team. Over the past few years we have introduced a new concept of the 'Transition Team' – a group of students who create a bespoke programme of events for new starters during their first few weeks of school. Our School Counsellors teach the Transition Team about emotional intelligence so they have a real understanding of the challenges new starters may face as they embark on their new journey at BIS.
It's also important not to neglect yourself as a parent. At BIS, we encourage you to become actively involved in school events such as Parent-Teacher fundraisers, orientation events, coffee mornings or quizzes, all of which aid the settling in process. From our experience, once you start to feel settled, your child will follow suit.
Celebration of uniqueness
There are a huge number of benefits of growing up as a Third Culture Kid: global awareness, resilience, flexibility and lingual ability to name a few. But perhaps one of the largest benefits is the ability to see life from another person's point of view: "Many of the world's problems, in part, stem from our inability to identify beyond a very narrow border or culture. Imagine what we could achieve if we adopted a more transnational sense of identity and a more inclusive sense of belonging," describes Charlotte.
Rather than focusing on the challenges associated with growing up outside a parents' home country, Charlotte calls for Third Culture Kids to celebrate their uniqueness and, rather than being unsettled about where to call "home", strive to construct a more varied identity-less grounded in geography: "To me, home is not so much a place as it is a feeling; a comfortable sense of belonging."
For so many expat families, a close-knit international school community provides this comfortable sense of belonging – a safe space for you and your family to call home.