Successful results for King William's College IGCSE/GCSE students
Posted on 23rd Aug 2018 in School News, GCSE, IGCSE Tweet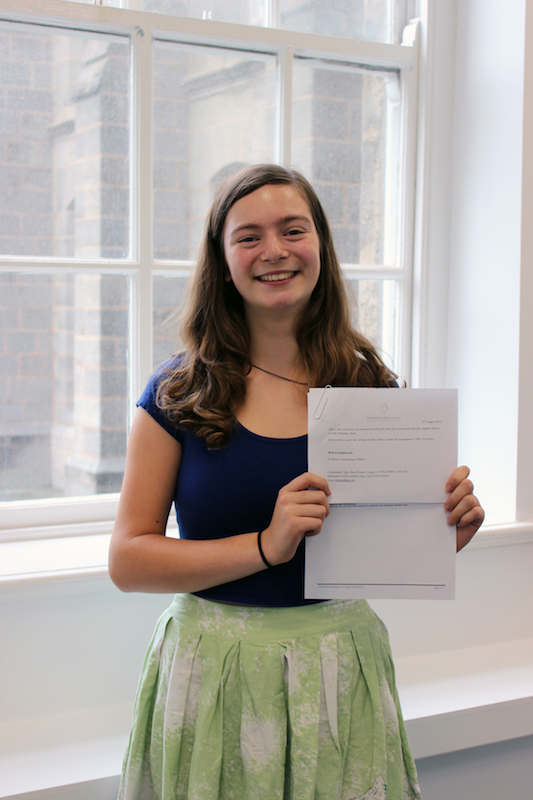 Students at King William's College are celebrating an excellent set of results in the 2018 IGCSE/GCSEs.
86% of all exams awarded A*-C (or 9-4)
35% of all exams awarded A*/A (or 9-7)
Student Marie Cilliers (pictured) achieved a clean sweep of A*s (or 9s) whilst Jessica Clucas, Mia Hall and Robyn Wickers were all within one or two grades of doing the same.
Principal of King William's College Joss Buchanan commented:
"The IGCSEs and GCSEs are going through a significant period of change at the moment and with so much media coverage about how the exams are being made more difficult, particularly at the top end, it is very pleasing to see such a strong overall picture. In those subjects which have now introduced the new 9-1 scale we were particularly pleased to achieve a significant number of Level 9s – the exam board guidance states that this level will only be used for exceptional performance.
"There were individual success stories right across the ability range and we ended up with an average of 8.5 GCSEs per candidate (A*-C). This figure is all the more impressive given that this was one of our larger year groups with 60 students in total.
"I would also like to congratulate the international students who sat the exams in their second language having in many cases only been at the College for one year. To give an example of their achievement, the pass rate for English Language for the entire year group – including all of our international students in addition to all of our local students – was an exceptional 95%."