Studying at universities worldwide with the IB Diploma
Posted on 28th Sep 2021 in School News, Germany, International Baccalaureate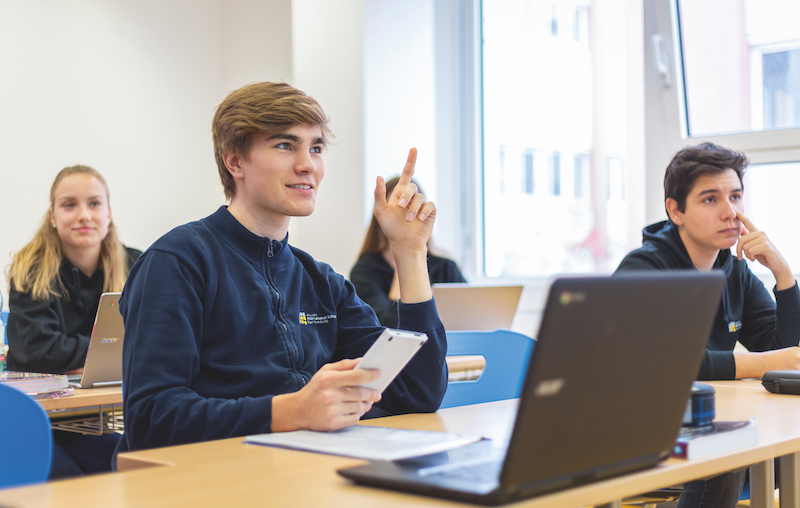 Professor Dr. Christoph Kexel, Managing Director of accadis International School Bad Homburg, Germany, examines the strengths of an IB education
A university education lays the foundation for exciting international career paths. If you intend to enter the lecture halls of this world, you will need a university entrance qualification in most countries. Among the best known are the U.S. High School Diploma, the British A-Levels or the International Baccalaureate Diploma (IB). Not all qualifications are recognized in every country. As a globally established alternative to the German Abitur, the IB also opens the doors to German universities. With their well-rounded general education and independent work ethic, IB graduates quickly gain a foothold in any academic degree program. This is why several thousand schools around the globe offer the IB Diploma Programme in secondary school.
Developed in Switzerland, globally successful
Originally developed by the private International Baccalaureate Organization (IBO) foundation in Switzerland for the children of diplomats, the IB Diploma Programme has become established worldwide. At more than 5,000 schools in 156 countries, students complete the academically oriented, challenging secondary school program. In Germany, 79 of 84 mainly private IB World Schools deliver the IB Diploma Programme. "School leaders increasingly recognize that IB graduates are ideally equipped for university studies," says Professor Dr. Christoph Kexel, Managing Director of accadis International School Bad Homburg, Germany, which is accredited as an IB World School.
Learning English with confidence
"The goal of the IB Diploma Programme is to study at universities around the world, which leads to a global career," says IB graduate Professor Dr. Christoph Kexel. "The secondary school program prepares students for this with English as the first language of instruction."
Engaging in academic work skills while still at school
In addition to language skills, an academic approach is a key factor in the IB Diploma Programme. "That's why IB graduates make a particularly successful transition from school to university," says Professor Dr. Christoph Kexel. "While graduates of other programs struggle with introductory courses to academic methodology in their first semester, IB graduates have already studied at an academic level while still in school."
In the subject "Theory of Knowledge", IB students take an in-depth look at the definition of knowledge. With the "Extended Essay" they write their first academic assignment and optimize their reading comprehension.
The IBO writes that IB students apply their critical thinking skills across subjects, cultivate their curiosity, and solve complex problems while still of school age. Further, they learn to be independent learners, which is part of daily life at any university.
In addition, the IB Diploma Programme is rich in multi-faceted content, which IB students study over a two-year period.
Broadly positioned for flexible choice of university degree programs
"In some secondary school programs, students are required to commit to their future area of university degree at a very early stage. The IB Diploma Programme covers a wide range of subject areas," says Professor Dr. Christoph Kexel. "Therefore, IB graduates can study almost anything from medicine to law and language and literature to sports sciences or business administration."
IB students enroll in the five compulsory fields of Sciences, Mathematics, Studies in Language and Literature, Language Acquisition as well as Individuals and Societies. There is also an additional elective subject. They take three of the six subjects at "Higher Level" and three at "Standard Level". This is close to the German Abitur's specialized and basic course system, for example. In contrast, the IB Diploma Programme places equal weight on all exams. "This broader scope of general knowledge is well received at universities around the globe," says Professor Dr. Christoph Kexel.
The IB pathway at universities around the world
According to Debra Von Bargen, Assistant Dean of Admission at Stanford University, USA, application managers and faculty at universities around the world see IB graduates as best-prepared candidates for university studies. They understand how facts fit together and work with a sense of focus, says Debra Von Bargen. Harvard, an elite university, accepts IB graduates at a 12.2 percent rate, compared with only 5.1 percent for graduates from other programs. In its communication, the University of Cambridge treats the IB Diploma and the British "A Levels" as equivalent. Some universities spare IB graduates language tests or let them attend advanced-level lectures. They are also welcome at German universities.
Entering German universities with the IB
Under the Standing Conference of the Ministers of Education and Cultural Affairs of the States in the Federal Republic of Germany (Kultusministerkonferenz – KMK), the IB Diploma is recognized throughout Germany as a university entrance qualification, provided students pass their IB exams after twelve consecutive years of schooling with defined subject combinations. These include mathematics, two languages and a science subject. This allows graduates to gain direct general university access with a free selection of subjects. For some degree programs, they must have taken selected subject groups at "Higher Level". The IBO provides details on its website.
Thanks to the IB, you can settle in quickly on campus
Once enrollment is complete, many challenges await freshmen outside the lecture hall. "Universities teach and conduct research on an international scale, which is why interculturalism determines everyday life on campus," explains Professor Dr. Christoph Kexel. "IB graduates settle in quickly thanks to their keen eye for the bigger picture, as they have already studied with classmates and teachers from all over the world while still at school." The "Creativity, Action and Service" part of the IB Diploma, in particular, fosters IB students' social skills. They engage in community service as well as sports and are active in the arts. "Quite automatically, they develop a deep understanding of cultural differences and the value of respectful interaction as a means of progressing together," says Professor Dr. Christoph Kexel. "This is beneficial for both a successful student life and a career in globally operating companies."
This article first appeared in the 2021/22 edition of John Catt's Guide to International Schools, which you can read here: