Shrewsbury School to open new school in Hong Kong in 2018
Posted on 27th Jan 2017 in School News, International Schools, Hong Kong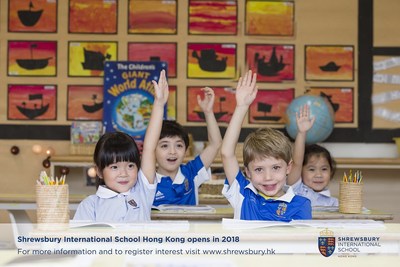 Shrewsbury International School Hong Kong has announced that it has been selected by the Hong Kong Education Bureau to build a new, world-class school.
Shrewsbury Hong Kong plans to cater for children between the ages of 3 and 11 years.
It is being purpose-built in the Tseung Kwan O district of Hong Kong's New Territories next to a 350-hectare mountain forest and opens in 2018.
Sir David Lees, Chairman of the Board of Governors of Shrewsbury Hong Kong and a former Chairman of the Court of the Bank of England, said: "We are delighted with the trust placed in Shrewsbury by the Hong Kong Education Bureau. Our commitment is to create a great school in Hong Kong in the tradition of Shrewsbury School in the United Kingdom, which is one of the original nine 'Great Schools' of Britain, and has a firm place among the country's highly reputed schools."
Shrewsbury School was established by Royal Charter in 1552. Its tradition of excellence reaches to the time of the great British monarch Elizabeth I, who supported its development and expansion to become one of the finest schools in Britain.
Shrewsbury Hong Kong's establishment is a part of the Hong Kong Education Bureau's strategy to increase the competitiveness of Hong Kong as a destination that can attract the best expatriate professionals, and, with them, greater investment. Hong Kong has a shortage of international school places which is particularly acute at the primary level, with an estimated shortfall of over 4,200 places in the 2016/2017 school year.
Sir David, who has also served as Chairman of the Board of Governors of Shrewsbury School in the UK, added: "From its first day, Shrewsbury Hong Kong will achieve the standards of excellence of the school in Britain. We are putting in every resource necessary to make that happen – from ensuring that there are a sufficiently large number of children in every age-group to enable the best learning environment, to enrolling the finest teachers through a recruitment programme conducted in the UK."
Ensuring the excellence of Shrewsbury Hong Kong is Mr. Stephen Holroyd, Director of Schools for Shrewsbury in Asia and an educationalist with 12 years' experience in the region as Principal of the outstandingly successful Shrewsbury in Bangkok.
"We are doing something truly exceptional and establishing no less than 6 classes in every primary year group, each with around 20 children. It's an unusually big commitment, but one that will lay the foundations of a genuinely great school," he said.
Mr. Holroyd explained that having a critical mass of 120 children of similar age in every primary year group lets the school design age-appropriate environments specifically to suit the needs of a particular age group as well as to build function-specific space that is equipped just right for that particular year group.
He noted that Shrewsbury Hong Kong is the only new school in Hong Kong to have made such a deep commitment to every age group and that it was also enrolling more than 70 age-specialised teaching staff.
"Having such depth and diversity of specialised teaching talent within an individual year group leads to a much richer curriculum and the pooling of a broader mix of teaching experiences from which both children and other teachers benefit," Mr. Holroyd added.
He said that the presence of many peers in a year group also supports the proper social development of children, because children learn a lot from interacting with their peers.
"Every child at Shrewsbury will have around 120 other children of similar age with whom to play and learn, and from among whom to choose and make all-important life-long friendships," Mr. Holroyd noted.
Mr. Ben Keeling has been appointed as Principal of Shrewsbury Hong Kong.
Mr. Holroyd said, "We are pleased that Mr. Keeling has accepted our invitation to lead the school. He is a highly respected educationalist with specialist experience in primary schools and extensive knowledge of local needs. He has an outstanding track record as an Assistant Principal and Deputy Principal in two international schools in South East Asia, including four years in another international school in Hong Kong."
Parents are invited to register their interest in the school at www.shrewsbury.hk. An Open House will be held in Hong Kong on Friday 21st and Saturday 22nd April, 2017, where parents can meet the Principal and his team to learn more about Shrewsbury in Hong Kong and the UK.
For more information about international schools in Hong Kong, click here.