#relocating, #newchallenges – tips from an insider
Posted on 29th Oct 2019 in School News, Choosing a school, Germany, Relocating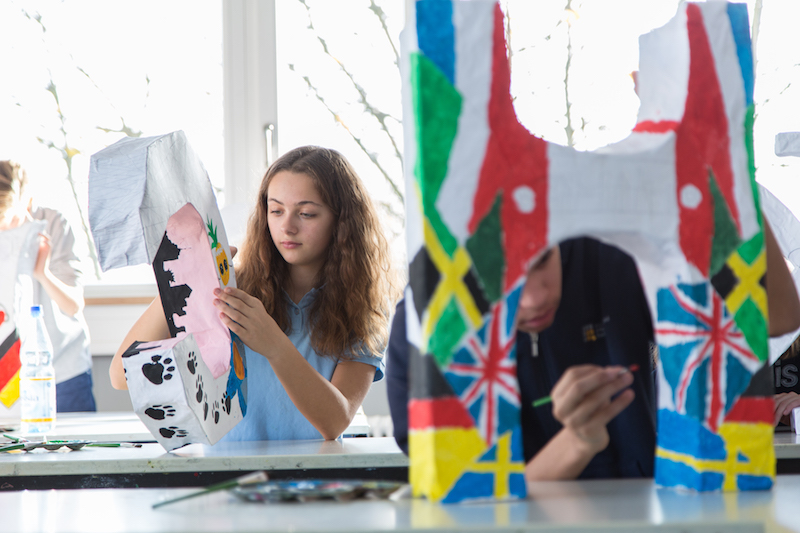 Christoph Kexel, of accadis International School Bad Homburg in Germany, is expertly placed to assist families in new surroundings...

More than ever, people are moving abroad for professional reasons and are taking their families with them to a new country. Despite the general sense of globalization which draws so many people abroad today, and in spite of the high level of digitalization, relocation abroad remains a challenge for families.
What families can expect
While parents are trying to find a new home in the foreign country and are settling into their new jobs and social lives, their children are busy settling into a new school or kindergarten. All family members will be working on getting used to a new culture, and parents will be faced with many questions. What language skills will we need to acquire or freshen up? What means of payment do the locals use? Will we find our way around the local supermarkets and other stores? Are there any sensitive political issues we need to know? How to spend our free time?
International schools – specialized on expat families
Not only in light of Brexit – whenever it may come – Frankfurt as Germany's financial hub with its many corporate businesses and banks is a popular destination for expat families. Many of the international schools located in the Frankfurt metropolitan region specialize in expat families. "Some of the international schools have a bilingual focus," says the Managing Partner of accadis International School Bad Homburg, Prof. Dr. Christoph Kexel. "Together with internationally recognized curricula, this approach guarantees families a school education of international standard and supports them in making Germany their new home. The children's school plays an essential role in the integration process of its students and their families."
School – your path to integration
An international school is the ideal place for parents to get in touch with other expat families as well as local ones. They can share experiences and gain valuable advice when it comes to finding their feed in a new country.
"Not only the children, but also parents sometimes struggle with language barriers in the new country," says Christoph Kexel. "International schools use English as their administrative language, which often makes the whole process of changing schools much easier."
Nevertheless, the local language also plays an important role at international schools. "At accadis ISB, we focus on subjects taught in both languages German and English," says Christoph Kexel. The German-taught subjects help children from abroad to also socialize in their free time, e.g. in sports or music clubs. Older expat students especially benefit from bilingualism at school when seeking internships or academic programmes in Germany.
Learning German with the immersion method
International schools apply a large variety of different language learning concepts. accadis ISB has opted for the globally recognized immersion method. "We especially apply this approach in our Preschool and Elementary School," says Christoph Kexel. The new language becomes the 'official' and everyday language. Following the principle 'one face – one language', one teacher speaks only German, the other only English. "Everything the foreign language teacher says is additionally reinforced by facial expressions, gestures or pointing," says Christoph Kexel. This way, the child gains independently – step by step – access to the new language based on the given situation.
At the accadis ISB Secondary School education focuses more on the English language to allow international students to follow the lessons more easily and to allow German students to learn English more quickly.
In addition, many international schools provide foreign language courses to parents as well as students.
Developing social skills
International schools also help children in developing social skills. "They encounter different nationalities and cultures in the classroom and in the schoolyard every day," says Christoph Kexel. "At accadis ISB children and teachers from over 53 nationalities learn and live together. They develop respect for different cultures from the very first day of school."
Many international schools provide a diverse range of extracurricular programmes in order to support their students in expanding their social environment in their new home. They offer learning, music and sport clubs, theatre groups as well as after school care.
The German school system
The German school system consists of several stages. Kindergarten or Nursery is followed by four or five years of elementary school.
After the German elementary school children enter into either a 'Hauptschule' up to Grade 9, a 'Realschule' up to Grade 10 (equivalent to the British GCSEs) or a secondary school up to Grade 12 or 13 (equivalent to the IB). In addition, there are 'Fachoberschulen', which lead to the more practice-oriented 'Fachabitur', meaning that graduates can study at Universities of Applied Sciences.
Characteristically Germany also has comprehensive schools, which offer the above-mentioned school branches parallel to one other.
Graduates of the Haupt- und Realschule (GCSEs) usually take up an apprenticeship with a company or continue their studies at a secondary school. IB graduates can go on to study at universities worldwide.
IGCSE and International Baccalaureate Diploma
Schools such as accadis ISB provide international degrees like the Cambridge International Examinations (IGCSEs) at the end of Grade 10 and the IB Diploma at the end of Grade 12.
Many Cambridge International Schools in Germany educate on the basis of a combination of the federal state curriculum and the Cambridge Assessment curriculum. The students take the IGCSE examinations at the age of 16 and also receive a German secondary school certificate.
Many German IB World Schools teach the IB Diploma Programme – in Grades 11 and 12. IB Diploma students choose to study six subjects covering a wide range of curricular areas. The IB Diploma Programme is characterized by a high academic standard and promotes an interdisciplinary approach.
In addition to the academic content, the programme also focuses on a holistic approach which enables students to become critical thinkers, to be open-minded with an interest in lifelong learning.
Relocation to Germany – good to know
Every country has characteristics that are helpful to know when moving there. For example, in Germany, the cliché 'time is money' seems to be true. For most Germans it is important to be on time both privately and professionally and to work efficiently. Moreover, even if the use of the informal form of 'you' (Du) is becoming increasingly common in German companies, the formal 'Sie' is still a key element of everyday life in Germany. For example, initially you would formally address your neighbours, colleagues or people in everyday public life as Mrs or Mr X until they ask you to call them by their first name.
German is considered a difficult language. Therefore, parents are recommended to enquire about suitable language courses well in advance. accadis ISB employs both German and English native speakers in order to offer the best language learning opportunities for children.
In Germany, there are clubs for almost everything. This offers expat children and their parents an excellent opportunity to socialize and integrate with the locals outside of school or work.
Last but not least – while Swedes and US Americans pay almost exclusively by credit card, many Germans are still fond of their 'small change' for little payments in supermarkets or shopping malls. In some shops and restaurants, there is a minimum charge for card payment.
For more information about the bilingual teaching approach at accadis ISB: www.accadis-isb.com
This article first appeared in the 2019/20 edition of John Catt's Guide to International Schools. You can read the digital version of the guidebook here: