One school, four values, endless possibilities
Posted on 24th Oct 2022 in School News, Vietnam, International Schools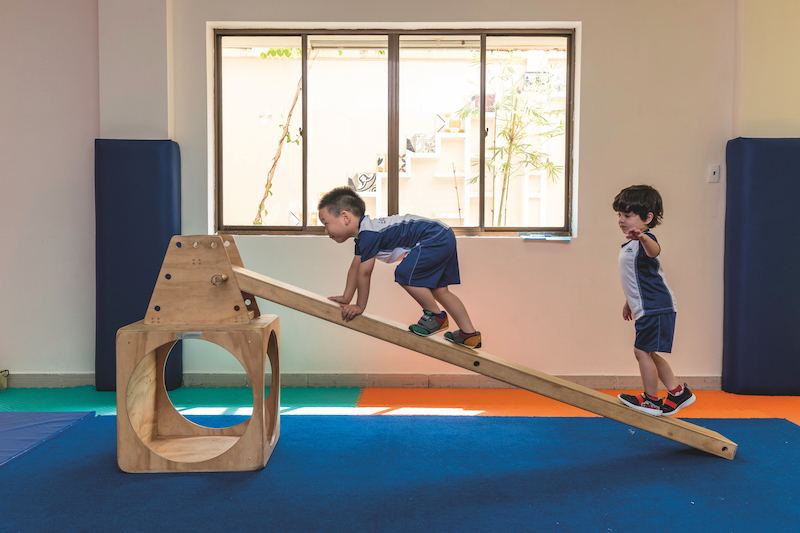 International School Ho Chi Minh City students and graduates have values strong enough to change the world
History and accreditation that make winners
More than 30 diploma subjects. A one-to-eight faculty-to-student ratio. Over 200 experienced IB educators. These are just some of the hallmarks that contribute to the 100% pass rate achieved by pupils at International School Ho Chi Minh City (ISHCMC).
ISHCMC is a school of many firsts: it is the city's first international school and first IB World School accredited to teach three IB programmes. Its pioneering spirit is matched by its prestige – ISHCMC has a long history of graduating students to top universities around the world and is fully accredited by the Council of International Schools (CIS), the most prestigious international accreditation organisation.
Where students achieve more than they believe they can
Hailing from over 55 countries, ISHCMC students enjoy the best of many worlds in harmony. Their school's location is steeped in history. ISHCMC is as well. However, while traditional approaches are appreciated, an academic journey here is as progressive as can be.
Modern environments abound for learners with their sights set on a lifetime of future-focused success. They are guided by expert IB educators who specialise in concept-driven, inquiry-based learning practices. Every member of ISHCMC's student body has a voice, and every question they have is answered.
This support is precisely why Akiko Motoki decided her Grade 9 journey had to begin at ISHCMC. "It is more inclusive than my previous school," she says. "There is definitely academic rigour and the teachers are really supportive of your wellbeing."
Their guidance gave her the confidence to explore. She joined the musical orchestra, competed in the intercity Battle of the Bands competition, was a member of the varsity soccer and basketball teams, and even led her CAS group for Operation Smile (a nonprofit service organisation providing free reconstructive surgery and dental care for patients with cleft lips).
"If I wanted a typical school with just academics, I could have gone to any other school here," she explains. "I wanted something different so I chose ISHCMC."
These opportunities helped her realise her passion for public health. Comprehensive lessons in the sciences were equally intriguing. The valedictorian is currently pursuing both disciplines at Brown University.
Such outcomes are typical of ISHCMC graduates. The school's core values play a fundamental role in ensuring it: Curiosity, Achievement, Resilience, and Empathy (CARE). Each was set in place to guarantee students are ready to thrive not just in 2022, but in 20 years from now as well – and beyond.
"They underpin our vision of enriching the lives of children to achieve more than they believe they can," says Mike Hebert, director of admissions and market growth. "They are our building blocks for our culture of CARE and enable our diverse, internationally-minded community to flourish as energised, engaged and empowered learners."
ISHCMC's life-enriching values
Diving into the unknown is compulsory at ISHCMC. In the process, they become self-motivated and self-efficient, and most importantly, ever keen on gaining an eventual understanding of the unfamiliar. Motoki's journey is a testament to this, and so is Silvia Familiari's.
She spent her IB Middle Years Programme as a volleyball champ and active member of the Student Council by leading a Welfare group – an opportunity that sparked her interest in Psychology. Soon, she will be attending Università Cattolica in Italy to advance her existing knowledge.
Every learner is encouraged to try a little bit of everything to determine their life's calling. Classrooms are just as powerful when it comes to inspiring aspirations. At ISHCMC, learning takes place in a safe, engaging environment. Each session is smooth, consistent, immersive, and sustained.
Achievement at ISHCMC extends beyond classroom successes. Here, character skills and in-demand competencies are causes for celebration as well. ISHCMC believes if students are versatile, multi-faceted, and truly interdisciplinary – there's no stopping them.
"We're looking at sports achievement, wellbeing achievements, and even their ability to achieve in terms of empathising with others," says Hebert. "Here, we see a full spectrum of achievement in a very big, broad sense."
Stroll ISHCMC's expansive campus and you'll notice that despite academic rigour, smiles are wide and giggles are contagious. All students are taught to be self-aware and confident in overcoming setbacks and tackling the challenges close to their hearts. This resilience helps them stay motivated, focused on their goals, and determined to live a happy life.
"Our students' achievements are representative of ISHCMC's strong academic programme that is grounded in a foundation of wellbeing and a culture of care that prepares students for outstanding performance, even in two abnormal years," enthuses head of school Kim Green.
Wellbeing experts and educational psychologists are plenty as well for students who could benefit from additional support. "We hold a principle of inclusion and differentiation," explains Hebert. "Every student has some sort of need. Some are gifted and need additional challenges. Some may feel like just getting to school is a challenge on its own. We have the resources to turn every negative into a positive."
At ISHCMC, all learners are encouraged to better themselves by bettering the world. Their school has the resources to teach them how. CAS, service learning and other community-based activities are frequent in ISHCMC's secondary school. Early Years and primary students are presented with many opportunities to get involved as well.
"Empathy is taught as a core value in every classroom," confirms Hebert. "Just last week, our Knitting Club knitted thousands of pieces to be sent to Vietnamese communities impacted by flooding. We are a country that is growing extremely fast, and while we have a large accumulation of wealth, there's still a lower class population that needs our help."
Thankfully, ISHCMC students and graduates have values strong enough to change the world.
Call the hotline at (+84) 28 3898 9100 or email admissions@ishcmc.edu.vnto learn more
This article first appeared in the 2022/23 edition of John Catt's Guide to International Schools, which you can read here: