New release: Perspectives on Assessment and Evaluation in International Education
Posted on 18th Apr 2017 in Assessment, John Catt Publications, International Schools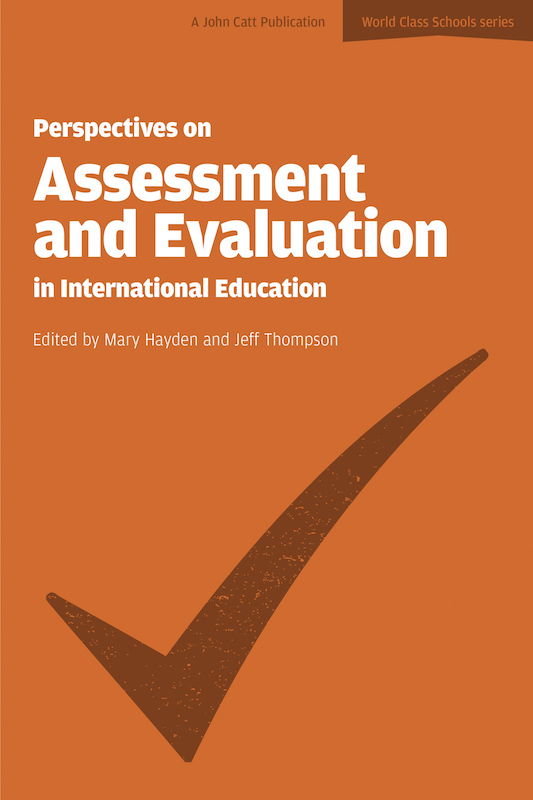 John Catt is pleased to announce the publication of Perspectives on Assessment and Evaluation in International Education, edited by Mary Hayden and Jeff Thompson...
This excellent new title is available from April 24 and is the latest addition to our World Class Schools series.
This is the jacket cover text:
"Assessment and evaluation are two concepts at the core of schooling which are also central to other forms of education worldwide. In an international context, assessment and evaluation data are increasingly widely used for accountability and quality assurance purposes at individual student, institutional, national and global levels.
"This book does not attempt to include consideration of all the issues that could possibly be covered in a title that addresses assessment and evaluation in education internationally. Nor has it set out to cover the myriad technical issues with which assessment and evaluation are inevitably concerned. Rather, a number of authors working within different contexts of international education (whether as teachers or leaders in international schools, administrators in international examination bodies, or researchers in international educational research organisations) have been invited to share ideas arising from their own experiences of what might be interpreted as assessment or evaluation, be that assessment of student achievement, evaluation of teacher effectiveness or evaluation of school quality.
"The international dimension presents a range of challenges to those with responsibility for implementing assessment and evaluation strategies in widely diverse linguistic, cultural, social and personal contexts, and in this book valuable contributions are shared by colleagues who are authorities in the field. It is their personal views on assessment and evaluation, derived from professional practice in the international sphere, that have been brought together here."
And here is the chapter list:
Preface, Mary Hayden and Jeff Thompson
Part A: Assessment of Student Achievement
Mapping progress and developing assessments in new learning domains, Juliette Mendelovits
Assessing international-mindedness in a school context, Richard Harwood
Assessing global perspectives: a case study, Paul Bullen-Smith
Assessing global citizenship, Rachel Parker and Julian Fraillon
Keeping the balance: the new onscreen examinations for the IB Middle Years Programme, Veronica Kleipool, Stavros Melachroinos and Boris Prickarts
Part B: Evaluation of Institutions and Professional Effectiveness
Assessment of learning and teaching styles: solution or problem? Richard Pearce
In the hands of children: teacher appraisal, Neil Richards
International school authorisation: a new benchmark for quality? Paul Regan
Counting the pencils – an insight into the world of international school evaluation, Brian Christian
Norm-referenced standardised testing for institutional evaluation in the international school context, Joanne Walker
To order a copy of Perspectives on Assessment and Evaluation in International Education, please visit the John Catt Bookshop.