My summer school trip to Britain – an amazing opportunity that delivered on its promise
Posted on 23rd Nov 2017 in International Schools, International Students, Summer School, United Kingdom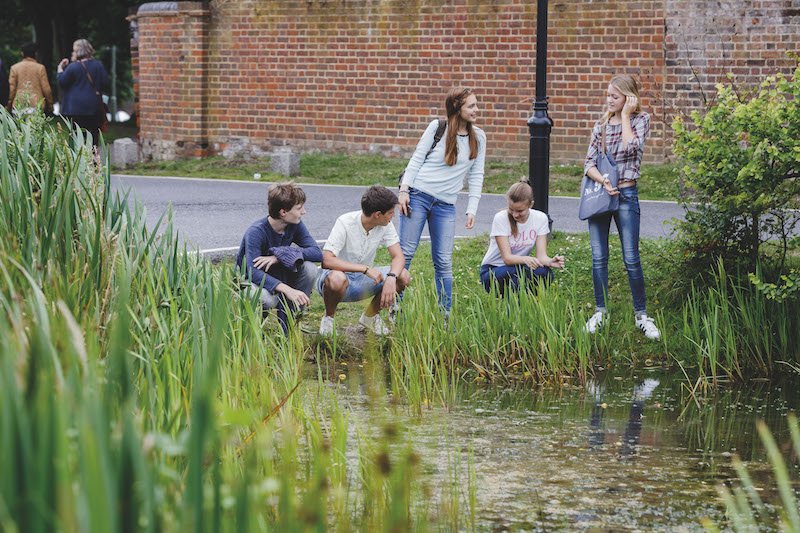 In an article first published in World Student magazine earlier this year, Maria describes her experience of travelling from her home in Spain to spend the summer at an international boarding school in England.
Ever since one of my friends went to England for a year when we were younger, I have known that I wanted to go abroad. The experience made her completely improve in everything; not only in the language but as a person in general. She became strong in her thoughts and personality and seemed much more mature. I remember perfectly how much I used to dream about having the same experience. So last year I thought, now is time, time to leave home and my comfort zone and make the most of this huge opportunity.
There are so many reasons why I chose England: the international reputation of the British Education system, the enormous number of breathtakingly incredible schools, my language development and the cultural diversity were just a few. I chose The Mount, Mill Hill International School because it is a school which gives you innumerable facilities and choices; from the opportunity of carrying out a one-year GCSE course in an international environment to the wide range of extracurricular activities and the perfect learning space for it all.
I first attended Summer School where I made truly close friends in an extremely short period of time. We all shared the same objective: to improve our English. We could achieve this with the help and encouragement of the staff members. They not only helped us to improve the language but develop our confidence, creativity and knowledge too. We had 3 hours of English every day followed by science, mathematics and creative arts. Creative arts covered dance, art and drama. We even performed a play with a really long script. It was useful as well as being fun! In between the classes there were some breaks which meant we had the opportunity to get to know each other better and it helped us to become more united. Then my favourite part of the day: the evening activities! They consisted of different amazing activities such as going swimming, bowling and playing typical English sports. After this, the fun didn't end; I have such good memories of the evenings in the boarding house – making hot chocolate in the kitchen, playing pool in the spacious common room or watching movies and eating popcorn. The best days were the excursions when we visited museums, went shopping, visited Oxford and its university and of course visited the most famous monuments in London such as Big Ben, Horse Guard's Parade and Buckingham Palace. We rode along the River Thames in a boat and had picnics in the lively green parks of the centre. My favourite trip was when we went to Brighton beach, where we had so much fun on the Pier and went shopping in the vintage shops in The Lanes.
In September 2016 I progressed to The Mount, Mill Hill International School and if I had to describe my experience here in just one word I would say it is an adventure! The new friends I have made are a big part of this adventure; they are with me 24/7, both during and after school. Honestly, the friend factor in a boarding school is huge! The bonds that I have developed with them since the first month are going to last forever. After this year, I will keep in contact with them for sure. To begin with, I will probably go on holiday with them this summer. My best friends are from different countries including China, France, Denmark, Germany and Russia.
I am studying on the one-year GCSE programme and have chosen Biology, Physics, Chemistry, Mathematics and English as a first language. At the beginning of the Summer School my level of English didn't seem good enough to do five subjects or to even do the three sciences but since then I have improved so much that I am now even doing English as a first language! I spend most of my days in the absolutely amazing science labs. They provide us with fantastic equipment and facilities and we do lots of practical experiments to help us understand in depth each unit of work.
The Mount, Mill Hill International School provides a wide range of extra-curricular activities and fascinating sports. Currently, I work out 3 times a week in the fitness suite, I play the piano and go horse riding. The facilities that we have and the enormous fields surrounding the school make possible every combination of sports that you can think of.
I live in St Bees which is the smallest boarding house. It is formed by all girls and there are 10 of us. We are all from different nationalities and the environment that we have created is so friendly and cosy, making it feel like home. At the weekend, my favourite day is Sunday. We have the day free, and after Sunday brunch we sometimes go shopping or have lunch in Central London where we always have a fantastic time!
I can't really remember what I thought life in England would be like before I got here. I remember well how horrified I was at the thought of it raining every day. Now I realise this is just an exaggeration and the number of non-rainy days is way bigger than the number of rainy days. The rain never stops us from doing anything. The facilities and different options that we have means that life just carries on as normal. I remember being a little scared about the idea of making new friends and meeting different people from different parts of the world but everyone is in the same position so we all have that in common, that and the desire to improve our English. Another big thing I thought about before I came here was the food! Although food in each country is so different, here at school they always manage to cook things that we all like and there is always a lot of choice. People in England are very polite, as I expected that they would be and London is an amazing city.
If I was to offer advice to other students who are considering moving abroad, my first advice would be to try all the amazing opportunities that the school provides! Nobody is sure of what is going on in the first few days but I would strongly recommend that you try everything, go on all the trips, participate in every single activity and sign up for all the sports and different clubs possible; keep occupied! I know that sounds full-on but it is truly the best way to make friends, improve your English, increase your confidence, learn new things and have fun! If you make the most of the opportunity you will be so pleased with the results!
Maria, from Spain, was 15 years old when she wrote this article. She joined the The Mount, Mill Hill International School Summer School for two weeks in 2016 and is moved on to its one-year GCSE programme.
This article first appeared in Issue 8 of World Student magazine. You can read the full issue at www.world-student.com