International schools and when they pay off
Posted on 28th Sep 2022 in International Schools, Germany, International Education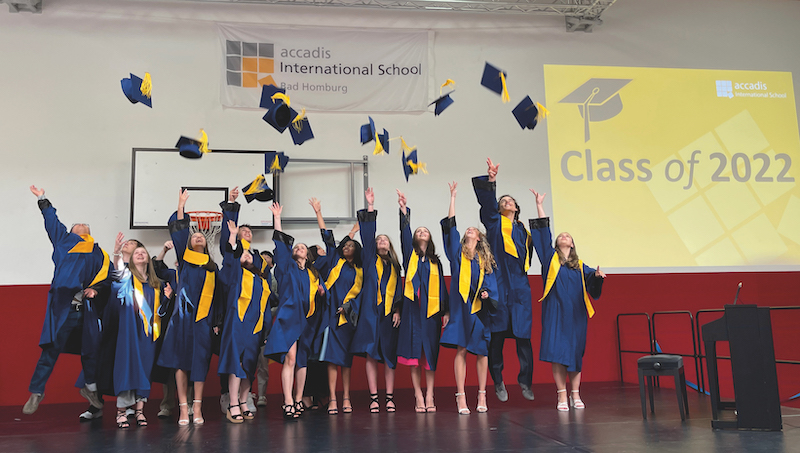 accadis International School Bad Homburg (accadis ISB) in Germany provides a broad offering.
The choice of school impacts on the everyday life of a family and on the learning experience of a child. It also affects the options available to a student after completing secondary school, for example in further education. Expat families in particular face the challenge to identify a school in a new country that meets the local regulatory requirements as well as leads to an internationally recognized university entrance qualification, allowing the student to study or pursue a career in a country of their choice. This is where international schools come in, often offering degrees that are recognized worldwide.
High School Diploma, A-Levels and the IB DP
Among the best-known school leaving certificates that open university doors worldwide are the US High School Diploma, the British A-Levels and the International Baccalaureate Diploma (IB DP). "The IB Diploma Programme is particularly highly regarded internationally," observes Professor Dr. Christoph Kexel, Managing Partner of accadis International School Bad Homburg (accadis ISB) in Germany.
Quality from Switzerland for educational success worldwide
Originally developed by the private International Baccalaureate Organisation (IBO) foundation in Switzerland for the children of diplomats, the IB Diploma Programme is now established worldwide. As of May 2022, more than 3500 schools in over 150 countries are offering this programme. "School leaders increasingly recognize that IB graduates are ideally equipped for higher education," says Prof. Dr. Kexel, who led his school to accreditation as an IB World School.
Laying a strong academic foundation
"While graduates of other programs sometimes struggle with introductory courses to academic methodology in their first semester at university, IB DP graduates have already studied at this level while still in school," says Prof. Dr. Christoph Kexel. With the Extended Essay, they complete their first academic paper, developing research and writing skills. IB students apply their critical thinking skills across subjects, cultivate their curiosity and solve complex problems while still of school age. Students become independent learners, crucial for success at any university.
Hence, the quality of the programme of study and final qualification is a key factor in choosing an international school, according to education expert Prof. Dr. Kexel. "However, parents should also assess any potential schools against further criteria."
Growing and learning together
"In a learning environment, everything depends on the daily interactions between individuals. At international schools, children and teachers from numerous countries and cultures learn together, and the culture of a school is paramount in this context" emphasises Prof. Dr. Kexel. "Academic knowledge and skills can only be developed fully in a positive, constructive setting, in which the students' efforts are valued and all members of the school community interact with ease." accadis ISB applies a creative approach in order to communicate its core values. "We have matched the letters of our school name with our school values. This makes them easy to remember and helps everyone understand what our school community stands for."
a – ambition
c – compassion
c – courtesy
a – acceptance
d – dedication
i – integrity
s – service
Teachers at accadis ISB also form close partnerships with the parents of their students. "Only when parents and the school work together will the child develop in the best possible manner," adds Prof. Dr. Christoph Kexel.
Competence in language and strong communication skills are fundamental for the social interactions of all members of the school community. "So we would also recommend that parents consider carefully to what extent a school promotes languages and communication."
Globally recognized language development
The Immersion method is recognized worldwide as a successful approach to language learning from kindergarten age onwards and follows the principle of "one person – one language". Each educator or teacher speaks only in one language to the child, for example in either German or English. Spoken words are reinforced by facial expressions, gestures or pictorial support, allowing the child to learn the language naturally, from the context of the situation. In this way, each language, whether native or second language, naturally becomes a working and everyday language.
Well-structured teaching curricula and a careful staffing concept are of essence. "We employ teachers, social pedagogues and assistants with native language skills in either German or English, and who are not only skilled educators in a bilingual setting, but also capable of helping students developing their social skills in a multicultural environment," explains Prof. Dr. Christoph Kexel. Those who want to gain even more from a school education can seek out a multilingual international school for their child, he adds.
Multilingual is the new bilingual
A command of business English at a negotiating level is now a matter of course for success in studies and careers around the world. "English at a native-speaker level is no longer a unique selling point in the application process for a university place and on the job market," emphasizes Prof. Dr. Kexel. "In addition to English and German, we also offer Spanish as an additional language in the secondary school."
Staying one step ahead in teaching
"A good school continuously develops in order to support students in mastering tomorrow's challenges today. Our aspiration is to be one step ahead in teaching. We want our students to develop into responsible global citizens, equipped with problem-solving skills, with an open mind and a willingness to be lifelong learners." But how can parents determine whether a school is living up to such an aspiration?
According to Prof. Dr. Kexel, one indicator is the school's digital development. "As a result of digital transformation, the education sector also needs to be agile and respond to the fast-changing environment. Private international schools are ahead of the game in this regard in many countries." For years, accadis ISB has been using digitalized teaching with cloud-based learning via Google Workspace for Education, smart boards and laptops. For Prof. Dr. Kexel and accadis ISB, another advantage of digital instruction has emerged over the past two years. "Our concept has prepared us for crisis situations. Thanks to our experience in digital teaching, the pandemic changeover to home schooling was seamless. Our students and parents felt well-served by our thoughtful teaching approach."
Internationally recognized school leaving certificates, close and positive interactions between students, parents and teachers, language concepts, multilingual and digital teaching, and continuous improvement – paying attention to these aspects will certainly help a parent to identify a fitting (international) school for their child.
This article first appeared in the 2022/23 edition of John Catt's Guide to International Schools, which you can read here: