International School Brunei host Board of Directors Achievement Awards for 2022 IB students
Posted on 12th Oct 2022 in School News, Brunei Darussalam, International Baccalaureate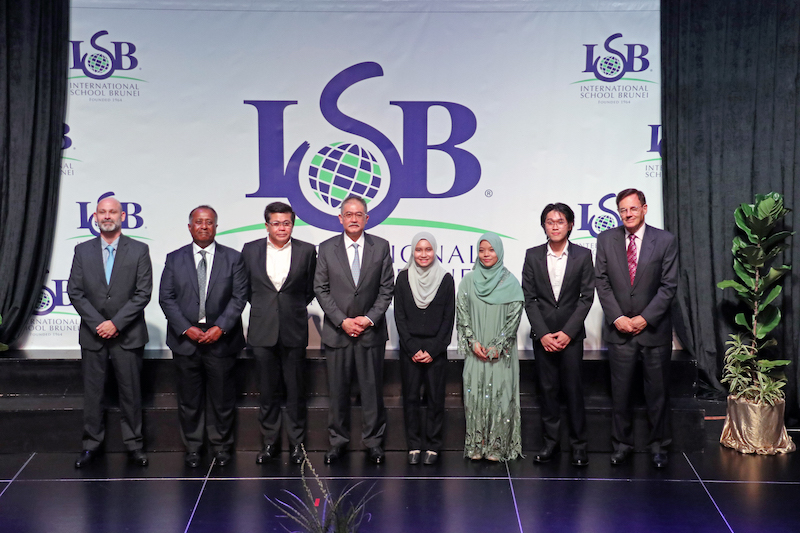 International School Brunei celebrated the achievements of their May 2022 International Baccalaureate (IB) Diploma students by hosting an awards evening to recognise students who have excelled in their IB diploma studies. Nineteen students qualified for the 2022 ISB Board of Directors Achievement Awards.
The Board of Directors Achievement Awards was first introduced in 2018, making 2022 the fourth year that ISB's top IB achievers have received awards, together with financial bursaries to contribute to their cost of tertiary education.
The IB Diploma is a gold-standard, academically challenging course completed by students all over the world. Globally, 170 660 students were assessed for the IB Diploma in May 2022, with an average point score of 31.98. At ISB, the average point score was 34, well above the global average – with one student achieving the full perfect score of 45 points. In the cohort of 57 Year 13 students, nineteen ISB students received Board of Directors Awards for their performance – demonstrating a continued tradition of excellence at ISB.
In his welcome address, Chairman of the ISB Board of Directors, Yang Berhormat Dato Seri Paduka Awang Haji Ahmad bin Pehin Orang Kaya Laila Setia Bakti Di-Raja Dato Laila Utama Haji Awang Isa once again congratulated the Class of 2022 IB graduates.
He said that the ISB Board of Directors understood that "success for each individual student may look different, whether it is obtaining top IB Diploma Programme results, or for achieving substantial academic improvement and personal progress, this is the spirit in which these awards are granted."
"We are honoured to have such excellent individuals be a part of our ISB alumni and we wish them every success in all their future endeavours."
For reaching the top echelon of IB results, the Class of 2022 graduates received Excellence Awards in Bronze, Silver, and Gold categories (overall points between 37 and 45), and for achieving substantial performance improvement throughout their IB studies, graduates were awarded a special Achievement Award.
Three students – Nur Natalia Affiqah Binti Zainal Abidin, Soo Jun Shan, and Goh Li Wei - received the Gold Award for achieving between 43 and 45 points overall.
Four students – Wong Jia Ho, Nur Amylia Binti Hasnal, Max Ege Pritchard, and Dayangku Siti Nur Hafizah Binti Pengiran Hassan - received the Silver Award for achieving between 40 and 42 points overall.
Nine students – Kwang Wei Hang, Adam Syafiee Haji Muhd Nirwan, Jonathan Dwi Fung-Killen, Lim Bei En, Verena Ling Sing Ing, Siti Sarah Binti 'Abdul Azim @ Siti Sarah Baylosis, Nur Syasya Afiqah Binti Haji Kula, Amanda Mila Chiang May Li, and Mia Kate Fyfe - received the Bronze Award for achieving between 37 and 39 points.
Precious Grace Solaybar Eclipse, Nurul Amirah Farwizah Hj Mohd Sufri, Siti Nor Hazirah Abdul Hamid, Noor Liyana Binti Mohd Shah, Zachary Dino Hj Haliluddin, and Finn Alexander Nagorcka were also awarded Achievement Awards for performing at least 5 points higher than their individually set IB baseline.
Invited guest speaker, Vanessa Murphy, ISB alumna Class of 2008 who graduated with a perfect IB points of 45, spoke of her experience with the IB Diploma Programme and how it had helped prepare her for her future success.
"ISB holds some of my fondest memories and some of my formative experiences, (ISB) gave me a sense of curiosity about global issues and also the self-confidence to pursue those ambitions," said Vanessa as she reflected on her time at ISB.
"In my current role, the skills and values that ISB and the IB taught me are really put into practice every day."
Dr Stephen Kendall-Jones, Executive Principal of ISB, added: "After completing her IBDP at ISB, Vanessa studied at Yale University, graduating Summa Cum Laude, going onto a Master of Law in International Humanitarian Law and Human Rights in Geneva. She works for the International Committee of the Red Cross in Geneva as a Legal Advisor. Such is the power of an IB education."
The evening finished with closing remarks from Nur Natalia Affiqah Binti Zainal Abidin (2020-2022 ISB BOD scholar and ISB's IB perfect scorer), Soo Jun Shan and Dayangku Siti Nur Hafizah Binti Pengiran Hassan (2020-2022 MOE Scholars), who represented the Class of 2022 Year 13 graduates in thanking International School Brunei, the ISB Board of Directors, the Ministry of Education, teachers and parents for their endless support and motivation across their two-year IB journey.
The school thanks the ISB Board of Directors, teachers, and parents for their continued support throughout the students' learning journey and bids a final farewell for the Year 13 students as they embark on tertiary education at renowned universities world-wide.
The evening event was also streamed live for graduates and their families, who have left Brunei Darussalam and were unable to attend, to view via the school's official YouTube channel.