How an innovative approach to STEAM education is key to delivering a 21st-century education that prepares students to shape the world
Posted on 7th Oct 2022 in International Education, International Schools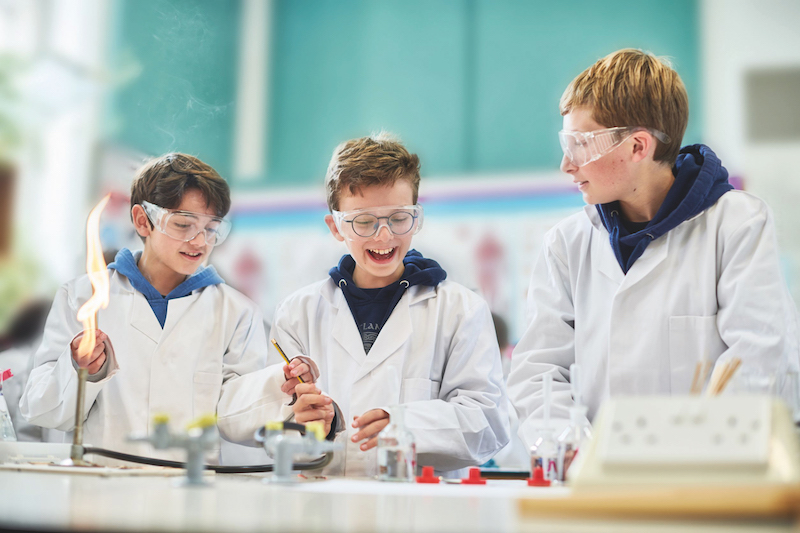 Daniel Jones, Chief Education Officer of Globeducate, one of the world's leading K12 education groups, shares the approach taken to STEAM education in the group's 55+ premium bilingual and international schools across nine countries.
STEM (Science, Technology, Engineering and Maths) has been a topic of interest and priority for educators for just over 20 years, and most students and parents are familiar with how it links school curriculum choices and future careers. The focus now is on STEAM, with the "A" for Arts, and our ICS schools are leading the way, thanks to a variety of innovative and inspiring partnerships and projects.
We believe that present and future generations will need to be equipped with skills, knowledge and understanding to be able to face global challenges collaboratively. Education systems in different countries are under pressure to respond to a changing world where technology is overtaking the need for humans to perform knowledge-based, repetitive tasks. Future workforces will need the ability to solve problems, be agile, creative and flexible, and have a mindset and the ability to upskill themselves many times in their lifetime.
Project-based learning
Our teachers use a project-based learning approach that integrates the disciplines of science, technology, engineering, arts and maths and fosters a learning environment in which all students are able to engage and contribute. Unlike traditional models of teaching, the approach brings the disciplines together holistically. It prepares students for future life because, regardless of the career they choose, they learn to think more deeply, to challenge themselves and the accepted norm and to have the confidence to solve problems when they arise.
Creative Learning Spaces
Thanks to the existing culture of our ICS schools, where the IB Learner Profile was already strongly embedded, our STEAM approach gathered pace quickly, particularly in ICS Milan, ICS Côte d'Azur, and in ICS Paris. These schools have designated STEAM learning spaces or "Maker Spaces" to provide the spaces and resources for students to become hands-on, minds-on learners. Many other Globeducate schools are launching new campus extensions and upgrades, and new sites, which incorporate creative learning spaces to support our STEAM Agenda, such as ISN Nice, and Nobel Algarve British International School.
What is a Makerspace? It's a place to play, to create, to learn, to mentor, to invent; a place for learning and innovation, for design thinking, prototyping, electronics and robotics. The main aim of a School Maker Space is to empower young people with 21st Century skills and to improve the teaching of STEAM: Typically, a Maker Space will include affordable cutting-edge technology such as 3D printers, 2D and 3D laser cutters, vinyl cutters, milling machines and programmable microcontrollers.
Projects and partnerships adding value
In 2020, ICS Côte d'Azur, our bilingual international IB primary school in the south of France, was one of several Globeducate schools to participate in a pilot project bringing LEGO® Education into the classroom and integrating it into the STEAM curriculum with SPIKE™ Prime and WeDo 2.0 Robotic kits. This project has now been extended across many Globeducate schools.
Our colleague Amanda Scott, Head of School at ICS Côte d'Azur, an Apple Distinguished School, says: "It is hard to make concrete predictions about the world of tomorrow, but amongst all the uncertainties one thing becomes clear: we have to give students the tools and skills to navigate a future that will include lightning-speed changes and global challenges. Our students will be the designers and creators of tomorrow, and as such, they need to develop their design-process and critical thinking skills, as well as creativity and resilience, in collaborative environments."
New Models of Learning
ICS Milanis one of Globeducate's flagship schools for STEAM Education, the first school in the group to introduce three STEAM leadership positions – STEM Coordinator, Art and Design Coordinator and Performing Arts Coordinator. Rachel Fincken is our Art and Design Coordinator at the brand-new campus, ICS Milan Symbiosis. Being an educator in a city that is pivotal in design trends, she talks about needing to walk the walk, about all teachers being designers, saying "Our goal is to foster the true innovation that comes with combining the mind of a scientist or technologist with that of an artist or designer. Unlike traditional models of teaching, our STEAM Agenda strengthens the connections between the modelling process and computational thinking, for example. Students can exercise both sides of the brain at once."
Executive Head of School at ICS Milan, Antonia Giovanazzi, committed to making the STEAM approach part of the school´s DNA, not an add-on or a "strategy", introduced Arts International to the school and to other ICS schools - ISN Nice and ICS London. A team of West End stars have been working with students in these schools through a programme called "Finding your Voice", which has encouraged creativity and innovation in our students, and helped them to develop self-confidence and presentation skills, as well as empathy, compassion, cultural awareness and appreciation.
We know that students today rely increasingly on digital access to knowledge but their future success depends on how they apply their knowledge, skills, and character. Globeducate's key principles are delivering educational excellence, developing skills and competencies, building character and nurturing global perspectives, and our STEAM Agenda is one key element of bringing our principles to life for our 21st-century learners.
For more information about Globeducate, see globeducate.com
This article first appeared in the 2022/23 edition of John Catt's Guide to International Schools, which you can read here: