How a dual-language curriculum boosts student learning potential
Posted on 24th Sep 2021 in School News, Italy, International Schools, International Education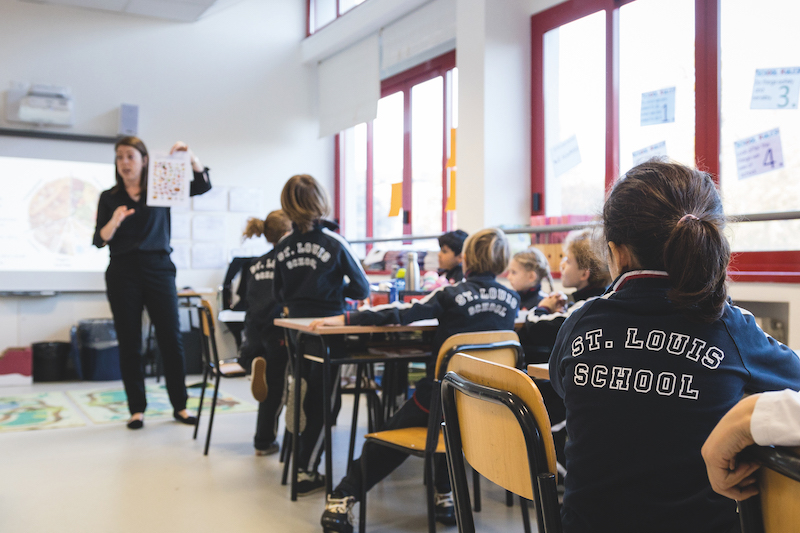 Jake Burnett, Principal at St. Louis Caviglia, an international school in Milan, explains why learning in two languages can have long-term benefits
All teachers understand how a child's formative years will have a lasting impact on their world. So, when St Louis School first developed its distinctive dual-language approach for pupils aged 2 to 18, our promise to parents was simple; to make learning engaging so we can deliver the finest education for their children and give them the tools for a lifetime of success.
Fast-forward 25 years, and our 'Carpe Magnificentiam' motto – to take hold of what is marvellous – still captures our pioneering methodology. At St Louis we combine the most important elements of the British national curriculum with the choice between a high-quality British learning pathway or, for those with a good basic language level, the chance to follow a well-established Italian programme.
Essentially, by integrating both learning opportunities into our approach, we believe we can provide the greatest opportunities for students to succeed.
From a practical perspective, this means that primary and middle school students have a core English-taught syllabus (approximately 75%) which is supplemented by additional subjects across either the Italian or British streams. These subject areas provide an added academic, social and cultural stimulus to complement their core learning and contribute to a well-rounded world view.
The parents who choose the Italian stream tell us their children benefit from being exposed to two complementary learning methods. Where the more traditional style favoured by the Italian education system reinforces the importance of core fundamentals and focused study, the British approach balances it by promoting collaboration and enquiry. Together, they build independence, resilience and resourcefulness, and encourage students to grow both as learners and as individuals. When combined, we believe pupils enjoy the best of both worlds and are even better prepared to transition to self-directed independent study often favoured by universities.
However, unlike traditional bilingual schools, we have always placed emphasis on ensuring those who choose the Italian stream don't simply study in Italian, but from an Italian perspective. By keeping language as the means through which students are taught rather than the focus, our experience shows that it contributes to their subject learning, and helps to embed Italian culture, enriching the educational journey by deepening learning.
One question we get asked is whether following two different programmes for core topics like maths could be confusing. Our experience is quite the opposite – that the two methods actually help open a learner's mind and consolidate the knowledge, while allowing students the chance to choose the style that works best for them. What's more, a high number of our pupils go on to study additional maths, which suggests that our process appeals to their innate curiosity and strengthens their interest and ability in the subject.
We have also seen how those who are immersed in language learning from a young age often develop enhanced communication and literacy levels, making them even more prepared to adjust to new cultures and environments in adult life.
The benefits of our unique style extend far beyond simply ensuring that many pupils are able to communicate effortlessly in two languages. One of the school's five core values is to embrace the backgrounds and individual needs of all our students. As a result we have a rich diversity of languages and experiences that we actively celebrate and promote across the school.
From a cultural perspective, it's clear how immersing pupils in the local language in this way helps broaden their social outlook and improves tolerance while also reinforcing their own cultural identity – something that is greatly valued by the wider family and individual pupils alike. Many of the families who choose our school have lived abroad before, so understand first-hand the value of embedding a flexible and more global mindset from an early age.
At the same time, it's also important to help reinforce the local culture for international students who come to Italian as a second language, and entrench a sense of community as well as global mindedness. After all, with more than 1500 students across our three campuses, representing over 50 nationalities, it's crucial that we can instil an appreciation of cultural diversity.
Going back to our motto, another way we ensure pupils 'take greatness' is by ensuring our unique educational programme – the only one of its kind in Italy – is delivered by the very best teachers in first-class facilities. Whilst our team has an international overview and philosophy, all our teachers are mother-tongue speakers, the large majority from the UK. So, whether they're studying English, Italian or another language, our students learn the right way from the very start.
Our teachers also share the school's belief that learning should be enjoyable, engaging yet have a degree of challenge to get the most from every academic stage, and to truly engage students and encourage them to bring their best self to school.
As a result, parents are delighted by how our unique socio-linguistic style ensures high-quality education that delivers consistently outstanding academic results. Not only do our children achieve excellent International IGCSE results, but our school has boasted the highest sustained International Baccalaureate Diploma Programme score in continental Europe for the last six years.
In summary, giving students the chance to follow two complementary learning styles by incorporating two different languages into our teaching system can give children the best academic foundation to set them up for future success. Aside from the obvious benefits of linguistic prowess, the St Louis approach helps increase practical skills, from multi-tasking and problem solving, while inspiring a natural curiosity about the wider world.
As educators we have a duty to help our children become active, globally-minded citizens. The world is constantly changing and, as what parents want for their children continues to evolve, it's important that we adjust with them.
Perhaps most valuable of all, our flexible approach helps foster a sense of local community that helps children adapt to new cultural environments – an ever-important life skill for an increasingly globalised workforce.
This article first appeared in the 2021/22 edition of John Catt's Guide to International Schools, which you can read here: