'Having the choice between A Level and IB can provide our pupils a broad base for more specialist selection later in their education'
Posted on 28th Sep 2021 in School News, Spain, International Baccalaureate, A levels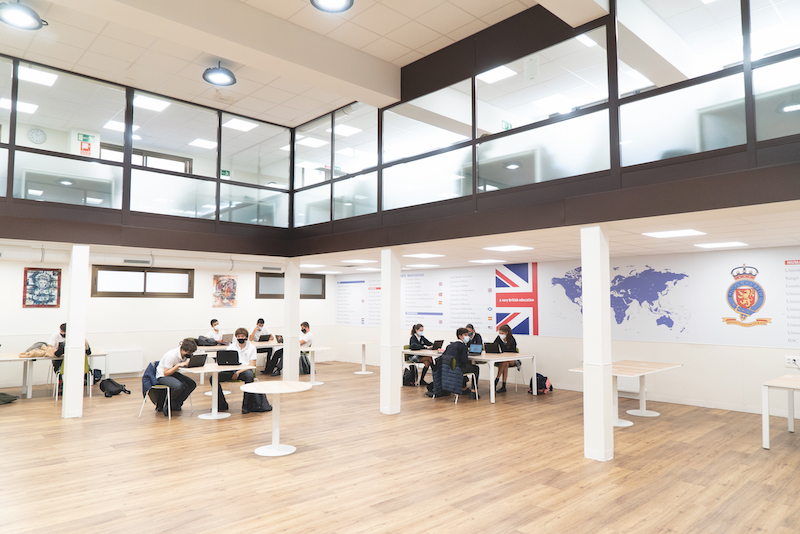 Interview with Póla Cuinnea, Head of Senior School and IB Coordinator at King's College Madrid
King's College Madrid, located in an attractive 12 acre site in the countryside between the city of Madrid (Spain) and the Guadarrama mountains, is unique in its' Post-16 curriculum offer to pupils. Steeped in a long tradition of the British curriculum of A-Levels, King's College has now completed its first year of teaching the IB Diploma programme. "With an ever-growing population of international families, it is vital that schools adapt to the needs of its pupils, providing the skills necessary to compete in the global employment market. King's College prides itself in being able to meet these global demands through its holistic approach to education", explains Póla Cuinnea, Head of Senior School and IB Coordinator of the school. She has been in King's Group since September 2017 and has been leading the Senior Department in King's College Madrid in its inaugural year of IB. We have interviewed her to find out more about the school's unique offer.
What are the main benefits of offering both A Levels and IB Diploma programme in the school?
As we welcome international families into our school, being able to provide two distinct pathways allows for a smoother transition between educational systems. It also ensures that we as a school can meet the varying needs of our pupils, facilitating a positive level of engagement with life-long learning. For many, the prospect of choosing a specific career pathways at such an early stage in their life can be quite daunting, and so, having the choice between A Level and IB can provide our pupils with a more in-depth interest focus or a broad base for more specialist selection later in their education. Universities are looking for global citizens and through the provision of a broad curriculum, the addition of extra-curricular activities and opportunities for student leadership, we are ensuring our pupils can compete equally in the evolving educational and employment landscape.
What are the main differences between both curriculums?
A Levels allow pupils to study at great depth three subjects which are closely linked with future further education interests plus Spanish, whereas the IB is a broader series of six subjects with a focus on language development, mathematics and the sciences supplemented by areas of interest in the Arts, and Humanities. The IB is built around a central focus of understanding how we learn as well as participating in creativity, activity and service which develop the softer skills supporting the development of global citizenship.
How do you advise students which one to choose?
As a school we have a robust programme of pathway selection which begins in the classroom with teachers dedicating time to help our pupils understand the requirements of both IB and A Level subjects. We also ensure our parents are fully informed to support home discussions on appropriate selection through 1:1 interviews with the professionals leading the courses. Throughout the course of Year 11, we hold school assemblies with a focus on the differences between both pathways on offer as well as to ensure pupils they make the best personal choices. Taster sessions are provided allowing pupils to experience both A level and IB subjects before making their final selections.
What other provisions do you offer to senior students to prepare them for university and their future professional careers?
At King's College, we have an outstanding record of achievement in pupils entering top world universities. Our university programme is a central strand running through all levels of secondary education with guest speakers, university seminars, open days and visiting alumni. Our careers advisor, with decades of experience working in this area, has built strong relationships with university admissions officers worldwide and provides regular updates on university entry criteria and course opportunities through group meetings and 1:1 sessions. Teachers and pupils develop strong relationships during their time in King's College and this comes to fruition in being able to provide world-class expertise and support to our pupils in their university application process.
This article first appeared in the 2021/22 edition of John Catt's Guide to International Schools, which you can read here: