Global pandemics and the future of international education
Posted on 8th Sep 2020 in School News, France Tweet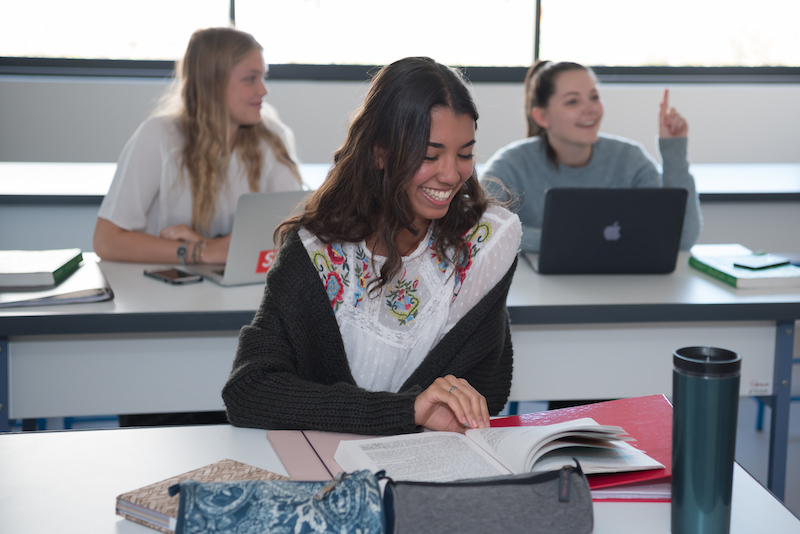 Natalie Stuart, Coordinator of Communications and Orientation at Bordeaux International School, France, looks at the lessons we have learned...
We are living through unprecedented times. The threat posed to the fabric of our society by the acceleration of climate change, the rise of populism, and global pandemics mean that we are questioning the way we live and the way we will educate in the future.
The Covid-19 pandemic, most recently preceded by those of SARS, MERS, and Ebola, has seen extraordinary measures taken by almost every country around the world, and could be the tip of a very large iceberg. Many scientists believe that the frequency and seriousness of global pandemics will increase.
The known impact of Covid-19 thus far is bracing: 777 million children and students have been forced out of schools and universities in a total of 100 countries as of 16th March 2020. 85 governments have closed schools nationwide and 15 others have imposed localised school closures, according to UNESCO.
In Bordeaux, and indeed in France, we are amongst the fortunate ones. We live in a safe, tranquil city that benefits from a strong governmental, health care, and educational structure.
Our school being relatively small means that we have a nimble, reactive team, and the possibility to quickly adapt teaching to the circumstances and needs of our students. We know, however, from our partnership with Déguimbéré school in Senegal that this is far from the case for all students worldwide. Crises such as these have a profound impact on communities everywhere, but the effects are most strongly felt by children in marginalised areas and developing countries, who were perhaps already facing difficulties in accessing education, due to issues such as poverty, poor government, lack of facilities, or conflict.
The effects of a global crisis can be temporary (closed borders, travel discouraged) but the after-effects can be far-reaching: learning delayed or abandoned, stricter immigration policies, or diminished confidence in studying abroad. As an educational community, some of the questions we are currently asking ourselves are, how will the last few months change our vision of the global community? what will we prioritise and value in the future?
Many things could, and should, change. We might well decide that some things are better lived on a smaller scale. For example, action to slow climate change on a responsible, micro level, or an end to unnecessary transportation of food and a return to provisionment on a national and regional scale. But the genie is out of the bottle regarding a globalised, international way of living, so we need to be prepared to make changes to make it sustainable.
One thing that won't change is the value of international education: it is a cooperative means of bringing us together as a global community, and so it is essential as an investment. The main objective of the internationalisation of education is to enhance knowledge and cultural capital, by learning about cultures and acquiring intercultural skills.
Education is not the same everywhere, and not of the same standard everywhere. Hence the value of an international education: studying abroad, exchange programmes, placement years, and schemes such as Erasmus.
By investing in learning we are investing in tomorrow's epidemiologists, researchers, healthcare professionals, and politicians. Key questions become, what measures must be taken so that students continue to benefit from it? what changes can be made to international education to limit impact in the case of a pandemic, or climate disaster?
There is much talk of the lack of a unified European, and global, response to the Covid-19 pandemic. We have become neighbourly within our local communities, but fractured as a global community, vying for resources, development of vaccines, and access to specialists. It has spotlighted our differences in politics, privilege, infrastructure and education as well as our similarities as human beings.
Going forward, there must be global strategy and preparedness, of which education must be a central tenet. Access to a culturally aware, internationalised, bilingual (or even multilingual) education will become a priority. Immersive language-learning, beginning at a young age, will be essential.
We must be prepared for future events like Covid-19. In the educational community, this means having a quickly-mobilized strategy in place. We have amazing technological resources at our fingertips, which of course cannot replace all the advantages of face-to-face contact time between teachers and pupils, but can go a long way to minimise the impact on a student's education in the case of school closures. The development and optimisation of online learning tools and platforms will be key, and we need to focus on ensuring that students in developing countries can access them. This will mean that students can not only remain in contact with their class teachers, but also access instruction by specialist educators in other countries via webinars, online lectures and seminars.
In terms of access to universities, admissions departments should focus on introducing a more flexible admissions process, and a robust way of communicating with and supporting incoming students. For example, by allowing more students to begin their course at a second intake point during the year, or to begin the first year of their course in their home country via distance learning, before relocating to their institution for the remaining years of their degree.
Language requirements, rather than being used as a barrier to acceptance onto a programme, could be approached by integrating language classes into the first year of study in order for a student to rise to a bilingual level.
Pre-sessional or summer programmes offered as a matter of course would mean that students having experienced difficulties (such as this year's school closures and exam cancellations), would begin their programme knowing that they have addressed any weak spots in their foundational knowledge.
The world around us is changing, and we must change too. Now is not the time to be complacent or blinkered. The shelter over our heads is no longer sure, and we must question many of our assumptions regarding the kind of lives we will live, as individuals, as families, as communities, and as a species. Now is the time to build a strategy for the future, both in terms of the way we live in order to slow climate change, and in preparing ourselves for the eventualities that lay before us, both in our local communities and as a global one. Let's make international education a priority.
This article first appeared in John Catt's Guide to International Schools 2020/21, which you can view in full here: