Getting results from advancement efforts
Posted on 30th Jan 2018 in International Schools, International Education, Advancement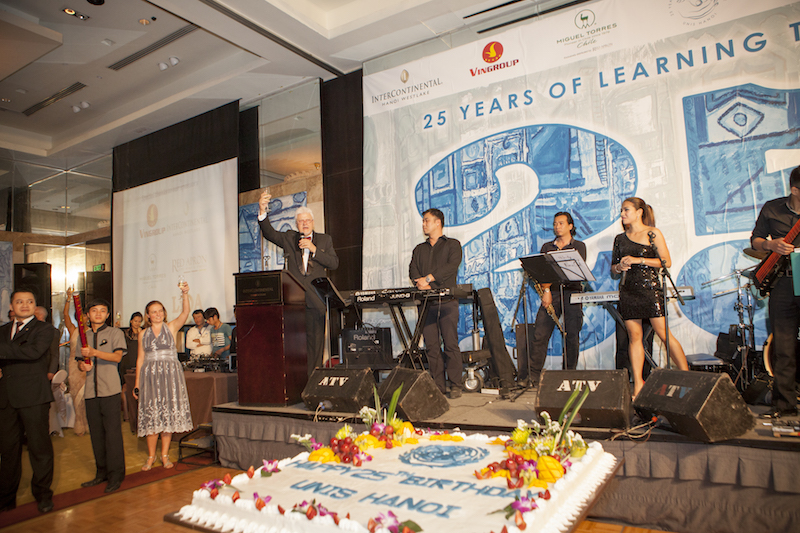 Emma Silva faced many challenges when she became the United Nations International School of Hanoi's first advancement director in 2011, but this was the biggest: helping her new community understand why the outwardly prosperous school needed to raise funds.
Silva seized on the idea of the school's 25th birthday in 2012 to help her fledgling, one-person advancement shop take flight. "Everyone understands a birthday," she says.
Silva used a birthday celebration to help parents view UNIS Hanoi as a channel for their charitable giving. The school has an extensive service-learning program due to its association with the U.N., and gifts to a 25th birthday fund supported six such projects at partner agencies, including a mobile book drive, a center for disabled and abandoned children, and a swim-training program for local schools. The gifts also helped expand volunteer opportunities at the agencies for UNIS Hanoi students.
"Our school was established to help develop Vietnam, and our community includes many families committed to that mission," Silva says, noting that many parents work for the U.N., embassies and nongovernmental organizations. The school exceeded its target of US$25,000, raising more than $37,000 through an auction and ball. Parents gave because the funds benefited their children's education and helped Vietnam. "We learned that there is a capacity and willingness to give. It set up the foundation for more institutional fundraising."
Tapping into that inclination to give can be a daunting challenge for international schools. Cultural differences, transient families, perceptions of institutional wealth and relatively young pools of alumni all conspire to make fundraising difficult. Throw in a board with unrealistic expectations, and the task is downright intimidating.
And yet.
More international schools are recognizing the importance of alumni relations, communications and fundraising. CASE Fundraising in International Schools Report 2016 (1) found that 82 percent of the international schools surveyed had a fundraising or development office. The marketplace is changing. Once a bastion for expats whose tuition was paid by corporations, international schools now attract middle-class families in developing and emerging economies. The schools can help launch their children into universities around the world.
The number of English-medium K–12 schools grew 41.5 percent in the past five years to a total of 8,257 worldwide, according to the International School Council's 2016 Research Global Report. By 2026, ISC predicts, K–12 international schools will number 16,000. As competition increases, schools will feel pressure to build new facilities and offer the latest technologies.
Get your board onboard
More schools are opening advancement offices, but many don't understand the full scope of development work, says Mike Miller, a partner with MLW Consultants and an advancement veteran who advises international schools in Asia, Europe and North America.
"Do they know why they are doing it? Not necessarily. Do boards and heads understand how this fits into the big picture? No," he says. "They have expectations for making money, but they don't understand all the separate but interdependent functions like strategic planning, communications and marketing, and alumni relations."
Board members may need education on everything from financial goals to staffing needs to appropriate time frames for achieving objectives. Boards may think in terms of months, but institutions sometimes need years to see tangible results from advancement efforts.
Foreign foibles
Globally, fundraising is an emerging practice, and many countries lack "charitable or tax incentives for giving," Miller says.
Sometimes, the challenge is even more basic. When Silva started at UNIS in Hanoi, the business office could accept only cash donations. Now, they have a dedicated bank account for accepting gifts, with a streamlined paperwork process, and use an outside philanthropy site to accept credit card donations. Other schools provided tax benefits for American donors by creating a U.S.–based foundation, which also leverages gifts.
The American School in London offers its donors multiple options. U.S. taxpayers can contribute to the 501(c)(3) American School in London Foundation or give to the ASL Foundation (UK) Ltd. for simultaneous tax benefits in the U.S. and the U.K., if they are also U.K. taxpayers.
At some schools, though, expats aren't necessarily the biggest givers. Schools are getting better at cultivating relationships with wealthy local families. For Europeans, it can mean using ambassador families to help new families adjust and introduce them to a giving culture. "For our Vietnamese and Korean parents, we write all fundraising communications to them in their own language," Silva says. "It's especially helpful when that message comes from a peer."
Getting alumni involved
Like other areas of advancement, alumni relations is a relatively new concern for international schools. The CASE international schools report found that responding institutions had a median of 2,100 living and contactable alumni. Alumni donors are sparse: A median of three gave to their international school in 2015.
After joining Hong Kong International School as chief advancement officer, Maziar Sabet realized that the school focused on graduates only in Hong Kong despite having 47,000-plus alumni worldwide. "I realized it has to be a priority for us to wrap our arms around the alumni community to add value to the school," he says. Largely using social media, HKIS has created 10 active alumni networks in cities around the world, including New York, Los Angeles, London, and Singapore. "If you graduate from HKIS and head to any of these cities, you immediately have a support group," he says.
Through the groups, the school is learning more about the achievements of HKIS alumni and sharing those successes on its website and in its publications. The school still sees itself in the "friend raising" stage of its advancement efforts.
Miller says nascent advancement operations have their work cut out for them. "We tell students to go out as global citizens and build a better world. They don't think of us as a place in need of support," Miller says. "We have to learn how to turn that around."
One key advantage: If their schools are providing a quality education, it makes advancement officers' jobs a whole lot easier.
Adapted from 'A Global Mindset' by Susan Dalzell, published October 2016 in Currents Magazine. Reprinted with permission. Copyright ©2016 by the Council for Advancement and Support of Education. All rights reserved.
1. CASE Fundraising in International Schools Report is based on the CASE Fundraising in International Schools survey. The next survey will go live in February 2018. Please register here to take part: www.case.org/schools2018