​From Cairo to Harvard University
Posted on 10th Oct 2016 in School News, International Schools, University study, Egypt, United States Tweet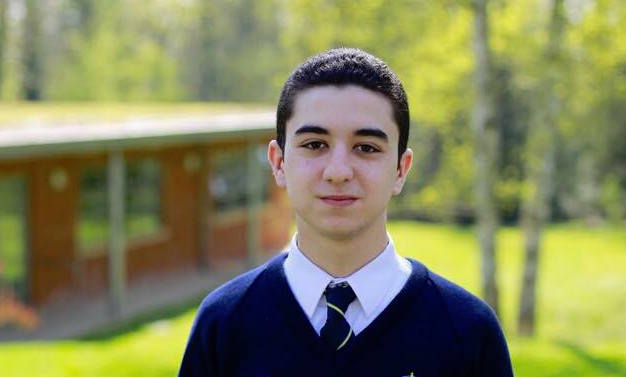 A student from King's College Saint Michaels (UK) tells us his story of hard work, hope and success...

This year, Harvard University's acceptance rate was 5.2%, the lowest in the university's history. This implied that from a pool of more than 39,000 applicants, only 2,037 were admitted for the Class of 2020. And one of them was Abdelrhman Saleh, an incredibly bright 18 year old young man who, regardless of his outstanding results and obvious potential, wasn't even planning on applying until the last minute. "My cousin had to convince me, I never really thought I would get in", he explains with hint of astonishment still detectable in his tone. Abdel's cousin knew that he was too modest to even picture himself attending a university like Harvard, but he couldn't have been more right in insisting that he at least try: not only was Abdel accepted into Harvard; but he was in fact also given a full scholarship to study there.
Born and raised in El Cairo (Egypt), Abdel has spent the last two years in the UK, preparing himself for university. He had known for a long time that he wanted to study in a top university, an ambition that, as he was aware, required hard work, discipline and excellent academic results. He found the perfect setting for achieving those standards in the prestigious boarding school King's College Saint Michaels, a place that he now claims "feels more like home than home".
King's College Saint Michaels was in fact the first institution to see that there was something special about Abdel and decided to invite him to study at the boarding school with a full scholarship. "From the moment we met him, we knew he was brilliant: conscientious, hard-working and studious, but also personable and friendly," says Stuart Higgins, Principal at King's College Saint Michaels.
During his time at Saint Michaels, Abdel has been Deputy Head boy, run the History & Politics Club and organised fundraising events and activities (he raised money for the victims of the Nepalese earthquake, Birmingham Children's Hospital, and the CLIC Sargent Foundation). On top of this, he obtained excellent results in his SATs tests: an outstanding 2380/2400.
But even after accomplishing all these achievements, Abdel hasn't lost one bit of his characteristic humbleness. He is most certainly destined to great things, but probably one of his best qualities, which he has already mastered, is a commendable modesty.
Have you always wanted to study at Harvard? Why?
As cliché as this may sound, I wasn't even going to apply to Harvard until the last minute. It was my cousin who convinced me to submit my application by telling me that I have a good chance of getting accepted. I never really thought I would get in.
What are you going to study at Harvard?
Probably physics. I haven't made up my mind yet and the American liberal arts system will allow me to explore multiple fields before choosing a major. I will spend my first year taking courses in economics, philosophy, statistics, and history, which will give me a much better idea of what I want to major in.
Was it very hard to get admitted? How was the process? (step by step)
I took the SAT and two SAT Subject tests, one in Maths and another in Physics. These are standardised American college entrance exams that the university required. I scored 2380/2400 on the SAT which was in the 99% percentile and I scored 800/800 on the two other tests.
Then I had to ask my teachers for recommendation letters, and I had to write some essays—equivalent to the personal statements UK universities ask for. Later, I was invited for an interview with a Harvard Alum which didn't go very well, and at that point I lost hope. But I regained hope when I was invited for another interview with a senior admissions officer at Harvard, Ms. Janet Irons, the person who makes the decisions. Luckily that interview went better than the first one, and I received my acceptance letter two short months later.
The most time consuming part of the process was writing the +20 essays for the 20 universities I applied to. Each university asked for its own essays as part of their applications. I also had to balance all this with my social life and the five A Levels I am studying. My writing skills improved a lot over this period.
Most US universities have what is called a holistic admissions process. Admissions officers put equal emphasis on one's experiences, personal qualities, contributions to the community, as they do on academics. The universities usually want a well-rounded class with scientists, artists, athletes, clowns.
Harvard's acceptance rate this year was 5.2%, the lowest in the university's history. The acceptance rate for international students, like me, was even lower. With an acceptance rate this low, there is some luck involved with every admissions decision. I know that dozens of well-qualified people who deserve a place at Harvard as much as I do have been turned down and this motivates me to make the most out of this opportunity.
Do you feel the school helped you to achieve it? How?
In all honesty, I believe that if I hadn't attended King's College Saint Michaels, I wouldn't have gotten accepted into Harvard. Everyone here was very supportive throughout the application process, especially Mrs. Waite, the assistant director of education at SMC. She spent many hours writing my recommendation letter, filling forms, sending my grades, and even speaking to the Harvard admissions office on the phone.
I met people from over 60 countries while studying at King's College Saint Michaels. This helped me shape my view about my culture and religion. I have also developed a more cosmopolitan, compassionate view of the world and its cultures. I had breakfast with a Brazilian, lunch with a Lithuanian and dinner with a Dane. Not everyone gets to live in such a diverse and multiethnic community, and I think that gave me a slight edge in the application process.
Why did you choose King's College Saint Michaels?
While living in Egypt, I was studying for British IGCSEs, and I was planning to study international A Levels afterwards. I wanted to study A Level Physics, Chemistry, Maths, Further Maths, and Arabic, but my school only allowed me to study two. Universities in Egypt don't require more than two A Levels. This was why I started looking for a school abroad. I can study as many A Levels as I want at King's College Saint Michaels.
King's College Saint Michaels wasn't like any school I have attended before. It is a boarding school in the tranquil English countryside. I have met people from over 60 countries here. Contrast this with the metropolitan, densely populated, loud, and mono-ethnic city I grew up in. I felt that living in a new unfamiliar environment was really thrilling.
In addition, English boarding schools have this awe associated with them. I always saw them as places of discipline, heritage, and academic excellence. And I knew that attending a boarding school will be great preparation for university life.
Was it difficult to get adapted to the school?
When I first arrived here I was overwhelmed with new people, new extracurricular activities, new food, and demanding academics. But I got used to the place and now it feels more like home than home.
Do you feel prepared for the university?
Going to Harvard, or any university for that matter, is a daunting concept. However, attending King's College Saint Michaels taught me independence and discipline which will be very useful at university. My perspective on my culture and the cultures of others, which I have developed at SMC, will also help me get along with the diverse people I will meet while at university.
For more information about King's College, Saint Michaels, view its profile on International School Search.
For more information about King's College, please visit www.kingscollegeschools.org