Education for social change
Posted on 13th Aug 2021 in School News, International Schools, International Education, India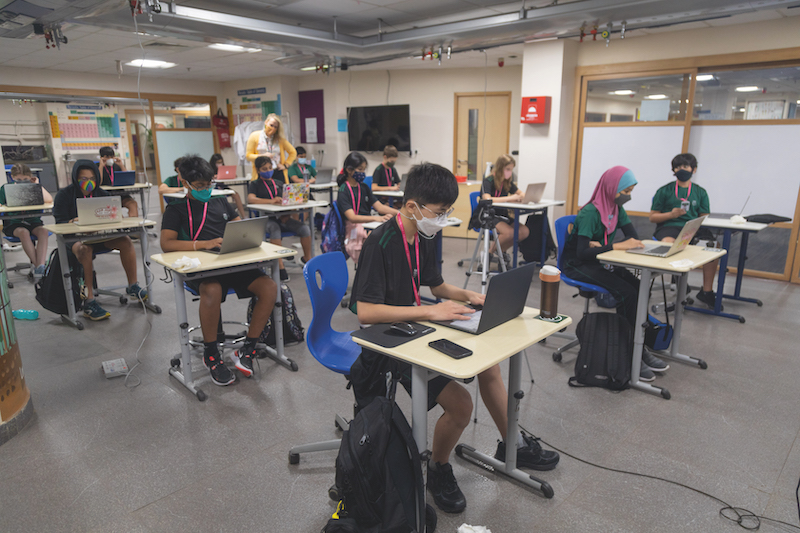 Rachel Burchett explains how the American School of Bombay in India identifies and addresses the big issues facing students and families
Being online and inside for an entire school year, with two teens in tow, has certainly increased my understanding of what matters to them. It was with gratitude, therefore, when I joined the American School of Bombay (ASB) as the Director of Communications early last school year, that I discovered that the social injustices my teens were shouting out about were also in sharp focus at school, both in our professional learning program and in the classroom.
Black Lives Matter. Climate change. Equality for women. Gun violence. Gender. Poverty. Islamaphobia. Mental Health. You name the issue and our kids are no doubt more aware of the undercurrents than we give them credit for. Pre-covid, I used to think my teens were mostly apathetic, more interested in mindlessly scrolling through influencer accounts on social media, online shopping, and taking 300 photos to get that perfect selfie for an Instagram post. Maybe they were, and maybe being forced inside and online for 14 months compelled them into thinking more about the world. I'm never going to know, and that's beside the point anyway.
ASB is a school that inspires continuous inquiry, and our students are constantly striving to understand how they can enhance the lives of others. Right now, my teens are engaged in world issues, and even better still, they are doing things about it. From challenging their peers about their attitudes to gay rights to supporting anti-racism movements loudly and proudly through social media; to running a mental health awareness and support group for teens; to fundraising to support local NGOs here in Mumbai, India. Their peers are doing everything from running crowd-funding campaigns for cleaner menstrual products for disadvantaged girls to setting up NGOs to support biodiversity in urban areas, to getting involved in theater projects to assist with peacekeeping in the Middle East. And much, much more. As a teen in the 1980's I certainly wasn't that aware of world issues, and definitely didn't feel I had a voice or any avenues to get involved in those I did care about. School students today are tapped in and active. I credit a lot of their action to ASB and our community social responsibility programs, and our focus on equity, diversity, and inclusion.
At an educator level, we are all engaged in ongoing professional development and training to better understand and build on the strengths of belonging to a multicultural, diverse, and inclusive community. The training focuses on further developing empathy & resilience in the face of challenges and helps to build confidence in our educator's skills to adapt to an ever-changing world. This work directly leads to building the same skills in our students. Being online for more than a year has not slowed this work down, and we recently spent a full day building our cultural competence through a local lens, working with an Indian-based organization, Integriti. Supporting this work, we have monthly sessions where we work in small peer groups exploring topics that resonate with us; everything from ensuring inclusion in our online communications to an equity task force.
Learning about social justice, bias, and even equity by design is one thing. Bringing these lessons into the classroom, and building empathy in our kids is what really matters. How do we, then, as a school, ensure our students understand they are accountable for how they move about the planet and empower them to make change? Well, as it turns out, we do quite a lot, and the results are staggering.
As Director of Communications, I have the privilege to see what is happening in classrooms from Pre-K to Grade 12, and can honestly say that our teachers are integrating their lessons on equity, diversity, and inclusion work across the board, and our kids are developing their empathy, awareness, and activism in hugely positive ways. As an example, over a two week period in April/May 2020, I witnessed: Grade 4 students conceptualize and present as a 'Shark Tank' pitch solutions for saving lives during environmental disasters; Grade 9 students create and present spoken word 'Poetry for Social Change' on topics ranging from racism to sexual abuse to Islamaphobia to gun violence; Grade 12 students create a whole community online fundraising red-carpet 'Oscars' event to raise money for NGOs in Mumbai; Middle School students participate in a 'Spirit Week' to develop community connections and raise money for local charities who support our most vulnerable communities here in Mumbai; Grade 5 hosted a child environmental activist, Licypriya, India's youngest activist and World Peace Prize Laureate, as part of their 'Passions for Purpose' projects. Did I mention all of these examples occurred in just 14 days, during a pandemic? Multiply that by twenty and then add in all the other grades alongside wider educator and parent initiatives and you start to see the depth and breadth of our School's reach and commitment in just one year, and the opportunities provided to our students.
As an intentionally international school, ASB is identifying the big issues that are affecting our students and families, and we are addressing these through pedagogy and content. Moreover, we are providing opportunities for students to demonstrate courage: courage to speak up, to take action, to right wrongs, and to empower others. This year we will be introducing the Social Justice Standards, as set out by Learning for Justice (www.learningforjustice.org) as intentional standards across our teaching practices.
We know we must, as a school community, actively address injustice and inequality, both philosophically, and through explicit teaching, so our students can be prepared for a world of inequality and injustice, and hopefully be agents for positive change. Our students are taking these lessons and are participating, advocating, and creating, for social change. Their lifestyle choices are being influenced by what they are involved with at school, and in turn, they are influencing their wider communities with optimism and integrity. Now, if I get worried about the future, I turn my attention to what our kids are involved in, and I suddenly feel a lot calmer. If the future is in their hands, maybe we'll be ok after all.
This article first appeared in the 2021/22 edition of John Catt's Guide to International Schools, which you can read here: