Demand for international educators spurs changes in global recruitment
Posted on 19th Sep 2019 in International Schools, International Education, Recruitment Tweet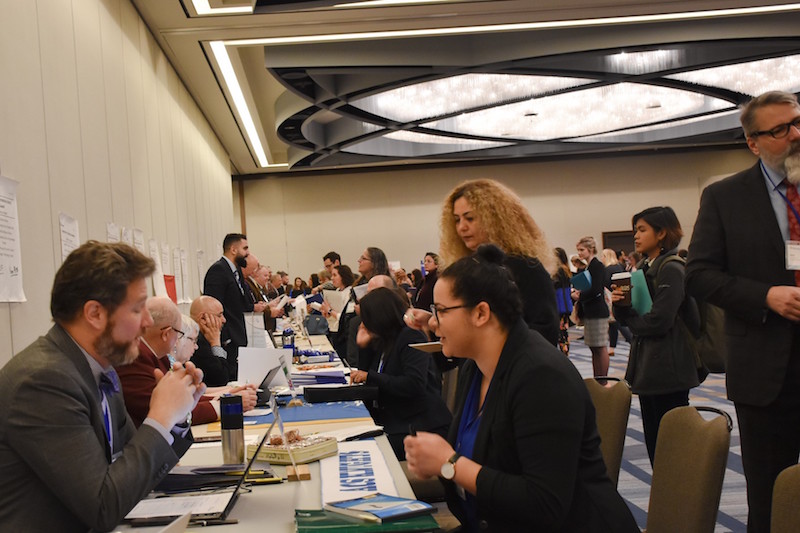 While many English-speaking countries like the US, UK, Canada, Australia and New Zealand are experiencing flat or declining growth in teacher populations and phrases like "teacher shortage" are materializing in news headlines, the international education sector is on an incredible upswing. Enrollment trends are showing 4x-5x growth rates between 2000 and 2030. As such, the massive surge in international students has begun to act as a magnet for quality international teachers around the world, but the demand keeps growing.
According to ISC Research, there were 492,000 teachers and leaders employed in international schools at the end of the 2017-2018 academic year. The significance of this substantive number is further underscored given that in 2000, the count hovered around 90,000. The growth will continue. By 2023 ISC Research predicts that demand for qualified, English-speaking teachers for international schools will reach 589,000.
This intense demand, combined with the complexity of pairing quality educators and schools around the world has put pressure on global recruitment practices, that in many cases, have remained the same for decades.
In 2018, two major players in international recruitment, International Schools Services (ISS) and Schrole Group, created an alliance to better address the future of global recruitment. ISS-Schrole Advantage was introduced as a dynamic, custom-built recruiting ecosystem for international schools and educators.
"We wanted to create a system that enabled schools and candidates to do what they do best, without being burdened with ongoing fees or a lot of paperwork," says Laura Light, Director of Global Recruitment for ISS. "For an annual membership, International schools get unlimited hires…no extra fees…no budget unknowns. Candidates pay just $75US for an annual membership and can use the system as much as they want, because it was really important to us that we try to keep costs as low as possible for them. I remember what it was like to be a teacher!"
ISS-Schrole Advantage has quickly become a robust recruitment ecosystem, attracting a sizable number of schools and an incredibly broad, deep and diverse candidate pool since its 2018 launch. The advancements in the platform over the last year have been impressive, with user input fueling the ongoing innovation cycle.
Peter Liddell, General Manager, Customer Experience for Schrole Group said, "We are chatting with schools and educators every day to hear about what will be most helpful and funnel that feedback right into our development. We want to make the fastest, most powerful system for international recruitment. Just this past year, we released new dashboards, improved search features, and an exciting "Conversations" module. The world isn't standing still, and neither are we."
While ISS-Schrole Advantage has upped the technology game across international recruitment, there is still a strong emphasis on personal interaction. The platform embraces today's "digital collaboration" mindset as it enables recruitment teams to have a shared view of applicants, including notes and communications, which becomes a big time-saver according to users. Recruiters can connect directly with candidates through the platform, centralizing interaction.
The digital connections also extend beyond the candidate tracking and management aspects. ISS-Schrole Advantage hosts virtual fairs (iFair®) and incorporates technology apps into in-person international job fairs so that candidates and recruiters can leverage the best of technology and one-on-one interfaces for meeting, interviewing and ultimately, filling international job vacancies.
The iFair® events happen twice per year. Participating schools can create virtual booths and interact with candidates through instant messaging, scheduled chats, and video calls, all within the ISS-Schrole Advantage virtual event. Candidates can meet with school recruiters directly from their device, without added travel.
The in-person ISS-Schrole Advantage job fairs are high-energy, multi-day events that happen three times per year throughout the peak recruitment season. Schools and candidates engage in school presentations, receptions, interviews, and more, all culminating with job offers. While there is a tremendous amount of face-to-face interaction at the events, the blend of in-person and digital communication is now quite fluid.
Laura Light recalls the days she was a candidate herself who attended ISS fairs. Now, she oversees ISS-Schrole Advantage fairs. She offers advice to those considering an international education role for the first time. "As people start to look at opportunities, one of the biggest suggestions is to be open-minded. Many people come looking for a job in either a specific school location – and we tell them to go for it! – but don't close the door on other opportunities until you have really examined them. There are great opportunities that might be a terrific match but get passed up because they weren't the 'dream.' That dream scenario may come along one day, but as you seek to move and grow, look at the schools in regions you may not have considered. ISS is always here to help – to talk you through it, listen to your concerns, and share our stories about being in those shoes."
Not surprising, there has been a growing need for Heads of School, Principals, and other School Administrators to support the international education expansion, as well. Dr. Beth Pfannl, Vice President, Administrative Searches and Governance Services for ISS, works directly with selection committees to identify their next school leaders. ISS's track record includes over 750 leadership searches across nearly every continent, but Pfannl reports that she is seeing the number of search requests that her team handles each year grow considerably. She attributes their success in client growth and strong placements to ISS's customized, personalized approach. "Our ISS search team helps schools evaluate what they are looking for in their next school leader. By meeting with important stakeholders in the school's community, we assist the search committee in developing a leadership profile that is customized and tailored specifically to the school's needs. We then reach out to our ever-expanding network of qualified and experienced candidates in the U.S. and around the world, to find those that would be the best fit," says Pfannl. "ISS is a very active organization in many facets of international education. We have a vast network and we also know the rising stars."
Citations:
iFair® is a registered trademark of International Schools Services.
ISS-Schrole Advantage is an alliance between International Schools Services (ISS) and Schrole Group.
Where are all the teachers coming from for the growing international schools market? (2018, December 12). Retrieved from: https://www.iscresearch.com/blog/default-post-blank-page/~board/news-from-the-ground/post/where-are-all-the-teachers-coming-from-for-the-growing-international-schools-market