British International School student team prepare to represent Vietnam at prestigious F1 in Schools World Finals 2018
Posted on 4th Sep 2018 in School News, Science, Technology, Engineering, Mathematics, STEM, Vietnam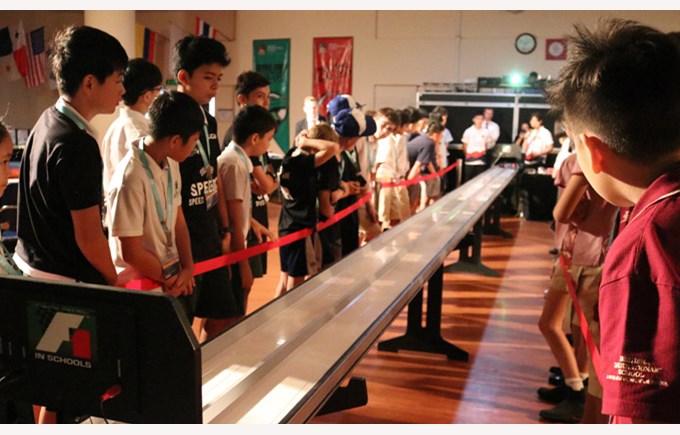 A team of sixth form students from the British International School, Ho Chi Minh City will represent Vietnam at next week's F1 in Schools World Finals 2018. This event will kick off the arrival of Formula 1 in Singapore, with over 250 participants travelling to the country for the 2018 finale of this leading global education competition, which takes place alongside the Formula 1 2018 Singapore Airlines Singapore Grand Prix.
The F1 in Schools World Finals 2018 will feature the top 51 teams from 23 countries, with Nam Phong Racing from the British International School, Ho Chi Minh City putting to the test their bespoke design of F1 in Schools race car. An elite panel of 45 judges from Formula 1, education and industry, will assess their work, from presentations and portfolios to engineering design, as well as the all-important track racing, with the cars covering the 20-metre F1 in Schools track in a time of around one second. Not only will the students be competing for the accolade of F1 in Schools World Champions 2018 but they will also have the opportunity to win scholarships for City, University London and UCL Engineering. Nam Phong Racing are the only team to be representing Vietnam at the 2018 World Finals and have put in thousands of hours of work, including hosting their very own 'BIS Grand Prix' to be ready for the ultimate challenge of pitting their car against the best from across the globe.
Jonathan Le, Team Manager of Nam Phong Racing, describes their journey so far: 'Over the past ten months, we have meticulously designed our team branding, marketing, social media presence and car development to ensure that we excel in the World Finals. Although this competition may initially only appeal to designers and engineers, there are other crucial aspects such as sponsorship and marketing that can attract other students. F1 in Schools requires and strengthens many applicable skills such as innovative thinking, effective communication and the ability to work collaboratively. This is the largest STEM competition for high school students and as the sole representatives of Vietnam, we hope to make our school, country and supporters proud.'
Andrew Denford, F1 in Schools Founder and Chairman, pioneered this competition to engage students in the key STEM (Science, Technology, Engineering and Maths) subjects and, with the power of the Formula 1 sport, to open their eyes to the myriad of career opportunities that STEM offers. From humble beginnings in the UK over the last 18 years the competition has expanded, now operating in 48 countries worldwide.
Andrew says, 'I'm very excited that we're heading to Singapore for this year's event. It will be the third time we've staged our event in the country, a testament to the welcome we have and the experience it offers our students. F1 in Schools goes from strength to strength, inspiring students to appreciate how much engineering can offer for an exciting career, opening up many future employment opportunities as well as adding enormous value to a CV.'
He adds, 'The World Finals is the culmination of many months and often years of work by the students and the time, passion, energy, devotion that they have for F1 in Schools is just incredible. I'm always very proud to see how the students develop their confidence and skills during the competition. We keep in touch with many of our alumni and we now have students in the Formula 1 paddock, working with teams, suppliers and sponsors, who prove just how valuable competing in F1 in Schools can be. I look forward to meeting all this year's competitors in Singapore and I'm sure it will be a close competition for pole position and the World Champions crown.'
F1 in Schools challenges students to create their own Formula 1 team which is commissioned to design, construct and race the fastest miniature Formula 1 Car of the Future; a 21cm-long race car built from the F1 in Schools modelling block and powered by a compressed air cylinder. At the World Finals each team brings along a pit display, their cars and a written portfolio, as well as having prepared a verbal presentation for the judges. Each team will race their car on the Official F1 in Schools track.
The 2018 World Finals is being held from 9th to 12th September with three days of intense competition. After all their hard work the students will be rewarded with a trip to Marina Bay Circuit on Thursday for an exclusive F1 in Schools World Finals 2018 pit lane walk and the opportunity to attend the Grand Prix.
The F1 in Schools World Finals 2018 is held with the support of a host of sponsors including Formula 1, Denford, The Institution of Engineering and Technology, Autodesk, FIA Women in Motorsport Commission, City University of London, UCL Engineering, Acronis, Singapore Tourism Board, Singapore GP and Resorts World Sentosa.