20 years of education excellence at Hong Kong Academy
Posted on 26th May 2021 in School News, Hong Kong Tweet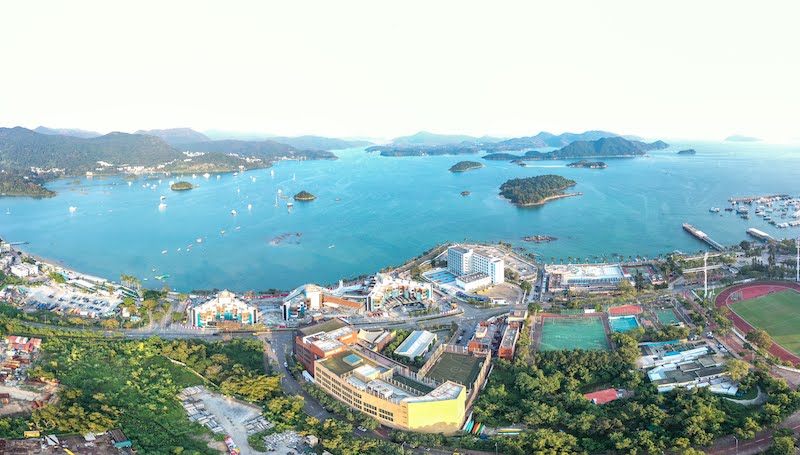 Since founded in 2000, Hong Kong Academy's (HKA) personal, individualized educational approach continues to empower students in achieving their full potential for generations to come.
Message from Head of School, Stephen Dare
HKA was founded on the principles of educational excellence, community engagement, inclusion and diversity and mutual respect. We first opened our red doors on Stubbs Road to just three students in August 2000, graduated our first IB Diploma cohort in May 2012 and moved to our award-winning Sai Kung campus in 2013.
We have celebrated our 20th anniversary during a year of unprecedented disruption which has affected every facet of life. As a result, we have been required to change routines and priorities both in school and at home. Our new normal looks very different to what most of us could have imagined, and yet many global leaders argue that what has occurred is simply the acceleration of a change which was already underway.
Since the advent of computing in the 1950's, our economies and societies have been increasingly dominated by knowledge workers focussed on driving technology and automation forward. In 2015 the concept of the Fourth Industrial Revolution was conceived, and in 2019 the World Economic Forum published a report called Schools of the Future, in which it recommended that as the world enters the Fourth Industrial Revolution, schools will need to shift from a knowledge based to a skills based instructional model. The Fourth industrial Revolution will drive profound disruption in the workplace: workers will need to update their skills and knowledge many times over the course of their careers, artificial intelligence and increased automation will eliminate the need for certain jobs and brand new categories of jobs will emerge which do not exist today.
Whilst we don't know exactly what this Fourth Industrial Revolution will look like, as an educator I believe it's our job to equip students as best we can for an uncertain future. We must educate them to be global citizens who have the knowledge, capabilities and skills to drive and thrive through change. We should be preparing them to live meaningful lives, creating economic value and contributing to society no matter their future profession. Academics must be complemented with skills such as interpersonal and emotional intelligence, self-directedness, empathy, collaboration, creative and analytical thinking, social awareness and leadership.
To support student success today and to prepare them for the world of tomorrow, our unique programmes at HKA provide a holistic and highly personalised education. With an exceptionally low student:teacher ratio of 6:1, our faculty know every child as an individual and understand what motivates and inspires them to flourish. With a community representing over 40 nationalities, students develop a respect and appreciation for diverse perspectives and embrace differences as strengths. We are one of only seven fully authorised, three programme IB World Schools in Hong Kong, and the majority of HKA students graduate with three qualifications, giving them access to their first-choice universities on every continent.
This year marks our 10th graduating class. We are proud to have a global alumni network who are living, studying and working internationally in a range of degrees and professions which reflect our school's commitment to individual pathways and global citizenship. I have been Head of School at HKA for 11 years, and as a father of two graduates, I am highly appreciative of the education both of my daughters experienced at HKA. I am delighted that Cherry and Sam Maddox offered to share their thoughts on what they value from their time as HKA students, and I encourage you to learn more about our school by visiting our website or coming on a campus tour.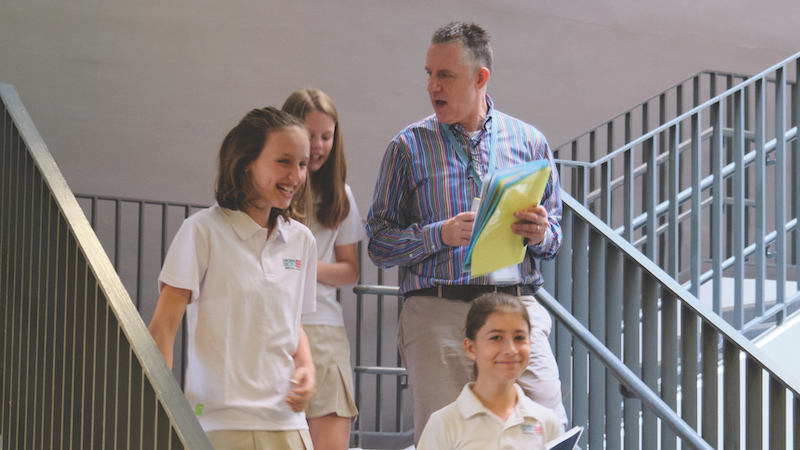 Student Sharing - Cherry, Grade 12 Student
My name is Cherry and I joined HKA in 2014 as a Grade 6 student having attended a local primary school. My parents did a lot of research about international secondary school options and were attracted to HKA because of the international diversity, amazing facilities and co-curricular opportunities. Perhaps even more importantly, they were impressed by how happy and confident the students were in their studies and they wanted that for me.
I am now mid way through my final year of school and when I reflect upon my time at HKA I appreciate how the school has had a positive impact on my wellbeing and supported me as I shaped my identity. As a new student in Grade 6, and still today as a final year student, I have benefitted from HKA's warm and caring community and the small class sizes. The teachers really know me as an individual and are so knowledgeable and passionate about their subjects. When the workload is high the teachers are very flexible and find ways to mentor and motivate us through it, I always feel comfortable to approach them when I need help.
HKA teachers have also encouraged me to balance my studies with sporting, creative and service activities. I represented the school in an international maths competition, competed in an HKA sports team, built a website to showcase my Grade 10 personal project and also worked as a student intern mentoring primary school kids during HKA's summer activity programme and after school ceramics classes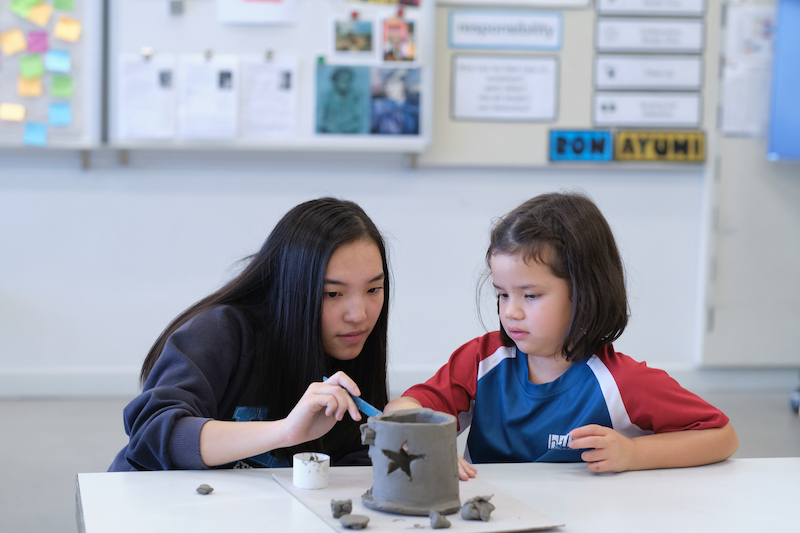 What I have found most rewarding has been the joy that I have found through service and giving back to others. My interest and dedication to this has built over time, starting with units of study in Individuals and Societies classes and growing through my involvement with community projects and the Global Citizens Diploma (GCD) programme. As the founding member and leader of HKA's ImpactHK student group, I have advocated for the homeless and participated in monthly 'Kindness walks' for over three years. I also worked as a volunteer at a charity in HK that supports children with terminal diseases. I was inspired by their positivity and this reinforced my desire to make an impact in the lives of others.
In 2019 I was honoured to receive the Kiwanis Community Service Award, a local and international award that recognises extended service and contribution to communities in need. I will complete my IB Diploma this summer with Higher Levels in Psychology, Mandarin and Music and Standard Levels in English, Maths and Environmental Systems and Societies. From there my next step is to study Educational Psychology at university with the longer term goal of working in a job which advances the psychological wellbeing of children.
Sam Maddox, 2015 Graduate
I was a student at Hong Kong Academy from Pre-Kindergarten until I graduated in 2015. I went on to study at Bowdoin College in the United States, where I earned a BA in Mathematics and a minor in Economics in 2019. I am currently working as an Asset Manager for Soltage: a Renewable Energy investor and provider based in the greater New York area. In my role, I perform financial analysis and monitor the performance of our portfolio of solar energy projects.
I think that HKA prepared me to forge my career path in a few ways. The Class of 2015 was only 19 people and I enjoyed the close-knit community and the relationships I was able to build in such a small class. After HKA, I chose to attend a small college (1800 students) and to pursue a career at a small company (50 employees) so that I could continue to build similar relationships to those I built while at school.
Having graduated from HKA with an IB Diploma, I definitely felt more prepared than some of my first-year peers for the academic rigor of a competitive US college. And I would argue that my teachers and mentors at HKA, as much as the IB programme itself, helped me learn how to manage my time and workload at the collegiate level that led to success in my classes.
The teachers at HKA helped foster a huge sense of community. I believe I had strong connections with almost all of my teachers at HKA, from connecting with them outside the classroom when traveling on experiential learning trips or as coaches on various ACAMIS sports trips, as well as in after-school and weekend study sessions. This mentoring and the many opportunities to challenge myself definitely helped me feel more comfortable working with others, whether that be in teams or clubs in college, interacting with professors, and most recently in successfully cooperating with co-workers and managers.
Growing up as a member of the HKA community also raised my consciousness of the environment and the importance of sustainability, emphasized both by student initiatives and the Sai Kung campus. While I didn't pursue a degree or major in environmental studies, I chose to join both a company and an industry that, like HKA, are committed to making the world a more efficient and environmentally-friendly place.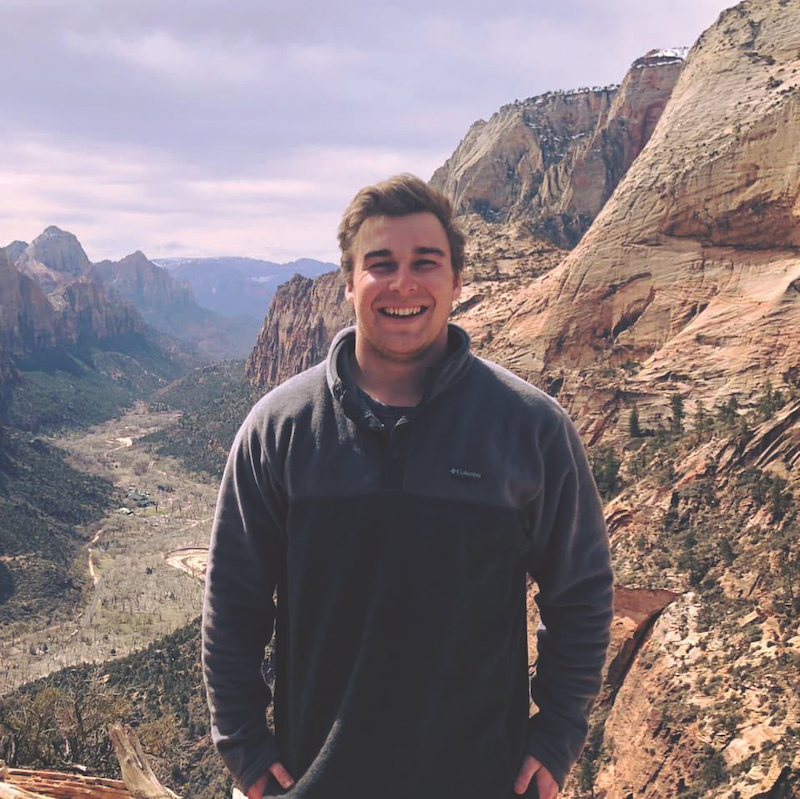 Milestones

2000 Founded by Teresa Richman and Ben Frankel, we first opened our red doors to three students at the Stubbs Road campus on Hong Kong island.
2004 One of the first schools in Hong Kong to receive Primary Years Programme authorisation.
2006 Expanded to form a dedicated middle school programme.
2008 Expanded to form a dedicated high school programme.
2010 Moved to the Kennedy Town campus, authorised for the IB Diploma programme and became an all-through school.
2012 Celebrated our first graduating class.
2013 Moved to the Sai Kung campus and received Middle Years Programme authorisation.
2016 Joined the Global Citizens Diploma consortium and became the only school in Hong Kong to offer this programme.
2017 Became the global host of the GCD consortium and the ISTA Academy of Performing Arts.
2020 Celebrated our 20th anniversary.