Breaking down gender stereotypes in STEM subjects
Posted on 28th Aug 2015 in International Schools, Curriculum, Australia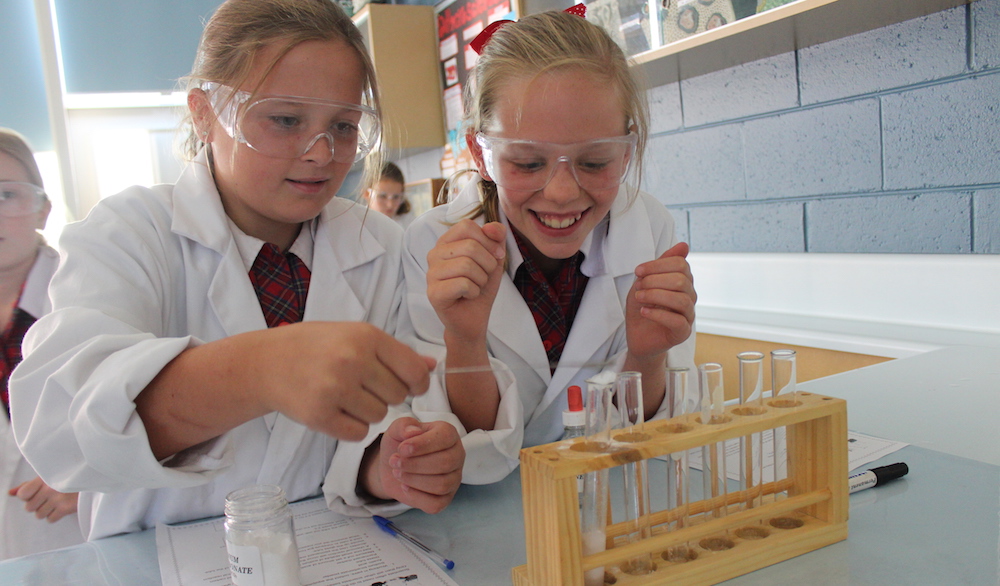 Students need to understand that there are no boys' or girls' subjects any more, writes Fran Reddan
Worldwide, the numbers of girls participating in the STEM disciplines of Science, Technology, Engineering and Mathematics continues to fall. At Mentone Girls' Grammar School, we are working to stem this tide by positively influencing our students and creating a culture of excellence in STEM studies. We know that many of our students will end up in careers that as yet do not exist, a large proportion of which are likely to be across the STEM arena. Expanding and developing the STEM workforce is a critical issue not only for schools but for governments, industry and world leaders. As a school, we want to play our part in redressing the gender balance in these areas. Our aim is to ensure our students develop the confidence they need to achieve their goals and the skills to tackle the professions of the future, no matter what they may be.
One of the many advantages of a girls-only environment is that our students are encouraged to take intelligent risks and express themselves – they are free to explore their interests across any field and develop confidence through competence without any gender barriers. There is also a considerable body of research that shows girls have greater access to leadership opportunities, achieve greater academic success, and are more confident and assertive in single-sex environments. They are also more likely to study in the 'gender atypical' STEM areas at school and university. This is certainly true at Mentone Girls' Grammar, where a large proportion of our students study one or more STEM related subjects in their senior years and many go on to elect natural, physical or health science courses at university. We attribute this to the fact we foster an interest in these subjects at a very early age. We ensure our students understand there are no 'boys' or 'girls' subjects, and we pride ourselves on the notion that all areas of study are open, available and interesting to girls.
Together with constant encouragement, we believe students benefit greatly from strong female role models, such as our award winning Head of Science, Mrs Helen Silvester, who says the gender question is not about whether girls like subjects like Science, but whether girls are given the opportunity to like Science, and how a male-dominated field impacts on girls' willingness to join in.
In our Junior School, we follow the principles of the International Baccalaureate (IB) PYP (Primary Years Programme). Students from Kindergarten to Year 6 are encouraged to apply transdisciplinary skills across all subject areas. This unique international curriculum framework recognises 'Thinking Skills' that encourage students to actively comprehend, apply, synthesise, and evaluate knowledge and understanding gained through units of inquiry. These skills are never more evident than through our extensive program of STEM inquiry which is nurtured from age 3 when students enter our Early Learning Centre (ELC).
We immerse our young learners in experiences which enable them to explore, question, collaborate, think critically, problem solve, communicate and discover new knowledge; the essential building blocks for developing inquiring minds. We encourage the girls to question the world around them and the scientific inquiry develops as a result of their interests and questions, such as watching the yeast for a pizza during a cooking lesson and talking about chemical reactions, planting daffodil bulbs and understanding how plants grow, placing a number of different objects in water to determine if they sink or float to understand buoyancy, playing with magnets and discovering the concepts of magnetism and opposing forces, or understanding the marine environment through our unique 'classroom on the beach' program.
Students are continually challenged in the STEM disciplines as they progress through the Junior School. For example at Year 3, exploration begins when students research their own experiments to demonstrate a scientific principle using common household items. The students engage in this process as 'real scientists'; they must plan and demonstrate their experiments with at least one variable and then report on their findings. Our experiments have allowed us to explore many diverse ideas from liquid density and states of matter to atomic structure, electricity (including ions, conductivity and circuits), surfactants, emulsification, centrifugal forces, tensile strength and more. The girls are building their knowledge of STEM concepts and language to enhance their future learning. Year 3 sets the stage for the exploration of environmental science and sustainability in Year 4 and the formal STEM subjects undertaken in Years 5 & 6.
Across the school, STEM studies are further enriched by a range of curricular and co-curricular programs and competitions from robotics and LEGO® to coding and programming, chess, astronomy, engineering and bridge building, cheese making, financial literacy, enterprise training and so much more. We also offer a SAIL (Supporting Advanced & Independent Learners) program to provide extended STEM activities for advanced students who have a particular passion for these areas.
We believe many of our practices, such as this extensive level of exposure across the STEM arena from such a young age, encourages our students to continue their STEM studies at school to the highest level and a career beyond. In addition, our all-girls' environment combined with our innovative teaching and learning approaches that are tailored specifically to girls' needs, provide the pedagogy, encouragement and general affirmation that Mentone girls can, and should do STEM. We are delighted that those of our students who choose a career in STEM will join a growing cohort of female role models that will empower future generations of girls and help balance the scientific voice in the world.

Fran Reddan is Principal of Mentone Girls' Grammar School. 
For more information about Mentone Girls' Grammar School, see the school's profile page.