'Trip of a lifetime' for King William's College 2019 Barrovian Alumni intern
Posted on 6th Dec 2019 in School News, International Students, United Kingdom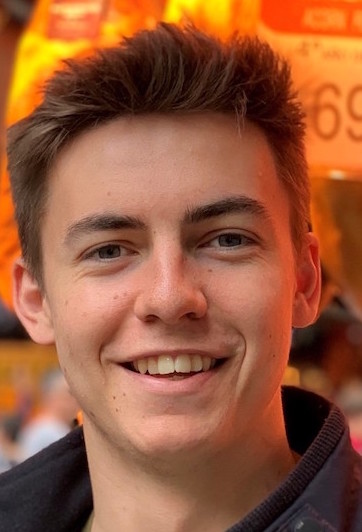 The successful recipient of a prestigious Internship has shared his experiences of a 'trip of a lifetime' after spending three months in Hong Kong.
Former King William's College student Dominic Long, who is currently studying for a BA Honours in Politics and International Relations at Loughborough University, was awarded the Barrovian Alumni Internship in early 2019.
He was given the unique opportunity to gain valuable skills and practical work experience as part of a three-month placement with global manufacturing company Strix at its Hong Kong office. The annual scheme was launched in 2017 between King William's College and Strix to provide young College alumni with a once-in-a-lifetime experience.
Twenty-one-year-old Dominic worked on multiple projects during his time in Hong Kong, developing key skills across a number of disciplines and enjoying the experience of living and working in south-east China.
He explained: 'It really was the trip of a lifetime. It was a destination I had always wanted to visit, so when the opportunity arose, I had to grasp it with both hands.
'I arrived on the Saturday and started work the following Tuesday, giving me a few days to explore my new home for the first time. I took this opportunity to do some sight-seeing around Hong Kong Island and visit as many local restaurants as I could in an attempt to become fully accustomed to the culture.'
Headquartered in Castletown, Strix has offices across the UK, China and Hong Kong, employing more than 850 people worldwide.It makes safety control systems for small domestic appliances and filtration systems for filter kettles, fridge jugs and chilled water units.
Dominic said that although he was nervous to begin his placement, he was made to feel very welcome. 'I had no experience in business analytics so was a little apprehensive to take on this role,' he explained. 'However, the team supported me throughout my time at Strix.
'Thanks to their encouragement, I was able to get stuck in straight away and work on a variety of tasks including creating sales reports and generating holiday data, which was used to calculate productivity and efficiency across the business. Although the role was challenging at times it was extremely rewarding and I have taken away so many practical skills, many of which have already proved useful in my university studies.
'I was also given the opportunity to travel with Strix and was lucky enough to visit Guangzhou, somewhere I didn't think I'd ever get the opportunity to explore – and this had to be one of the highlights for me.'
The internship not only provided Dominic with practical work experience, but the opportunity to sample a taste of life in the Far East, make new friends and soak up the local culture.
He said: 'In an effort to meet new people, I decided to join the local rugby club. This turned out to be a brilliant decision as I made friends of a similar age and it gave me plenty to do in my free time. For the first time I was able to call Hong Kong home, I even went to Bangkok on a rugby tour!
'The protests in Hong Kong, which continue to this day, were also a large part of my time there. As a politics student at university, I took particular interest in them and would go and watch from a distance. I gained a better understanding of why tensions are so high and was interested to meet a large number of pro-China supporters.
'My time in Asia flew by and before I knew it, it was time to return home. It was an amazing way to spend my summer and I just wish it could have been longer. I would like to thank both King William's College and Strix for giving me this amazing opportunity and would encourage anyone considering the trip to take the plunge and apply.'
Raudres Wong, Group CFOof Strix, said: 'The Barrovian Alumni Internship is a wonderful opportunity for a young person to learn, grow and experience a new culture freely and independently, and it sounds like Dominic truly made the most of every second out in Hong Kong. It's fantastic to see this Internship Scheme go from strength-to-strength each year and we look forward to continuing to collaborate with King William's College and providing exciting opportunities for young Islanders.'
Kara Hughes-Jones, Head of External Relations at King William's College said: 'We're pleased to hear Dominic enjoyed this enriching experience; making lifelong friends across the globe, learning new skills and seeing first-hand how people in other cultures live and work. Not only will this be positive for his future career prospects, but his personal growth too, and we're delighted to have helped him on this journey of discovery.'
Applications for the 2020 internship are now open. For full details visit: www.kwc.im/alumni/internship-scheme