The power of play in learning
Posted on 24th Feb 2022 in School News, United Kingdom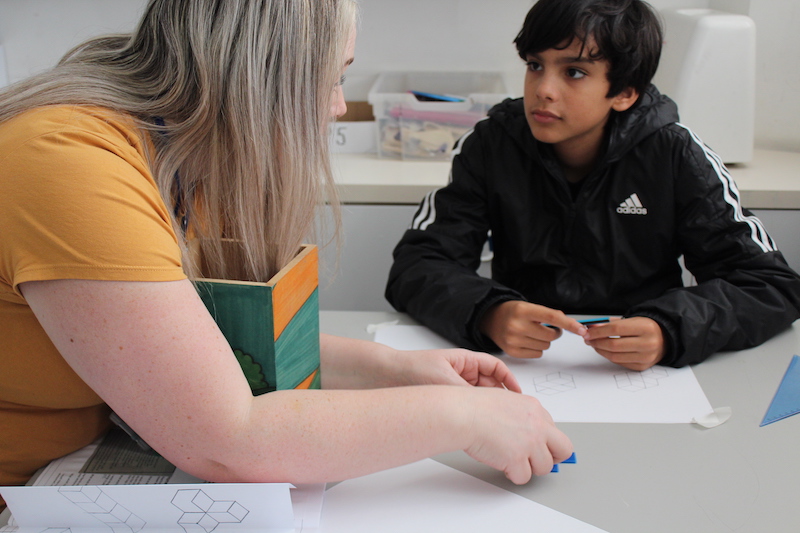 Hazel Chidgey, Head of Arts Faculty and Design & Technology Teacher at ICS London, offers her advice on how to insert play into the children's and teenagers' learning environment, for both parents and teachers.
To capture the attention of the next generation, we have to think, act and look at the world like they do. As a Design and Technology teacher, I find this more and more relevant within my lessons the further I get both in my teaching career and subject, this is an area that is ever evolving alongside day to day technologies.
1. The Decline of Play in Learning
In modern childhood, free unstructured play is being replaced more and more by academics, lessons, competitive sports, and passive, electronic entertainment. Although these add value to learning and development, we often find students enthralled and excited by using basic tools and skills that we, as adults, may have seen our parents use, or used ourselves more frequently in our own childhoods. Despite its many benefits, statistics show that the amount of time children get to play has been declining for decades, and as a learning environment we have the opportunity to include subconscious play within our teaching and lessons.
2. The Benefits of Play in Learning
Research shows play can improve children's abilities to plan, organise, get along with others, and regulate emotions. The value of play is increasingly recognised by researchers, for adults as well as children, as the evidence mounts of its relationship with intellectual achievement and emotional well-being. (Whitebread, 2012). In addition, play helps with language, maths and social skills, and even helps children cope with stress. I am an advocate of trying to include play in our learning to help encourage knowledge recall and build on physical, practical learning experiences and debate. It means students are excited to come to the lessons and learn, they are more likely to be comfortable making mistakes and learning from them rather than being scared to get something wrong. I find the best learning is always from overcoming a problem or mistake, or something that is fun or exciting and uses the imagination.
3. Examples of Play in Learning
Seeing students design, develop, plan and make products is a great example of how play can help children later in life in a range of further education courses and careers. If you're a teacher, you can start your lessons off with a game. For larger classes that don't often get the opportunity to move around the building, I for example ask them to line up outside with a new challenge each lesson: tallest to smallest, oldest to youngest, shoe size etc. This allows them to communicate with students they may not usually talk to. They have now approached this with more excitement and ask what is the challenge for today? When children choose to play, they are not thinking "Now I am going to learn something from this activity." Yet their play creates powerful learning opportunities across all areas of development. (Lopez, 2018).
As another example, we have been drawing and learning technical drawing skills in Design. I have a box of acrylic cut tetris shapes and the students made their own tetris screens, using one of each shape to then draw. There was a lot of giggling and shape moving before they were happy with what they had designed, and this allows problem solving, dexterity and communication skills to develop in a lesson that some students usually find challenging. Students then felt confident in helping each other to solve their problems and develop their own drawing skills by teaching each other.
If you're a parent, learning through play is an area that can be tricky to approach with teenagers at home instead of toddlers, and we, as teachers, often find when we tell any non-teachers the age range we teach, we are met with an 'oh you're brave' type of response.
I personally find teenagers more receptive to play, more likely to take a risk and want to have fun in their learning. The most important thing is to link the play to something the student wants to do, play shouldn't be forced, but children at this age often need to see value in play, they will ask what is the point.
So it is important to think about finding learning opportunities in day to day activities, asking them to cook/create something or build/fix something, can they learn how to paint or plant something if this is an area of interest.
Another idea is to make stop motion videos when you are travelling, or ask to compile photos for an album for when you get back. You could ask them to listen to a new song/watch a new video every day and tell you about it, this then allows the children to see the bigger picture of play and gives them something to look forward to.
Another successful activity I have previously completed is making dream jars with my class, asking them to make them look like a jar the BFG would have, but add in their dreams for their future. Every age has loved to do this and put real thought into what they want to achieve and what their dreams actually are. This can always be added to, but I tell my students they cannot ever take a dream out. This means they can reflect back and think about when they had that dream and what might have prompted that thought.
I love to learn. Learning and problem solving with our students and children is one of the highlights of my day to day role, and seeing them try to overcome issues within their practical learning is something I do not take for granted. These are the lessons you remember as an adult, and the memories you may have from your own childhood learning. Whenever I meet a student's grown up they always have a story to tell me about their design, food, engineering, woodwork or textiles lessons and I love to see the memories and glint of joy as they tell me their story. They tell me what they made and how much fun it was, and I am so proud to hopefully be a part of that memory for when these students are adults themselves.
RESEARCH SOURCES:
David Whitebread - importance of play report