​The necessity of developing the whole personality
Posted on 24th Nov 2016 in School News, Curriculum, Belgium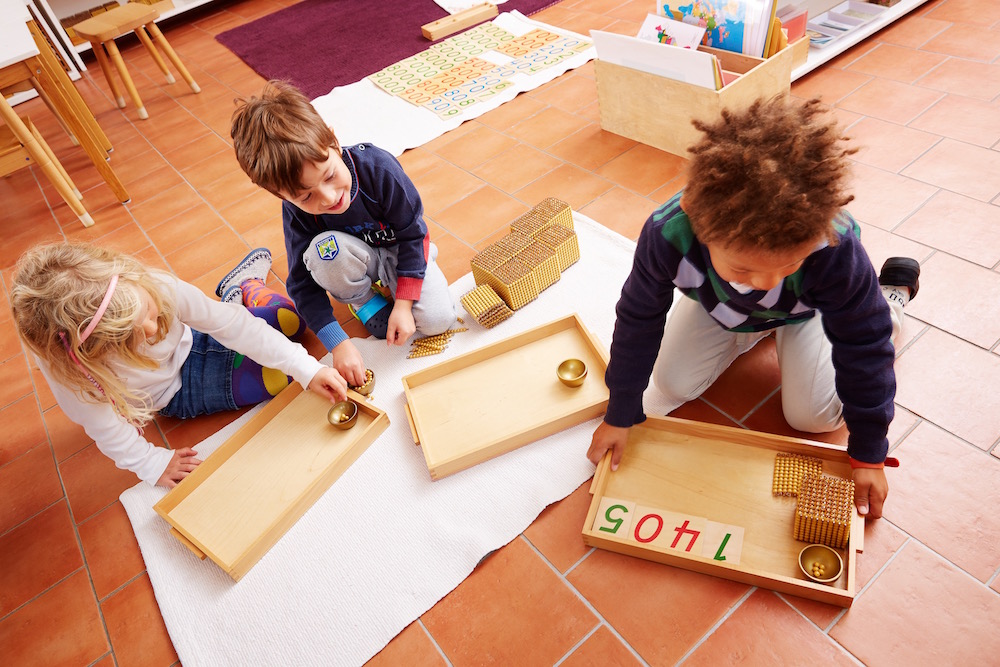 Annie Hoekstra – de Roos, Director of the International Montessori School in Brussels, outlines an approach towards producing independent thinkers for an ever-changing society...
Over the years education has paid its main attention to the left side of the brain. When qualities related to that side of the brain are developed exclusively, children become convergent thinkers. However when both sides are developed and the two halves of the brain work harmoniously together, the outcome is divergent thinking.For students to be able to function in a balanced manner in the future, complex thinking strategies are essential. By nature, children are actually divergent thinkers. They look at the world as a whole, observe, pull information together and find their way. Maria Montessori was one of the great contributors on how to help a child contain and develop this holistic way of thinking.
First of all, it is important that children are in a positive and constructive environment, without competition and with dedicated teachers with whom they have a reciprocal relationship. Secondly, this environment needs to offer a variety of experiences: multilingual, multicultural, multi-sensorial, multi-age, multi-level classrooms. The word multi is the key in becoming an independent holistic thinker. This also counts for the learning styles of the children. Each child has a different combination of strengths and challenges that need to be valued and allowed to mature in an individualised manner. The Montessori approach is based on a profound respect for the true nature of the child. The classrooms are constructed specifically to meet the child's unique needs. Emphasis is placed on the importance of learning at one's own pace. Children are given guidance in becoming independent thinkers, who are able to choose, reflect and make decisions. These are very important life skills to have in our ever-changing society.
This theory is translated to classroom practice in a unique manner:
High ratio teacher to children
We humans are the only species on the planet who are all different. We are meant to stay that way. Respect for our uniqueness ensures that we become happy people and that we can contribute in various ways. The Montessori classroom offers personalised interaction and presentations. This ensures that each lesson contains something familiar and something new, thus building the personality at exactly the right level and pace.
Inspiring classrooms
At the International Montessori School in Brussels, classrooms for children aged 1 to 11 offer interesting and inspiring learning environments with beautiful concrete materials that help children move from concrete manipulation to abstract understanding. Hands-on education is so fruitful. Understanding takes place through the integration of the multi-facetted experience that build the long-term memory, logical and orderly thinking.
Challenging academics
Academic content starts in the Children's Houses in a very concrete manner. They work with the 'golden bead material' and experience abstract concepts such as the four operations. Before entering Primary, they also work on their writing and reading skills and do many extended language activities related to biology, history and geography.
From age six onwards imagination develops and children become interested in the world at large. They are exposed to a vast integrated curriculum including all subjects. This holistic way of teaching allows for the interest and motivation to develop. Children can work uninterrupted and therefore in full flow. Joy for learning also develops through a level of freedom and decision-making. Students become engaged!
The full International Baccalaureate Middle Years Programme (MYP) and Diploma Programme (DP) curriculum is offered to students from age 11 to 18. The integrated curriculum offers all subjects in a multi disciplinary manner thus allowing students to connect areas and learn to see concepts from different points of view.
Bilingual Classrooms
Language is one of the tools in becoming interculturally aware and in developing respect for others. The school provides a unique and complete bilingual environment at the Toddler, Children's House and Primary levels. This is put in practice by means of having two adults simultaneously in each classroom: one always speaking English and the other one always speaking French. Both work with the children in different group settings. As such, children are given the opportunity to absorb the second language(s) as a whole structure.
In a bilingual setting, the brain develops a 'second language network' that can also be used at a later stage for the acquisition of more languages. In the classroom, language learning happens through a reciprocal relationship with the teachers and by means of offering new vocabulary together with active involvement and manipulation of related objects. Thus Montessori and bilingualism are a good combination. This evolves at the International Baccalaureate Secondary level into a multilingual programme, which regularly results in teenagers being able to speak four to five languages!
Multi-Age Grouping
Traditionally, same-age group education is the norm up to university level. It is only there that people are grouped according to their levels and interests. Same-age group teaching is a historic concept developed for the sake of efficiency and minimum cost involved, but has not been seen from the child's learning point of view. In actuality children learn a lot from each other. They observe what and how other students work and incorporate this in their thinking. At the Montessori school, a positive and constructive multi-age group ensures that children have the opportunity to work with students who are at a different level, from a skill, ability and academic point of view.
Development of all aspects of the personality
In order to help develop a myriad of skills and concepts that are seated in the left and right side of the brain, attention is given to all aspects of the personality. Consequently, all subjects taught in Primary and Middle School are equally important. An example of this is music. Children do general music activities in the classrooms and additionally every child from six onwards plays an instrument. They can choose piano, violin or guitar. The instrument is incorporated in the daily routine and children receive lessons during school hours. The pianos are always occupied!
Balance of freedom and logical limits
To help the children become independent, self-reliant and motivated learners they need a level of freedom in making choices and decisions. Within the Montessori classroom the child can choose the activity, with whom to work, and the length of time to work. The child also has the freedom to get up and find what he needs and interact with others along the way. Freedom aids the development very well when simultaneously it encompasses logical limits and responsibilities.
For more information about International Montessori School, Brussels, see their profile on International School Search.