Tanglin Trust School crowned for Best UK Pathway and Most Future-Ready Students at the Singapore Education Awards 2022
Posted on 16th Nov 2022 in School News, Singapore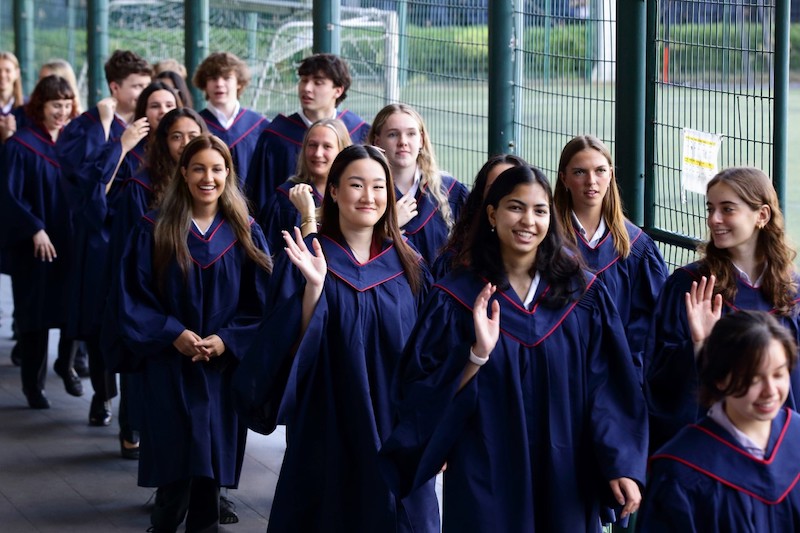 Award-winning Tanglin Trust School is pleased to share that it has been awarded Gold for two categories; School with Most Future-Ready Students and School for Best UK Pathway School at the Singapore Education Awards by HoneyKids Asia. This is the second year in a row that Tanglin was awarded Gold for Best UK Pathway.
Tanglin is the oldest British International School in Southeast Asia and is the only school in Singapore to offer both A Level and International Baccalaureate Diploma Programme (IBDP) at Sixth Form. Its Infant, Junior and Senior schools are inspected every three years, following UK Ofsted British School Overseas (BSO) standards, and has been repeatedly described by UK inspectors as outstanding, the highest possible grade.
Tanglin's students have the opportunity to sit for (I)GCSE exams from not just one, but multiple exam boards: Edexcel, Cambridge, AQA, and CCEA. It is also the only International school in Singapore to offer A-Level and International Baccalaureate (IB) programmes in Sixth Form, so students can choose the pathway best suited for them, to prepare them for further study in the UK. Students' exam results have been amongst the highest in Singapore for many years and vastly exceed UK and global averages.
In addition, the school also has a highly experienced university counselling team offering bespoke advice to students from Year 9 about subject choices and pathway choice for entry into UK university programmes. In Sixth Form, every student has 1:1 time with a counsellor to determine university choices. More than 99% of Tanglin's graduates were admitted to the first or second choice university. The primary university destination is the UK. Once back in the UK, Tanglin has a very robust programme to support and engage its UK alumni.
NURTURING LIFELONG LEARNERS
Tanglin's curriculum produces students with in-demand competencies, helping them in their careers. Alumna Yin Noe, CEO of FinTech company, Savium, is an example. Yin has been passionate about information technology since she was at Tanglin. Encouraged by her teachers, she founded the computing club. Today Tanglin offers courses and co-curricular activities in IT, Coding, Media, amongst others. In 2017, the Design and Technology facility opened its doors, serving as a gateway to prep students for the future, as powerful tools like machine learning / AI become increasingly embedded in everyday life.
FLOURISHING GRADUATES
Critical-thinking, Creative-thinking, Communication, Collaboration, Citizenship skills and unrivalled exposure to evolving technology is a powerful combination that helped many alumni succeed, thriving in industries that didn't exist when they were students.
Alumnus Omar Chaudhuri, Chief Intelligence Officer at Twenty-First Group, was passionate about football and mathematics at Tanglin. In his current role, Omar uses the power of data to support sports organisations such as the Premier League.
TACKLING REAL-LIFE ISSUES
Tanglin's students solve real issues through Co-curricular and CAS (Creativity-Activity-Service) activities, tailored for experiential-learning, through partnerships with companies. An example is NXplorers,a project led by four Senior students to champion sustainability. The project earned them seed-funding from Shell, based on their idea of utilising renewable water supplies in Singapore to generate electricity by building micro-turbines in storm drains to augment local power supply.
HEAR IT FROM TANGLIN'S ALUMNI
"It's thanks to Tanglin's career coaches and teachers who led me to choose my course based on my interests and strengths that ultimately decided my career journey." – Yin Noe, CEO of Savium and Financial Times' Top 50 Most Inspiring Women in Tech 2021
"My time in Tanglin were some of the best years of my life. I met amazing friends and was surrounded by incredible facilities. The diversity of the school is great, you have people from all around the world so you pick up experiences and knowledge that you just wouldn't get anywhere else." – Omar Chaudhuri, Chief Intelligence Officer at Twenty-First Century Group.
Read more about the Singapore Education Awards 2022
https://honeykidsasia.com/singapore-education-awards-winners-2022/