Taking personalized learning to the next level
Posted on 23rd Aug 2019 in School News, Online learning, United States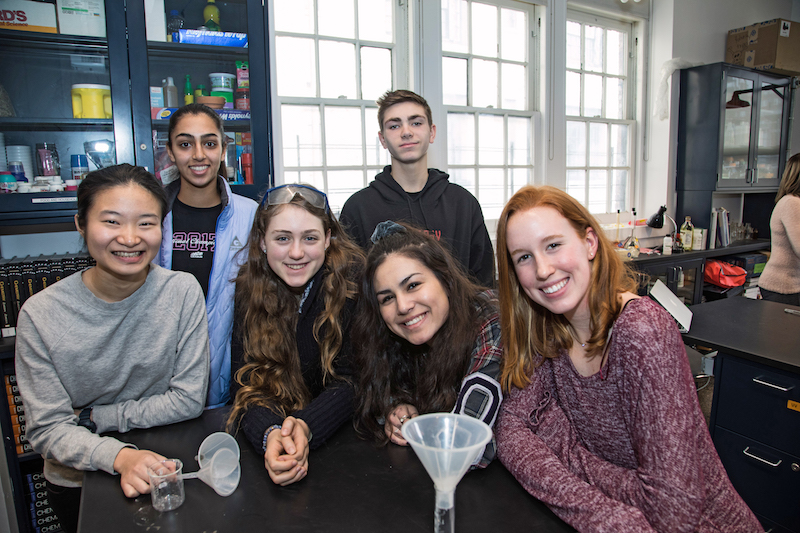 Dwight Global Online School offers a flexible learning environment using the latest technologies – and still searches for each child's 'spark of genius'
When it comes to meeting the needs of middle and high school students, there is no one-size-fits-all school. They have so many different interests and needs, ranging from wanting to take courses that their local school doesn't offer to finding additional time in the day to spend on personal pursuits. Well, there has been no one school to fit the bill – until now.
Dwight Global Online School is dedicated to offering students in grades 7-12 all over the world a substantially wide range of AP and IB courses and the highest level of personalization.
At the very heart of a Dwight education is an unwavering commitment to nurturing each individual student's interests, talents, and passions, which Dwight calls "igniting the spark of genius in every child." This signature educational philosophy, which dates back nearly 150 years, has distinguished Dwight from other independent schools in New York City, across the U.S., and worldwide.
Dwight Global Online School is the 21st century extension of this unique philosophy, bonding students' personal passions with top-tier academics and the latest technologies in a highly supported flexible learning environment.
An online school like no other
As Dwight's campus in the cloud, Dwight Global has gained a reputation for meeting students' individual needs since launching in 2014. Through a combination of the following, students experience the intimacy of an independent school coupled with the freedom to pursue their passions:
live online conferences that bring students together with faculty and each other in small classes
a college-style schedule
Oxford-style tutorials
extracurriculars and a wide range of community-building activities
in-person programs on Dwight campuses such as STEAM weekends
opportunities to attend classes on any one of Dwight's global campuses in New York, London, Seoul, Shanghai, and Dubai
opportunities to travel on international trips with peers from other Dwight campuses
on-demand resources that students can access anytime, anywhere
Talented students following their dreams
When it comes to pursuing their passions, many Dwight Global students are doing so at high levels, ranging from acting in movies and on TV to playing competitive tennis on an international scale; and from dancing ballet with professional companies to recording their own music. While every one of these students is on his or her own path, they share one thing in common: they are not willing to give up their pursuit of excellence in one arena – their spark of genius – to pursue excellence in another: a world-class education.
Thanks to Dwight Global, they don't have to. As no two students are the same, neither are their educational journeys. Dwight Global offers both the International Baccalaureate curriculum and Advanced Placement courses, plus the opportunity for students to select from both and customize their own path. For student-athletes, it's especially important that Dwight Global classes are NCAA-approved, which is required for entrance to Division I and II colleges.
Dwight's Online Course Director and college counselors work one-on-one with students to help them select classes that pique their intellectual interests and curiosity, setting them on a path to success at Dwight Global, in higher education, or wherever a student's dream leads.
Flexible scheduling
Dwight Global enables students to adapt their schedules beyond the traditional 8 am to 3 pm school day to train, practice, travel, perform, or compete at elite levels. They can and do log on from anywhere, ranging from a TV set dressing room to an equestrian's stable – wherever there is Wi-Fi.
Dwight Global students at the top of their game have underscored these very benefits:
Yara Shahidi, star of 'Black-ish' and 'Grown-ish': "As a professional actor and student extremely focused on academics, Dwight Global offers challenging online courses and the flexibility and support I needed to balance my work and school lives."
Karl Poling, ranked tennis player: "Dwight Global allows me to pursue my goal, which is tennis. It gives me more freedom, more time, and more flexibility."
Loeke Sakkers, ballerina: "Taking IB classes with Dwight's online program has been especially rewarding. Performing and rehearsing make meeting my academic goals more difficult, but through Dwight I can take challenging courses. I can access all of the lessons and assignments when I want to, and I can connect with my teachers on Skype regularly."
Khalil Middleton, singer and entertainer: "I used to miss a lot of school because I travel so much to audition and perform. It makes so much sense for me now to be part of this online program. The teachers are great – it's not just a job for them."
Ellieka Keida, surfer: "At Dwight Global, I take a rigorous course load while pursuing my passions in surfing, acting, and modeling. Dwight Global gives me the flexibility to live in Costa Rica and travel for my passions."
Great college acceptances
With college guidance beginning early in grade nine, recent Dwight Global graduates who continue to pursue their educational goals at the highest level have gone on to attend Harvard, Stanford, Princeton, Columbia, Duke, Vassar, Middlebury, Tufts, Tulane, and other leading colleges and universities.
No matter where students want to go, Dwight Global is committed to helping them every step of the way, supporting students' unbridled ambitions and personalizing their educational journey on a truly unprecedented level.
This article first appeared in the 2019/20 edition of John Catt's Guide to International Schools. You can read the digital version of the guidebook here: