Students from King's College, The British School of Madrid obtain outstanding results in their (I)GCSEs
Posted on 21st Aug 2020 in School News, Exam results, IGCSE, Spain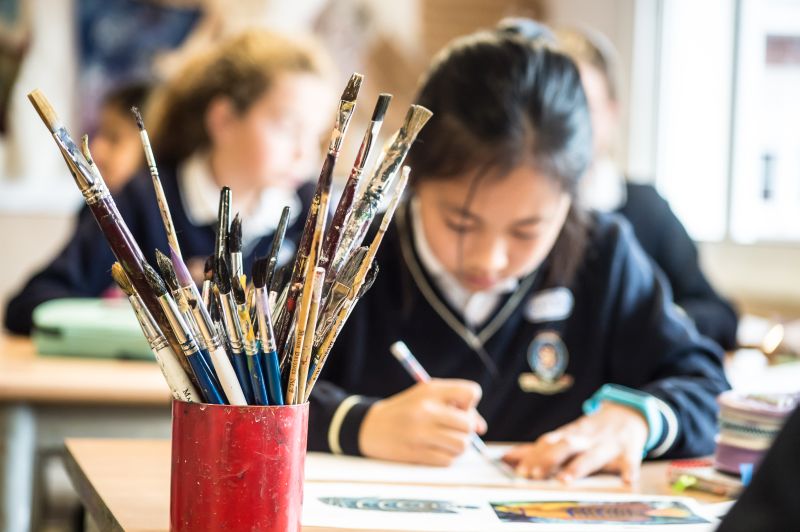 Pupils from King's College School, The British School of Madrid in La Moraleja are celebrating after receiving outstanding grades in their IGCSEs. This is the first year that the students have taken these exams following the school expansion up to Year 11 (age 16). The academic prowess that the results demonstrate place the school firmly among one of the best international schools in the world.
As a year group, 72% of entries secured a 7 (A grade equivalent) or above, 50% secured an 8 (A* or above) and an impressive 23% secured the highest possible grade 9.
Most impressively, 99% of all exam entries at King's College School La Moraleja gained a strong passing grade (5).
Individual successes include María José G M who excelled by securing a grade 9 in all her GCSEs and Fernando María T P who achieved 100% grade 8 and above including five grade 9s.
Other notable achievements include Erika T de J, Carlota N He, Andrea T W & Silvia S Á who each achieved a grade 8 or above in all their subjects.
The results themselves are even more impressive considering the turbulent academic year that all schools across the globe faced due to the COVID19 pandemic. However, due to the excellent and uninterrupted virtual learning platform that the school quickly implemented, students were able to continue their academic studies, be it on-site or online, without losing a single day's class time or experiencing any detrimental effects on their attainment.
Headteacher at the school, Mrs June Donnan commented; "I would like to take this opportunity to thank our Year 11 cohort for the hard work during their two year course, these results are the product of their dedication. I would also like to thank our outstanding teachers for their commitment to securing academic excellence for the students in their care. They have remained steadfast in their determination throughout a very challenging academic year and deserve all possible plaudits."
Deputy Headteacher Mr Jeremy Newton added; "King's College School in La Moraleja was recently graded as 'Excellent' in all areas in their external British Schools Overseas Inspection Report (2019) and is defined as a 'World Class' school by the High Performance Learning Programme, now coupled with these results King's College School is firmly placed as one of the leading international schools in the world."
Nadim Nsouli, Inspired Education Founder, Chairman and CEO, adds; "We are delighted with such a strong set of iGCSE results that reflect the hard work and resilience of our students in the toughest of years; they have risen to the challenge set by our excellent teachers at King's College School La Moraleja. We switched seamlessly to live and continuous virtual learning when restrictions required this, ensuring that student progress was uninterrupted and their aspirations undiminished. Congratulations on such well-deserved success."
Nick Wergan, Inspired's Global Education Director, commented; "Such great success in this first set of exam results underlines the excellence of this school, the depth of character and superb work ethic of its students, and the exceptional subject knowledge and skill of the teaching team. Students and teachers alike have had to innovate and adapt in this exceptional year and these excellent results reflect this determination and grit. Students and teachers at King's College School La Moraleja are truly world class!"