​Student team from Ho Chi Minh City run first inter-school Grand Prix in Vietnam
Posted on 12th Jun 2018 in School News, Science, Technology, Mathematics, Arts, Engineering, Vietnam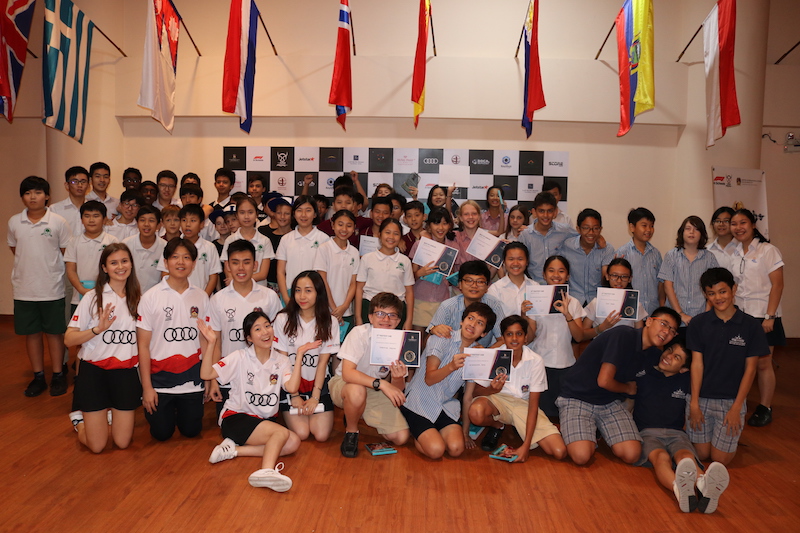 The British International School in Ho Chi Minh City, Vietnam successfully hosted the very first BIS Grand Prix on Friday, June 8, 2018.
The event engaged both primary and secondary students aged 9-12 years old with their task to design and manufacture the fastest miniature F1 car possible, emulating the design and engineering processes employed by real F1 racing teams.
This inter-school competition was the first event of its kind in Vietnam, bringing together 60 students from 4 international schools around Saigon. The aim of the event was to introduce students in Ho Chi Minh City to the award-winning global educational initiative; F1 in Schools in an effort to increase students' interest in STEAM-related subjects.
F1 in Schools is the largest international STEAM (science, technology, engineering, arts and mathematics) competition for schools. It challenges students to create their own Formula 1 team which is commissioned to design, construct and race a 21cm long scale car model powered by a compressed air cylinder. At the World Finals each team brings along a pit display, their cars and a written portfolio, as well as having prepared a verbal presentation for the judges. The cars race on a 20-metre track, with the cars covering the distance in around one second.
The BIS Grand Prix imitated the F1 in Schools World Finals with students working in teams to design logos and branded t-shirts, manufacturing and racing their bespoke F1 cars and presenting their work to the judges with the chance to win one of 5 awards: 1st, 2nd and 3rd Fastest Car, Best Team Identity and Best Pit Display. Design and Technology Teacher and Leader of F1 in Schools at BIS HCMC Mr Greg Roberts discusses the event, "The BIS Grand Prix encouraged students to think outside the box, be creative and take risks. They used their collaboration, communication and leadership skills to apply their knowledge learned in the classroom to solve real-world problems, an essential skill in today's competitive global labour market."
BIS HCMC have been the only school to represent Vietnam in the F1 in Schools World Finals for four consecutive years. Nam Phong Racing, who led the BIS Grand Prix competition are the 2018 cohort of students to be attending the World Finals. This September they will be travelling to Singapore to compete against teams from around the world, all battling for the F1 in Schools World Champions title. Jonathan Le, Team and Marketing Manager of Nam Phong Racing tells us more, "F1 in Schools has undoubtedly given us insight to the real world of design, engineering, budgeting and marketing and continues to give our team members an invaluable experience in identifying our passions and shaping us to be collaborative, problem-solving and innovative global citizens."
For further information about F1 in Schools, please click here: www.nordangliaeducation.com/our-schools/vietnam/ho...