Small town, small school – big memories
Posted on 3rd Sep 2019 in School News, United States Tweet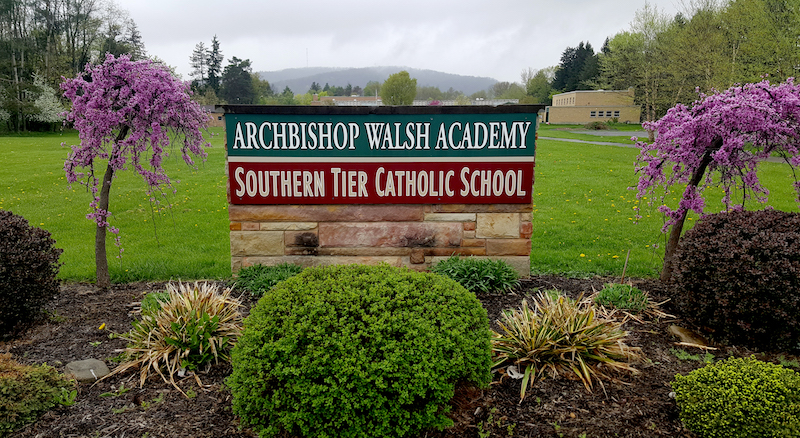 Archbishop Walsh Academy in Olean, NY can offer international students something quite unique – and the benefits are plenty...

When students and their parents look to spend time learning in an international setting they have many concerns and issues to consider. Will a student be safe? Will they make friends? Will they fall behind in their academics? Aside from these perfectly natural questions, they are often drawn to communities that they are already familiar with. American cities like New York and Los Angeles are known throughout the world due to the influence of American media and are often the first localities that students from other nations. Archbishop Walsh Academy in Olean, NY has found that often meeting the needs and concerns of international students can be served by a smaller school in a smaller community.
Archbishop Walsh Academy is a small Catholic school in Olean NY. Olean is a city of about 14,000 people. It is in the western region of New York State. The nearest major city is Buffalo which is about an hour and a half drive to the north. It is within an afternoon's drive of the major cities of the American Atlantic coast and the Toronto metro area in Canada. It's also close to the global level tourist attraction of Niagara Falls. It's a city whose economic base is manufacturing and education. It is home to Dresser-Rand and Cutco who produce industrial equipment and cutlery, respectfully. It is near St. Bonaventure University, a major regional university. However, it is an area that is not necessarily the first stop an international tourist might make in the United States. However, this environment can be one that is a more positive one for international students than some alternatives.
Archbishop Walsh Academy has made a point to recruit international students for the benefit they provide to the school as well as the benefits to the students themselves. The school feels that its international students provide their American students with a fresh perspective they might not have been exposed to otherwise. The international student presence opens up a view into other cultures and walks of life. Also, the small class sizes at Archbishop Walsh mean that students of all backgrounds not only interact, they become family. It is a regular occurrence for students to maintain relationships with classmates and host families long after their time in the United States has ended. The community as well is one that is open to an international presence and the family atmosphere extends beyond the limits of the campus.
The smaller school environment that is more common in a more rural area can also be an advantage. When you are in a class with 11 students, the average class size at Archbishop Walsh, no one can fall through the cracks. Each individual student is known to the staff and administration. This is important for all students preventing social isolation and bullying. However, it is especially beneficial for international students who have to forge new relationships and often experience homesickness. The school can know in real-time if there is a problem with an international student's experience, it can then be corrected with greater effectiveness and speed. This family atmosphere is a conscious choice on the part of Archbishop Walsh. Students who get to know each other in a deeper way will have a greater path to success. Archbishop Walsh has made academic choices that aid the international student experience in addition to the advantages geography brings. Archbishop Walsh is an International Baccalaureate school. It is the only school to use that curriculum in its region of New York State and one of the few International Baccalaureate (IB) Catholic schools with a focus on international students in the United States. Many international students come from a school that utilizes the IB curriculum – this makes the academic transition seamless. Even if they don't come from an IB school, the IB perspective at Walsh leads to a mindset that is welcoming to what the international community brings to the table. This means that students have a consistency in quality and content that improves their experience.
Now, what about what a student might be afraid of missing in a smaller community? While it is undeniable that the major metropolitan areas of the United States offer amazing memories and world class attractions, they are not the end all and be all of the American experience. Many, rural schools, like Archbishop Walsh are with a reasonable drive of major attractions. This means that students can still experience was places like New York, Toronto and Philadelphia have to offer while not living there. Foremost on the minds of many parents of international students is that of safety. The lower crime rates in small cities can help lend a peace of mind to parents. Also, there is more to America than just the major coastal communities. A smaller town experience can give a student a perspective on the American culture that is more nuanced than that presented in the media.
In sum, international students and their families should not ignore the many options available in America's smaller schools and cities. While the glamor of the big city may be lacking it is more than made up for in the friendships, community and experiences of small town life. When students choose to study internationally they are choosing a unique experience that will stay with them for a lifetime. Those who reject out of hand schools like Archbishop Walsh Academy are shutting themselves off from a world of positive and growth filled experiences. Parents and students should take the time to seek out all the different options available to them before they make a decision as to where to spend time traveling abroad. If they do they will be more likely to find a school that fits them, and it may be in a corner of the America that they never though they would find.
This article first appeared in the 2019/20 edition of John Catt's Guide to International Schools. You can read the digital version of the guidebook here: