Sarah Osborne-James appointed founding executive head of the new King's College School, Cascais​
Posted on 9th May 2022 in School News, Appointments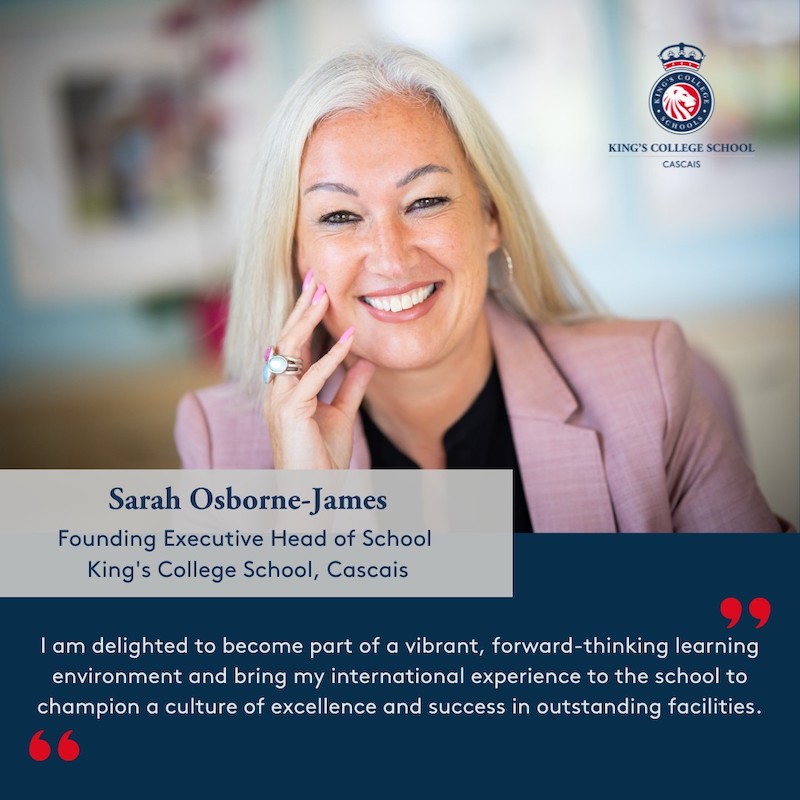 King's College School, Cascais is delighted to announce the appointment of Sarah Osborne-James as its founding executive head. Sarah joins the school from the top ranked Nord Anglia School, Regents International School Pattaya, Thailand where she has been the Principal since 2017.
A graduate of Warwick University, England, with a Master's in International Education, Sarah brings extensive and truly global educational experience from her previous roles as Principal, Northbridge International School in Cambodia and Headmistress at the English School in Bogata, Colombia. Her appointment to King's College School, Cascais reflects our plans to provide the most distinctive, forward-thinking and international student learning and personal development in the country.
Sarah will officially join the school after the first term of the new academic year in September 2022, but in the interim will play a huge part in helping to shape the curriculum, facilities, holistic and academic processes and continuing to build a world-class team.
The recently appointed Headteacher stated: "I am truly excited by the opportunity to join the Inspired Education Group and lead the opening of King's College School, Cascais in Portugal. It will be an honour to establish King's as the leading international school in the region. I am delighted to become part of a vibrant, forward-thinking learning environment and bring my international experience to the school to champion a culture of excellence and success in outstanding facilities."
Nick Wergan, Global Education Director at Inspired Education Group, stated: "I'm thrilled about the outstanding education we will be offering to all our students at King's College School, Cascais, Portugal. The appointment of Sarah only further strengthens the educational proposition for students, reinforcing our aspirational plans to provide the most distinctive, forward-thinking and outward looking student learning and personal development that there is. It also adds deep experience to a leading academic team of over 20 handpicked international teachers appointed across all school faculties and disciplines in readiness for the school opening in September 2022; including the Head of Primary, Robert Taylor, who has joined King's College School, Cascais after 16 years as the Headteacher at the International Preparatory School in Cascais."
About King's College School, Cascais
In September 2022, King's College School will open its first school in Portugal – more specifically, in Cascais. King's College School is part of Inspired, the leading global group of premium schools educating over 55,000 students across 5 continents. The new school will be based in a fabulous location on an extensive state of the art campus of 40.000m2, which will be completed during the 2023-24 academic year, equipped with first-class educational, performing arts and sporting facilities, as well as a boarding house for 50 students.
With a total investment of 45M euros, this unique educational project continues to reflect Inspired's significant commitment to Portugal, following the Group's 40M euros investment in building the state-of-the-art PaRK International School campus in Alfragide, and its acquisition of St Peter's International School in 2019. Inspired is now bringing to Cascais one of the most prestigious educational institutions in its group: King's College Schools, founded in 1969.
Backed by King's College's distinctive heritage of academic excellence and the global expertise of Inspired, King's College School, Cascais will offer a truly modern learning environment, especially designed for the needs of students today. The new school will be based in the existing campus of PaRK IS Cascais and facilities will include two gymnasiums, football and rugby pitches, tennis and padel courts, and a swimming pool, as well as performing arts rooms for dance and drama, and music and instruments' practice rooms. There will also be state-of-the-art science labs, a multi-purpose hall, an auditorium, and plenty of green spaces and shaded areas for students to enjoy.
The new campus will cater to over 1,200 students from 1 to 18 years old and will grow organically in 2 phases. From its opening in September 2022, it will initially offer places to children between the ages of 1 and 13 years old. In September 2023, it will offer places for students up to 16 years old. As they get older, they will progress through the school until eventually, all year groups will be open, catering up to age 18.