Royal High School Bath student selected as finalist in national poetry speaking competition
Posted on 5th Jul 2023 in School News, United Kingdom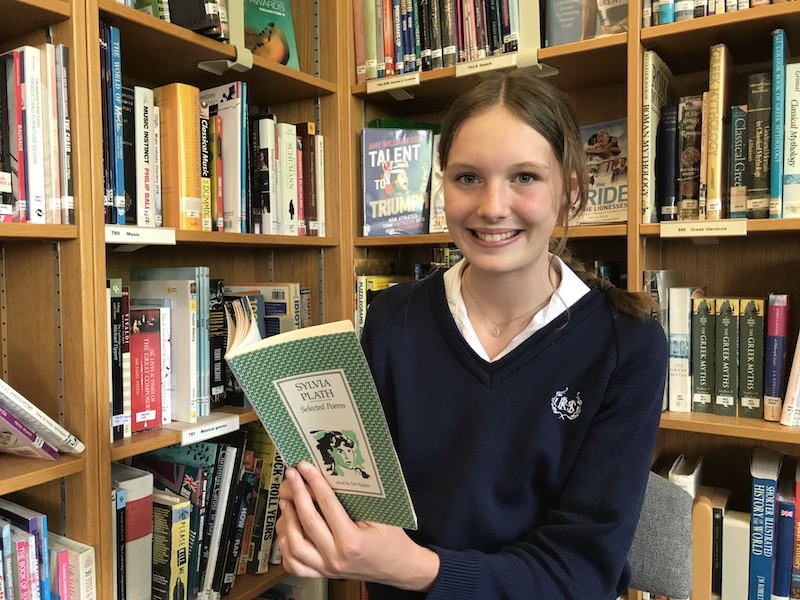 Royal High School Bath Year 9 student, Florence Cooney, was selected as one of only 10 Key Stage 3 finalists to perform at the Grand Finale of a national competition called 'Poetry by Heart' at Shakespeare's Globe in London.
Celebrating its 10th year anniversary this year, 'Poetry By Heart' is a prestigious poetry speaking competition founded by former Poet Laureate Andrew Motion and current co-director Dr Julie Blake. It is open to all schools and colleges in England and earlier on this year, all schools taking part including Royal High School Bath held first stage heats for students in Years 7, 8, 9. Each student was required to choose a poem they love, learn it by heart and perform it in front of their English class. Florence was selected by Royal High School Bath's English department to be put forward for consideration for this national competition (only one applicant per school), and was thrilled to hear she had been selected as one of 'Poetry By Heart' competition finalists.
On Monday 26 June, Florence performed her poem 'Morning Song' by Sylvia Plath in front of the packed theatre at Shakespeare's Globe. Royal High School Bath took a number of their own English students to cheer on Florence and to support her during her big moment on stage.
The competition was judged by a number of prestigious poets, including former poet laureate, Sir Andrew Motion, and Daljit Nagra.
Commenting on her experience as a Poetry by Heart KS3 finalist, Florence said: "It was so brilliant to have been selected as a finalist and to get the chance to perform at the Globe. It was totally nerve-wracking but very exciting. I loved having my mum there with me. She was as excited as I was and was amazing throughout the whole process. She studied English Literature at university so loves poetry too and was just so helpful and really supportive. It was also so nice to meet the other nine finalists and share this experience with them. Everyone was just genuinely so nice and supportive of each other."
Mrs Hilliam, English teacher and Head of Academic Extension at Royal High School Bath, said: "Florence should be extremely proud of her achievements. We are passionate about poetry here at Royal High School Bath and our students have absolutely loved taking part in this competition. We are so thrilled for Florence who totally embodied our fearlessness ethos. She was simply fantastic and was undaunted by performing on one of the world's most famous stages, expressing herself brilliantly, confidently and with emotion. This has been a fantastic experience for all our students, and one I am sure Florence in particular will remember all her life."
English is popular at all levels within Royal High School Bath, and is taught by experienced specialists who seek to convey their passion for the subject to the girls they teach. Students are encouraged to think critically, to engage with ideas and to be able to express themselves in the fullest and most compelling ways possible. To this end, students are offered a rich diet of reading, discussion, analytical and creative writing, poetry and all the related aspects of self-expression associated with English.
To find out more about Royal High School Bath please visit https://www.royalhighbath.gdst.net/