Providing a world-class education in a unique city
Posted on 8th Oct 2019 in School News, Hong Kong Tweet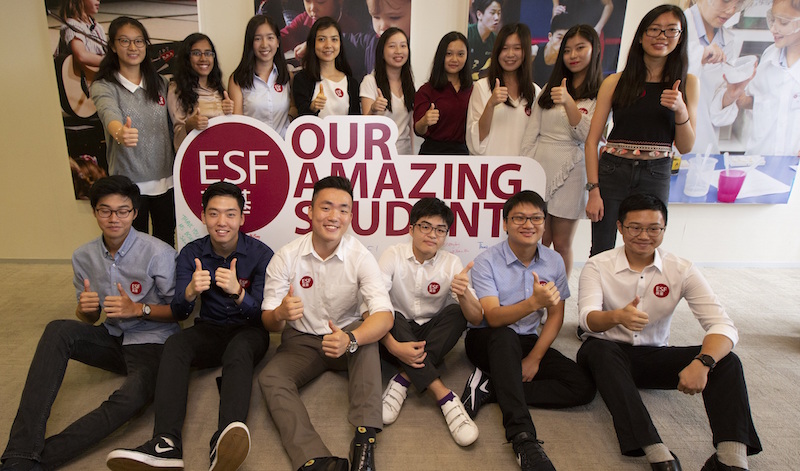 Getting the right school for children is often the most important decision for every family. Thankfully, Hong Kong is home to some of the best schools in the world.
The English Schools Foundation (ESF) is the largest international school organisation in Hong Kong. For over 50 years, ESF has been at the heart of Hong Kong life, providing world leading teaching and learning to thousands of students in their 22 schools.
Starting from as early as six months, ESF students can transition seamlessly from playgroup to kindergarten and then from primary and onto secondary. They also offer award winning after school sports and language programmes. Everything that your family requires, under 22 roofs.
Students from around the world can transition into the ESF school system easily, thanks to the fact that they have adopted the International Baccalaureate (IB) at every level – from kindergarten to secondary.
The IB has been designed specifically to meet the needs of learners from any cultural background. It is a system based on encouraging students to solve problems, analyse complex issues and to work with their peers. The final qualification, the IB Diploma, is accepted by universities across the world.
A system on a mission
"At ESF, we are on a mission: to unlock potential and to help every student to be the best that they can be, and to help them become great people, the leaders of the future," said Adam Hughes, ESF Director of Education. "Walk into any of our classrooms and you will see students working together to problem-find, not problem solve. You will see them grappling with complex issues and coming up with solutions. And you will see them flipping effortlessly between working independently and collaboratively with others."
"Our teachers teach students where to look, but they don't tell them what to see. That is the future of education – and it is happening in our schools right now."
Adam Hughes, ESF Director of Education
World class results
Global league tables of education systems will regularly include ESF in their upper reaches. The results that ESF students receive are amongst the best in the world.
"We understand that academic results are hard currency. It is by getting good grades that students can go on to the best universities and, ultimately, onto their chosen career path," says Belinda Greer, ESF CEO. "So, while we work hard to help students develop their skills, we never lose sight of just how important it is to ensure academic research stays at the top of our priority list."
And the results speak for themselves. ESF sits well above the global average for all of the major qualifications. And while those who get the very top marks often grab the headlines, it is the sheer volume of success at all levels that really sets ESF apart from any other education system.
International Baccalaureate results:

Exceptional teachers
ESF scours the world for the very best teachers. Last year well over 4,000 people applied for a teacher position, but only less than 100 of those applications were successful. Making the grade at ESF is a sign that you are a teacher at the very top of your class.
Charles Caldwell, Director of Human Resources, said: "Our teachers understand their students. They get to really know them as a person. By doing this, they can make sure that they use the right strategies, the right teaching methods to get the best out of their learning."
Come join the ESF family
ESF schools welcome any child who can benefit from an English-language curriculum.
For parents wishing their children to enter K1 and Year 1, Central Application is open from 1 to 30 September of the year before they want their children to enter the school. For those who are applying for Year 7, they should apply between 1 to 23 September.
If you are planning to enter other year groups, application can be made at any time during the year. Please refer to the ESF website for immediate vacancies.
All applications are submitted online on the ESF website: www.esf.edu.hk/application-form/.
You can find out more by visiting our website www.esf.edu.hk or by following us on social media.
Meet our alumni
Christine Chau
Christine graduated from ESF King George V School. Having scored the maximum 45 points in the IB Diploma examination in 2018, she attributed her success to her teachers.
"I think the main reason I got a 45 was because of my teachers and because of how helpful and resourceful they were," she shared. "I have the most supportive friends, family and teachers who have all helped me pass through the stressful times and I cannot thank them enough for that."
Christine is now in the University of Hong Kong studying Law.
Leo Kim
Leo from ESF South Island School was another IB top scorer in 2018. He is now studying information science at Cornell University in the United States.
He said it was ESF that defines who he is today. "The characteristics and personalities, strengths and weaknesses I developed from an ESF environment allowed me to become the person I am today," he shared.
He said it is important to link your hobbies with your academics. "If you just keep working hard and never give up your passion, I think you can always find a link between something you love and something you're good at," he said.
Many of our alumni have become prominent figures in the community because of the significant contribution they have made to society.
Read more about ESF schools here.
English Schools Foundation
Address: 25/F, 1063 King's Road, Quarry Bay, Hong Kong
Tel: +852 2574 2351 Web: www.esf.edu.hk
Email: info@esfcentre.edu.hk
This article first appeared in the 2019/20 edition of John Catt's Guide to International Schools. You can read the digital version of the guidebook here: