Preparing today's students for the jobs of tomorrow
Posted on 10th Sep 2021 in School News, United Kingdom, Online Learning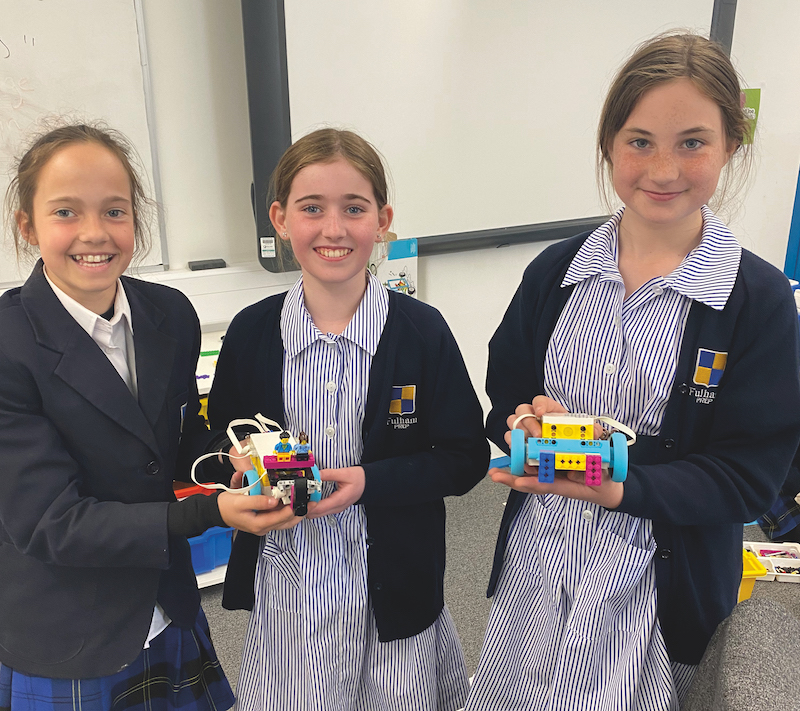 Brendan O'Keeffe, Head of Digital Learning at Fulham School, explains how the school has reimagined the role of Information Technology in education through its Vision2025 programme
According to the World Economic Forum's "The Future of Jobs" 2020 report, by 2025 the time spent on current tasks at work by humans and machines will be equal. As smart technology continues to transform every corner of our lives, it's clear that schools have a huge task ahead to equip children with the skills they'll need to thrive in an ever-digitised workplace.
Recognising how the Fourth Industrial Revolution is ushering in new ways of working, last year Fulham School decided it was time to radically shift the way we deliver our Information Technology curriculum education to keep up with the rapid pace of advancements and emerging technologies.
In Autumn 2020 we therefore introduced our bold new Vision2025 programme to 200 students across years three to eight; an initiative designed to reflect emerging technology trends and help prepare the workers of tomorrow as best we can for the digital shift.
Whilst no one can predict the new wave of careers that Industry 4.0 may give rise to over the coming years, we have identified three key areas that we believe will give students the knowledge and skills to succeed in the future jobs market.
As part of our quest to support the development of the digital natives of the future, pupils aged seven to thirteen are learning to build robots, code and use design software. Through our programme of vertical learning, each year will build on the previous one to compound their earlier knowledge and ensure a clear linear educational pathway throughout their time at our school. And, whilst Vision2025 currently focuses on our Preparatory students, our goal is to expand our forward-thinking curriculum further to create an integrated programme that runs from Reception right through to Sixth Form.
Whilst the three core strands of our Vision2025 initiative – coding, robotics and exploring the digital world – will remain constant throughout the programme, the curriculum content will be regularly reviewed and adapted in line with new emerging technologies to ensure we keep it relevant.
As long-term advocates of the value of experiential learning, we recognised that creating opportunities for hands-on learning would be key to developing both confidence and understanding in our students. We have therefore invested significantly in LEGO® Education equipment – a brand already known by the students and associated with fun – to ensure they have the freedom to experiment, put theory into practice and build technological confidence along the way.
And we know from our students that this is an approach they appreciate, with one student explaining: "I love LEGO, and I love that one of my favourite subjects is mixed with one of my favourite things to do."
By supplying home kits during the pandemic and encouraging students to learn by trial and error, we've been delighted to see how our reimagined approach to digital learning has igniting a new passion for STEM-oriented skills equally across girls and boys.
What's more, our after-school Robotics clubs – which give students the chance to work on projects individually as well as in small groups – are already over-subscribed. Interest in our sessions has grown 200% since we launched the new curriculum last September, and we've been delighted to see how these sessions – formally more popular with male students – now attracts all genders equally.
The interactive programme has gone down equally well with parents. Many of them have fed back how much they've welcomed the way the practical-based learning has helped reduce the amount of time their children were spending in front of their screens, while also boosting their engagement levels with their studies.
During lockdown parents told us the practical kits were "a welcome respite from online lessons, and allowed creativity and fun," with one adding "we all loved it as it took them away from their screens and meant they had to think logically and methodically – it was a creative idea using concepts they had been learning online."
The world is more connected than ever, and over the last decade we've seen how evolving technologies and digital globalisation have made it easier than ever to work overseas. Recognising that many of our pupils may also go on to study across different countries and continents, we also created an international robotics competition which is hosted by Fulham School but open to Inspired schools across the world. The competition has encouraged students to showcase their new skills and adopt a global citizen mindset by sharing ideas with their counterparts across Europe, Asia Pacific, Africa and the Middle East and Latin America.
Critically, as part of Inspired Education's global network of premium schools, we are always looking for ways to share best practice to ensure Inspired schools are always at the forefront of new educational approaches. We're therefore exploring the possibility of broadening our Vision2025 project to roll the concept out to our wider group of global partners.
As teachers, one of our jobs is to ensure our students have the right range of skills to succeed in the workplace. We hope that, by shaking up the traditional approach and shifting our focus onto where technology trends are heading rather than where it has been, we can inspire the next generation of engineers.
This article first appeared in the 2021/22 edition of John Catt's Guide to International Schools, which you can read here: