Outdoor learning – a curriculum staple at ISL Surrey in Woking, UK
Posted on 4th Mar 2019 in School News, Outdoor Learning Tweet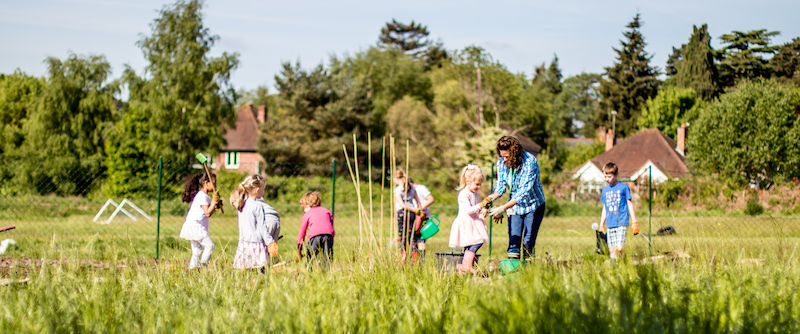 "The best classroom and the richest cupboard is only roofed by the sky."
MARGARET MCMILLAN (C 1925)
ISL Surrey Primary School is an independent, co-educational school for children aged 2-11, based in Old Woking, Surrey. Don't be fooled however into thinking it is yet another of the plethora of excellent local schools catering to the privately educated – this is education with a difference.
At ISL Surrey, their pupils' learning is reinforced through practical experiences, something they call 'authentic learning'. As such, while other schools are quickly jumping on the bandwagon of incorporating outdoor learning into their curriculum, ISL Surrey has been doing this for years.
ISL Surrey boasts not one but two forested outdoor spaces within their vast campus, alongside a large, innovative, Permaculture gardening project.
Their forest is more than a simple outdoor space. Forest School is an inspirational process, where they offer all of their students regular, timetabled opportunities to achieve, develop confidence, and build self-esteem through hands-on learning experiences with qualified Forest School teachers. The school believes that the positive repercussions of this process impact the students' performance far beyond the junior years, across their whole academic life.
"The Forest School ethos focuses on an approach to learning that maximises the emotional, social, and developmental benefits of education," says Sarah Partridge, School Leader. "We believe that this is of vital importance to all children, right through their primary level schooling and beyond. They become increasingly responsible for themselves and for those around them. These are some of the reasons why we – uniquely in the local area – offer Forest Schooling to all children - right through to Year 6."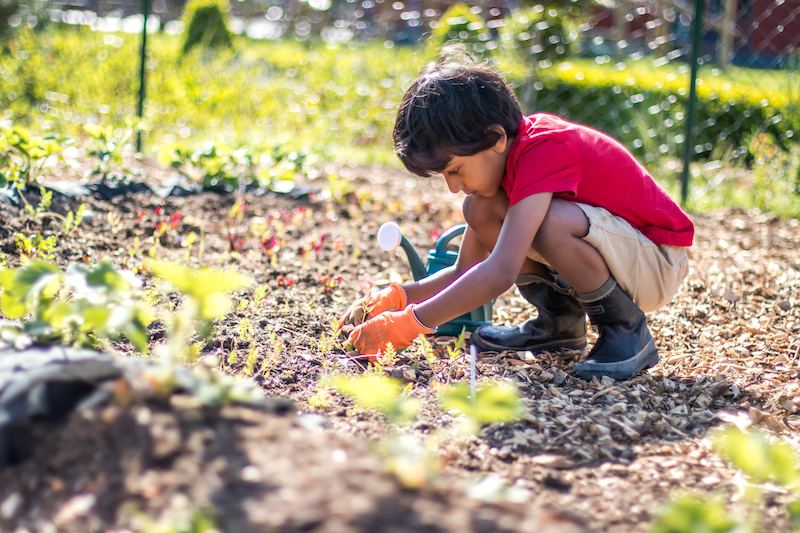 The Learning Process
Outdoor learning is rooted firmly in the key educational theories of the past 150 years. From Froebel to Stein, Vygotsky to Montessori, Dewey to Gardner – all put the child at the centre of their own learning, and all talk of the importance of children being allowed to explore the world independently with appropriate support, not control. Interestingly, many of these leading thinkers were themselves significantly influenced by the great outdoors.
Forest School encourages children to explore their own innate drive to learn, in the richest classroom we have – the outdoors.
What do we know about childhood today? It has been widely documented that modern children are in desperate need of:
chances to manage risk, in order to develop life-skills vital for success as adults
to be more active, for physical health and maximum cognitive development
more independence in their learning, and less time as passive receivers of information
more play, to build creativity, courage, and social skills
to spend more time outside the daily routine, coming up with strategies to cope with unknown challenges
real life experiences, to grow into resilient, capable adults
more time in nature, to develop a life-long love of nature, inspiring the future guardians of the natural world.
Recent initiatives such as 'The Activity Passport' launched by the Department of Education at the end of 2018, seek to inspire schoolchildren and to boost resilience through a range of experiences - many of them focussed on the great outdoors – and was backed by the Scouts, Girl Guiding and the National Trust. So it seems even the Government is cottoning onto the idea that there is more to educating our younger generation than can be found solely within the confines of the traditional classroom.
"Experience is a great teacher," said Education Secretary Damian Hinds, "and can equip children with valuable skills that prepare for any challenges life may throw at them. What's on the inside – someone's character, drive, resilience and the ability to stick to a goal – is just as important as their academic achievement."
Caring for the Natural Environment
ISL Surrey actively encourage all their students – from Nursery to Year 6 - to look after woodland. Pupils will voluntarily litter pick around the site and dispose of any rubbish responsibly. The children are encouraged to spot different signs of growth and are careful to avoid trampling new spring buds underfoot. They are taught how to care for growing trees by avoiding damaging branches and leaves. When building fires, children collect fallen branches and debris, which they store to ensure sustainability. With the support and guidance of experienced Forest School teachers, the children learn to master the correct use of tools so they can safely help in managing our forest.
"In Forest School, I showed resilience because I chose to make a fire. The fire wouldn't light but I kept trying until it did," said one Year 5 student.
Projects
The younger years have built a bug hotel, considering the varying requirements of different bugs, choosing appropriate designs and materials, and collecting what is required independently.
Students in Years 3 and 4 recently realised that nursery children can struggle to get through the undergrowth in their wellies and waterproofs and so decided to create a path for them. This required cutting logs and whittling pegs to build the path, with significant care and perseverance, and the careful management of risk and tool-handling.
Years 5 and 6 renovated forest shelters and have designed and created a tree house to leave behind for the younger students. This has been a project of unprecedented scale – it has involved planning, teamwork, design, maths, decoding Health and Safety legislation, complex measurements, and high level problem-solving skills.
"My favourite thing about Year 6 is that we all have Forest School," commented one student. "I made my own project. I researched, thought about designs and helped build a treehouse with my team."
"It is with great pride that we watch these ideas blossom, the developing commitment to projects, and the students' growing maturity in handling the ups and downs of such endeavours. Most importantly, the Forest School has been tied into the entire curriculum, boosting engagement with mathematics, literacy and art," said Sarah Partridge.
ISL Surrey invite you to visit their school and to speak to their extraordinary young students, to see the benefits of allowing children to learn the way nature intended.
ISL Surrey offer a special Woodland Discovery Day, where they invite families from the local area with children aged four and under to come in and enjoy a number of activities based around the popular children's book 'Owl Babies', giving them a chance to explore their on-site Forest. The next available date is Saturday 23rd March 2019. They also offer regular Open Days, as well as individual tours. Contact them on 01483 750409 or visit their website at www.islsurrey.org for more information.