Mathletics case study: St Paul's School in Barcelona
Posted on 18th Aug 2017 in Curriculum, Online Learning, Mathematics, Spain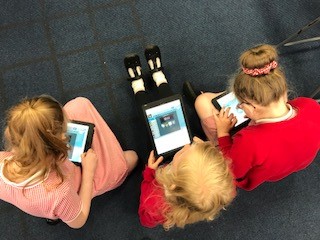 How Mathletics has helped St Paul's School in Barcelona, Spain, live up to a project called 'We are all good at maths'.
About the School
St Paul's School in Barcelona is a tri-lingual school with classes delivered in English, Spanish and Catalan. It has 802 children aged 3–18.
It is a highly academic school: staff are highly qualifiied and pupils also enjoy the support of school psychologists. The school has first-class facilities and a commitment to making appropriate use of new technologies.
St Paul's has set up a project called 'We are all good at maths' with the aim of turning all pupils into confident, enthusiastic and skilled mathematicians. This reflects the ethos of the school. From the very beginning, there is an emphasis on making children independent and curious learners.
In Nursery, children develop maths skills through play and by PRI5 they are developing and sharing their own digital content, creating interactive eBooks to explain new mathematical concepts. From PRI2 to PRI6, there is a weekly maths lesson with the emphasis on problem-solving, reasoning and creative thought and there is a lunchtime gifted and talented maths club where children work together to solve complex problems.
The Challenges Faced
Richard Russell, Head of Maths in Early Years and Primary, has been at the school for three years and has been involved in several maths education initiatives during that time.
Mathematical mastery is the school's long-term goal where all children will have a deep understanding of mathematical concepts, be able to apply them to different problems in unfamiliar situations and use appropriate mathematical language to communicate their ideas.
To carry this out successfully they need resources to give pupils immediate feedback and to identify gaps as Mr Russell explained: "The key is to assess knowledge and skills on a regular basis and to make sure staff know when and how to intervene."
Another aspect of their work is to ensure that girls do as well in mathematics as boys. Girls are less confident mathematicians in many countries in the Western world. "Mathematicians and scientists in the public eye are overwhelmingly male," said Richard Russell, "so girls have fewer role models. Additionally, parents may have lower expectations for their daughters in these subjects."
At St Paul's however, there are high expectations for all pupils and a determination that no pupil will be left behind.
The Solution
In PRI4 and PRI6, every pupil has an iPad for their own personal use in school and to take home and use for homework as well. At the end of each week they are set modules on Mathletics, the award winning digital maths resource from 3P Learning. They must complete their homework and show that they have understood and 'mastered' a particular concept or topic.
St Paul's is a trilingual school so some parents are not uent in English. However, with Mathletics children have access to online explanations and examples which enable them to complete their homework, even if their parents can't help. This means they learn to work independently.
Based on the results of their homework, children will be asked either to 'review' or 'extend' their skills. A review module will be allocated to a child who is not con dent or whose work is not error-free – extend modules provide opportunities to apply their knowledge or to identify different ways to solve a problem. Mathletics means children can work at their own pace with instant feedback and access to outstanding online guidance.
Mr Russell makes good use of Mathletics competitions to give a structure to revision. It is a great incentive for children to go over maths topics: "This provides timely practice for concepts on the point of being forgotten," he said. "Research shows that low stakes assessments are the most bene cial. Mathletics has activities with a mixture of different sorts of questions. This provides all the benefits of testing but without the pressure of SATs."
He has also identified girls in grade 6 whose scores in mathematics have improved. They now mentor girls in grade 5. Together they work on Mathletics modules or check out Mathletics eBooks which are uploaded onto their iPads. This gives them a chance to put ideas into words and to use mathematical language.
The Benefits
The school has been using Mathletics for about four years. The results have been impressive: St Paul's took the top place in the March 2017 Mathletics Maths Challenge. It has also seen a clear improvement in results and in pupils' attitude to mathematics.
In the Catalonia Competency assessments, the equivalent of UK SATs, taken at the end of grade 6, staff have seen a large improvement which they attribute in part to the use of technology and digital resources such as Mathletics.
"I believe that Mathletics democratises the learning process.
"It puts tools into the hands of the students so success is not about whose parents can afford a private tutor, it's about those children who have the determination to do well."
Richard Russell, Head of Maths in Early Years and Primary, St Paul's School
For more information on 3P Learning please visit www.3plearning.com