KIS International School Bangkok student starts a registered NGO
Posted on 17th Apr 2019 in School News, Thailand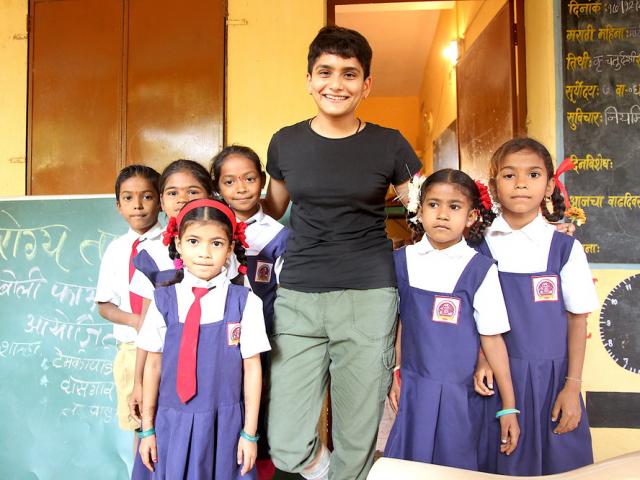 Saloni, a Grade 12 student who has been at KIS International School in Bangkok since Kindergarten, established a foundation called the Aboli Foundation as her IB Middle Years Programme Personal Project in Grade 10. Together with her sister Saniya, a KIS alumna, Saloni has now further developed the charity which was recently granted NGO status. The foundation helps underprivileged children to access healthcare, dental care, nutritious meals and educational resources through schools in India. To support the NGO please contact ngoaboli@gmail.com
KIS recently interviewed Saloni.
1. Tell me a little bit about yourself
My name is Saloni. I'm currently in Grade 12 and I've been at KIS since Kindergarten. You'll most likely see me hanging out in the library because it's my favourite place at KIS.
2. Tell me about the Aboli Foundation. How did it get started?
My mother comes from a small village 100 km north of Mumbai called Mahim. My family and I go there every year to visit my extended family (on my mother's side) who live there. It's a beautiful place with rice fields and farmland and I usually spend most of my days biking around on my bicycle. I had taken notice of a government-run school called Temki Paada and always felt horrible that the students there didn't have access to the same resources or opportunities as me. But I never got around to really doing anything because I kept making excuses for myself. Then in the tenth grade, I realised I could make some sort of difference to that school as part of my Personal Project. And so, Aboli Foundation was born. My sister, Saniya (CO'15), and I are the co-founders. Since then, we've reached out to two more schools in the area.
3. I understand that you just made a trip there? Can you let me know how that went?
We organised a health camp and a science camp for three schools with around one hundred students in total. For the health camp, we had the support of two paediatricians and one dentist. The biggest health concern for the students is malnutrition. The students' families come from lower socioeconomic backgrounds. Their parents work as farmers and labourers, and so they often don't have enough to eat at home especially because some have rather large families. Several of the students also needed urgent dental care. The dentist (who is also my aunt) agreed to give them treatment at a discounted price. So Aboli Foundation sponsored the students' dental treatments. For more about the health camp, you can take a look at our website. As for the science camp, one of my mother's best friends is a professor of physics at a college (for eleventh and twelfth graders) in Borivali. She came in and did several experiments with the third- and fourth-graders of the three schools.
4. How have you managed to balance your schoolwork with the extra responsibility of running a charity?
It can get frustrating. IB is a tough curriculum and sometimes, all I want to do is curl up with a book and forget the rest of the world exists because inequality is such an unfair reality. The thought that keeps me going is if I don't do something about this inequality, then who will? I think it's important to understand that you're never alone. There are always like-minded people around you. With that being said, I've learnt to not do everything on my own and to delegate work to the other volunteers of the organisation.
5. How has KIS supported you?
The most important way that KIS has supported me is by showing me that I do have the ability to make a difference. A lot of students dread Service and CAS but I think they're both crucial in showing us that we can mould the future. The KIS community has also supported me in other ways. Two years ago, when I organised a drive for books and toys, I received an overwhelming amount of donations. Currently, my mother runs a Yoga class for parents who donate money to the organisation. For all of this, I'm extremely grateful.
6. Do you have any advice for anyone who would like to do something similar?
My first piece of advice is to just go for it. Don't second guess yourself. The first step is always the hardest but when you take it, the rest of the road becomes clearer. I also think it's very important to find a team of family or friends who you work well with. I've found that when you work in a team, you can achieve a lot more. Organisation plays a huge part as well. For the health camp, the volunteers and I started planning way back in August and we still had some complications!
7. If anyone would like to help the Aboli Foundation, what would be the best way to offer support?
The best way to offer support is to donate money. Aboli Foundation has just recently become a registered NGO in India so we're currently working to open a bank account. If you would like to donate any sum, large or small, feel free to contact me at stsaloni@edu.kis.ac.th or at ngoaboli@gmail.com.
My family will also be moving to India permanently in July. We're considering inviting students and volunteers from around the world to visit Mahim during December to help with the health camp. If you're interested in joining, please let me know.