Kings' School Al Barsha builds on success
Posted on 19th Jun 2018 in School News, United Arab Emirates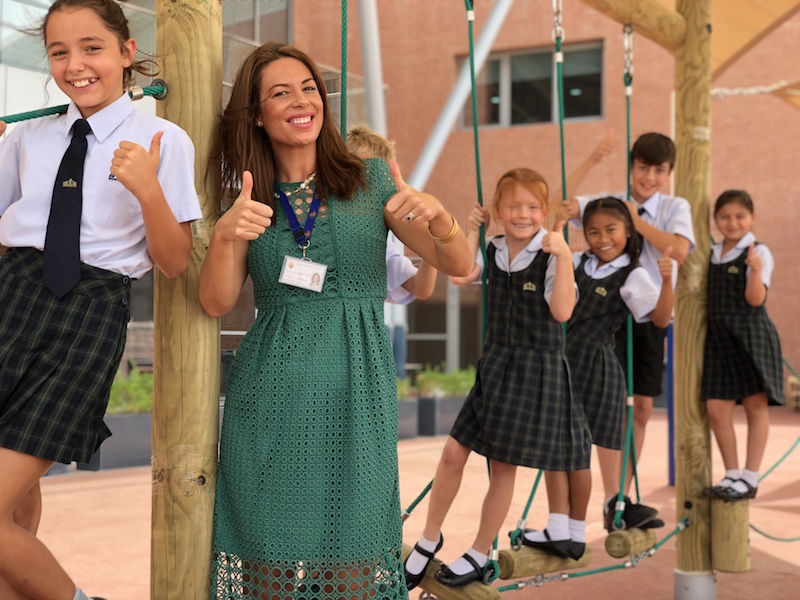 Latest KHDA rankings reflect continued success for the four-year-old British curriculum school as AED20 million expansion plans take shape with new principal at the helm...

Kings' School Al Barsha is moving onwards and upwards both in terms of educational performance and physical development, with the latest Knowledge and Human Development Authority (KHDA) rankings raised to 'Very Good' as the school embarks on an ambitious AED20 million expansion programme and announces a new principal.
Commenting on the KHDA results across the three schools under the Kings' School Al Barsha remit, Alan Williamson, director of education for Kings' Education, said: "Foundation was 'Outstanding' across the board, which is an incredible achievement for a school that's only four years young, and clearly demonstrates that our children are absolutely getting the right start with Kings'.
"Primary remains in an extremely strong position, and looking at Secondary, in our first year of national and international performance at GCSE level our results were outstanding in terms of the KHDA rating. A real triumph is that across English, Maths and the Sciences the results were outstanding in terms of attainment, with KHDA giving a 'Very Good' overall.
Post-inspection, the leadership team is already looking to the future. "We will continue to work on our '3 to 18' agenda, whereby we don't view Foundation, Primary and Secondary as three separate schools but as a single entity where the transition process between each is seamless, which will help ensure that we retain the best students right through to Sixth Form."
A new principal will also take charge immediately with Rebecca Gray, current primary head teacher, assuming the mantle of responsibility from Williamson. "Rebecca is an outstanding leader with a formidable track record from the UK, and in the two years she has been with us, her energy, ideas and creativity have brought a real sense of purpose to the Primary environment, where every classroom is literally buzzing," he said.
"Together with Mike Bloy our secondary head teacher, who has played an equally pivotal role in transforming the Secondary school in the year since he joined Kings', and the rest of our school leaders, I'm confident that we will see a distributed leadership model continue to evolve that will have real, positive impact on our children," he added.
Gray's appointment frees Williamson up to focus his attention on other opportunities and projects across the group's trio of high profile schools, which include ongoing development of Kings' successful model for sporting excellence and wellbeing, spearheading the Arabic language improvement agenda, exploring links with universities, the possibility of positioning Kings' as a teacher training institution, and introducing the first Confucius Hub at a premium British curriculum school in Dubai in order to develop the teaching of Mandarin.
The current focus for Williamson is expansion works at Kings' School Al Barsha, with the campus' social spaces and existing facilities set to be transformed over the summer.
"We're hugely excited about the project, which represents an AED20 million investment into increasing the social spaces and facilities for our children. The additional space will ensure that Kings' remains a market leader, with areas such as our Food Technology Department and 1:1 students learning facilities reinforcing our determination to provide the best possible learning environment," he said.
Kings' remains committed to its original academic and business model, which is for a school of approximately 2,000 students with seven or eight-form entry across different sections and phases. "The point of this project is not simply to add classrooms to accommodate more students," said Williamson.
The left side of the campus will be home to an expanded Primary block, with a similarly expanded Foundation block on the right hand side. In addition, the expressive arts area of the Secondary school will also house new facilities. On the Foundation side, a purpose-built hall will be added for FS pupil productions, drama, music and also a canteen.
Several music classrooms will be introduced as well as enhanced office space for the Kings' Education corporate team. "This is important because our present corporate departments are required to create space for inclusion and learning support in the school. As we grow, and as the inclusion agenda develops further, we need more small custom-designed spaces for children to have one-to-one and small group support," highlighted Williamson.
The Primary block will be home to additional Arabic and Islamic Studies specialist classrooms, a Mandarin language classroom, plus a large Primary canteen that will have capacity to host whole year groups.
Over in the Secondary school, the focus is a little different, as Williamson explained: "Because we have our first Year 13 now coming through, and a new Year 7 with over 150 children starting in September, we do actually need more classrooms. Therefore, we will add 12 new learning spaces in an expansion to our Expressive Arts building to allow the English and Maths departments to move over into this space, uniting the entire literacy and numeracy departments under one roof.
"We are also introducing a second food technology classroom. I genuinely don't know of any other Dubai school that offers two full-scale hospitality standard food technology classrooms which will allow us to develop the GCSE and A Level courses in these areas."
A duo of state-of-the-art science labs designed to support increased science and STEAM learning capacity round out internal expansion plans with further playground space improvements the addition of more green spaces the final part of the jigsaw.
To view the full KHDA report for Kings' School Al Barsha, go to KHDA report Kings' School Al Barsha.