King's Group wins AGCAS Award for Careers Service Engagement
Posted on 4th Apr 2017 in School News, King's Group Tweet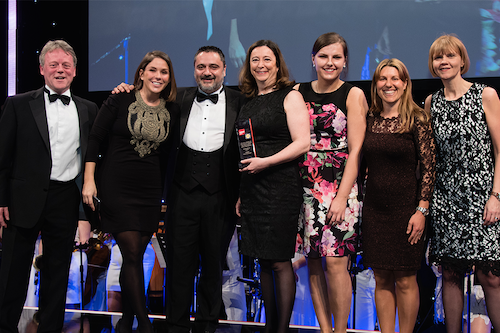 King's Group was declared overall winner of the Association of Graduate Careers & Advisory Services (AGCAS) Award for 'Excellence in Careers & Employability Service Engagement 2017', part of the TARGETjobs National Graduate Recruitment Awards 2017, held at London's Grosvenor House on March 30.
The prize promotes the important contribution many employers make towards developing today's young professionals and helping to prepare them for their future careers.
The award was voted for by careers and employability professionals nationwide, with the aim to recognise those employers who provide outstanding support for careers services' work with students and young graduates.
The TARGETjobs National Graduate Recruitment Awards 2017 are the largest early careers recruitment awards in Europe. More than 1,500 guests attended the Awards Ceremony and nearly 100,000 individuals from undergraduates, apprentices and school-leavers voted on the different categories.
King's Group was nominated in February 2017 by Aston University "for sharing good practice and helping students at Aston University become 'global professionals' by offering comprehensive training through their easily accessible international placement opportunities", which is led by the Group's HR Department.
Following the nomination, the Group was shortlisted among six other highly regarded companies, such as Goldman Sachs, EY and TEKEVER, among others.
"This award comes in recognition of the incredible efforts that our HR Department has put into developing a solid and long-standing relationship with Aston University. The internship programme has benefited more than 300 students over the past five years. These interns gain a wealth of different experiences across various departments and areas of the organisation; from ICT, Marketing and HR through to Teaching Assistant roles in our schools. These experiences offer them tangible skills and knowledge, that they can then use in order to make informed decisions about their careers and future lives. King's Group's participation in this programme is our way of giving back to society and helping future generations with their education once they have left school," said Elena Benito, CEO of King's Group.
Roberto Martín, Chief Resources Officer at King's Group added: "Winning the AGCAS award is a fantastic achievement for King's Group as a whole, especially as it is a direct acknowledgement by trained careers and employability professionals, highlighting the efforts the Group places on running a quality placement programme. The AGCAS Award is not just a recognition for the HR Department, it distinguishes the efforts of all the different teams and departments within King's Group, who leverage and mentor young professionals in their future career orientation and development."
About King's Group
Sir Roger Fry, knighted in 2012 by Queen Elizabeth II for promoting British education internationally, founded the first King's College school in 1969 and, since then, the prestigious educational institution has grown to a total of nine schools in UK, Spain, Latvia (to be open in September 2017) and Panama, with more than 4,300 students in total.
Thanks to the success of the institution, the excellent academic results achieved each year by its students and subsequently the university destinations accessed by pupils as a result; King's Group has become one of the most important and prestigious international educational institutions in the world. (40% of students currently attend one of the Top 200* universities in the world),
*according to the Times Higher Education Ranking 2016
Testament to the academic and pastoral excellence that the schools embed, are also the results of the Independent School Inspectorate (ISI) inspections that take place at all schools within the Group. The latest results which saw the school in Alicante achieve "Excellent" in every category.
The main goals as an educational institution are to provide students with a rigorous and comprehensive British education and to live the Group's Vision of being "at the forefront of British education internationally".
In addition to the schools, the Group also owns other educational and non-educational entities, those being: King's College International (offering summer camps and academic year abroad programmes), King's Training (language training and coaching for professionals) and Nexalia Services (catering services).
Learn more about the King's Group schools by visiting their profiles on International School Search: