King's Group celebrates 'British Week' in Latvia
Posted on 15th Dec 2016 in School News, Latvia, King's Group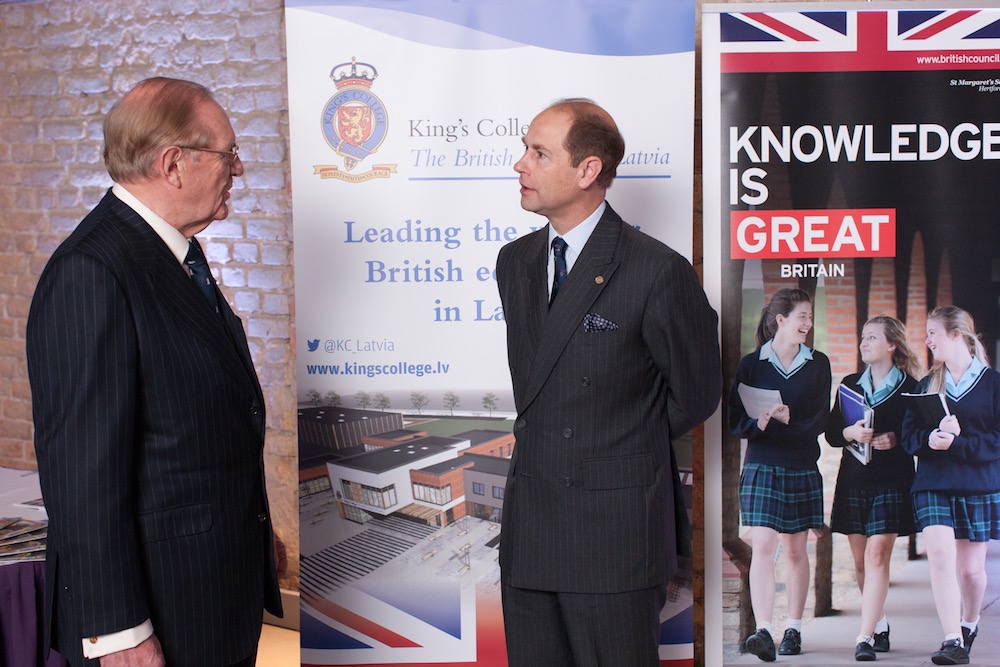 King's Group was one of the main sponsors of Latvia's 'British Week' (28th November – 2nd December), a series of cultural, educational and informative events organised by the British Embassy of Riga.
For the occasion, Prince Edward, Earl of Wessex KG GCVO, visited the country and met the founders of the soon to be opened King's College, British School of Latvia, Sir Roger Fry and Nicholas Fry.
King's Group, which will open King's College Latvia in September 2017, organised several events during British Week.
Sir Roger Fry, Founder and Chairman of King's College schools (pictured with Prince Edward), Nicholas Fry, CDO at King's Group, and Dawn Akyürek, Headteacher at King's College School of Madrid (Spain), participated as speakers in an Education Seminar that King's Group that was organised in partnership with the British Embassy in Riga.
The main focus of the seminar was 'UK Education and the Benefits of Non-Academic Learning', providing an interesting insight into one of the main pillars of which British Education is based: education outside the classroom.
"In British schools, such as King's College, pupils are encouraged to achieve their academic best both inside and outside of the classroom, they are encouraged to participate in an array of extra-curricular activities and to understand, appreciate and contribute to human values such as solidarity, honesty and tolerance," explained Mrs Dawn Akyürek, Headteacher at King's College School of Madrid (Spain).
"We think that the Education Seminar, as well as the entire British Week in Riga, was a wonderful occasion to inform Latvian citizens about the benefits of a British Education and, of course, about what will be the first British school in the country, King's College, The British School of Latvia (to be opened in September 2017)," said Nicholas Fry.
About King's College, The British School of Latvia
King's College, the British School of Latvia, will be located in the municipality of Babites, in Riga, in a plot of approximately 20,000 square metres. The building area will be 7,000 square metres of which 3,000 square metres will be built in a first stage construction project and the remaining section will be constructed in a second phase development. The outdoor areas (sports, playgrounds and parking) will occupy around 15,000 square metres.
The main building will consist of two floors offering a total of 32 classrooms, fully-equipped Art Studio, Music Rooms, a Science Laboratory, an ICT Suite and a Dining room.
The school will grow organically: from its opening in September 2017, it will initially offer places to children between the ages of 3 and 7 years old (Nursery to Year 5 – Infant Department). As these pupils get older, they will progress through the school until eventually all Year Groups will be open, catering up to Age 18. Concurrently, the administrative and academic staff will expand: from 20 native British teachers for the first year to approximately 70 when the school reaches full capacity.
Students at King's College, The British School of Latvia will follow the English National Curriculum, with a wide range of subjects available, leading to IGCSE, AS and A Level examinations. This programme of study will allow pupils access to the top universities in the world such as Cambridge, Oxford, Berkeley or Georgetown, in which King's College Schools has, historically, been able to send its graduates.
Students at King's College, The British School of Latvia will receive exactly the same curriculum as if they were studying at one of the best schools in Great Britain and will learn from native British and British trained teachers. In addition, they will also have subjects covering the Latvian Language, History and Geography.